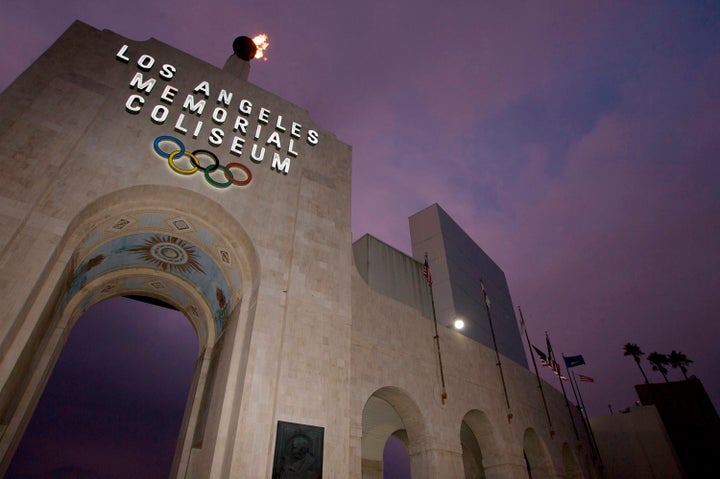 In just the past four years, six cities — Boston; Rome; Stockholm; Hamburg, Germany; Krakow, Poland; and Oslo, Norway — have decisively rejected the idea of hosting the Olympics.
"It's basically sound," said Smith College economist Andrew Zimbalist, who wrote the book on the financial risks the Olympics pose to cities and their taxpayers. "I think they'll be able to do it without any financial downside, although there is always some risk attached."
"The last version of the budget that I saw looked like it was doable," said Victor Matheson, a sports economist at the College of the Holy Cross who has studied the impact of the Olympics on host cities. "It didn't have nearly as many magic asterisks. That was one of the problems with Boston. There were far too many 'Don't worry about it, this will come together just fine' moments in that budget."
There's another reason to believe LA could succeed: It's done it before. It last hosted the Olympics in 1984, when the International Olympic Committee was facing a similar crisis around its biggest event, and pulled off an Olympics that not only broke even but turned a small profit.
No host since has replicated that feat. But Los Angeles is once again following the same principles that made the '84 Games such a success. Organizers, as they did then, plan to rely almost entirely on private financing to cover the games' operating budget. They also plan to avoid the costly construction projects that tend to send Olympic costs through the roof, thanks to the region's array of existing sporting venues.
The Los Angeles Coliseum, which was used for the 1932 and 1984 Olympics, will again serve as the centerpiece of the games, along with a new NFL stadium set to open in Inglewood in 2019. There's no need for a new Olympic village, thanks to dorms at UCLA. When LA 2024 announced its final three proposed venues this month, chairman Casey Wasserman boasted that a Los Angeles Olympics won't require any new construction — instead, it will rely entirely on existing, already planned or temporary venues. 
I think they'll be able to do it without any financial downside, although there is always some risk.

Andrew Zimbalist, sports economist
There are potential pitfalls. Los Angeles was the only city to bid on the 1984 Games, which allowed it to dictate terms to the IOC and adhere to its modest budget. It faces a competitive bidding process with Paris and Budapest this time, and that, Matheson warned, could lead to escalating costs if the cities attempt to sexy up their bids to impress IOC voters. Securing an LA Olympics, meanwhile, could cost as much as $2 billion, Zimbalist estimates — more than the entire cost of the 1984 Games. And if LA 2024 goes over budget and exceeds its planned contingency fund, Los Angeles taxpayers could still end up on the hook: The LA city council and California legislature have approved the taxpayer backing the IOC demands.
But the positive experience of 1984 has seemingly given Angelenos assurance that their city is capable of doing this the right way, and likely explains why there has been so little of the public resistance that has become a typical part of Olympic bidding.
"Angelenos have really warm memories of 1984," said Chris Dempsey, who attended college in Los Angeles and quit his job as a Massachusetts political consultant in 2015 to co-found No Boston Olympics, a nonprofit that helped derail that city's bid. "It was an awesome moment and something the city was really proud of."
That (along with relatively popular bids in Paris and Budapest) is no doubt good news for the IOC, which could use it after the the debacle of 2022 Winter Olympic Games bidding process ― when three European cities withdrew bids after they lost public referendums ― or the tumultuous early stages of 2024 bidding, when Boston, Hamburg and Rome all canceled Olympic efforts.
After a string of Olympics plagued by spiraling costs and myriad other problems, the IOC last year approved its Agenda 2020 reform package, meant to steer the bidding process toward more cost-conscious proposals. Los Angeles organizers have insisted that their bid is in line with those ideals, and that they won't engage in a costly battle just to win the games. And while Paris, which last hosted in 1924, has also outlined a fairly modest bid, LA 2024 argues that it offers the IOC the best chance to show it is serious about choosing smarter bids over shinier ones ― and not just for 2024.
"We know that LA 2024 must not only deliver great games, they must also deliver transformative games," Los Angeles Mayor Eric Garcetti said in November. "We believe our campaign isn't just about the games in our city in 2024. We believe this bid is about ensuring that the games are sustainable and relevant in every year beyond 2024 as well."
If you're holding your breath for the IOC to make real substantive reforms, you're going to be in bad shape.

Chris Dempsey, No Boston Olympics
That, however, might be the one promise even Los Angeles can't keep.
After the 1984 Games, the Olympics quickly returned to the same model and problems that had threatened their existence before. Costs escalated, the worst effects on communities returned. Few cities, it turns out, offer such a ready-made palate for hosting the sort of "bargain" games Los Angeles can pull off.
So although Olympic critics have found little to complain about when it comes to Los Angeles' bid, they remain skeptical that it would lead to drastic changes in the Olympic model. Los Angeles could win hosting rights this September, host a successful Olympics in 2024, and still remain the exception to the budget-busting, human rights-threatening rule.
A top IOC official all but admitted as much this month, saying that despite Agenda 2020's existence, he doesn't anticipate sweeping changes to the bidding process in the near future.
"If you're holding your breath for the IOC to make real substantive reforms,"
Dempsey said, "you're going to be in bad shape."
CORRECTION: This post originally misstated that the LA Coliseum was built for the 1932 Olympics. It was built prior to that and later used for the Olympics.
REAL LIFE. REAL NEWS. REAL VOICES.
Help us tell more of the stories that matter from voices that too often remain unheard.