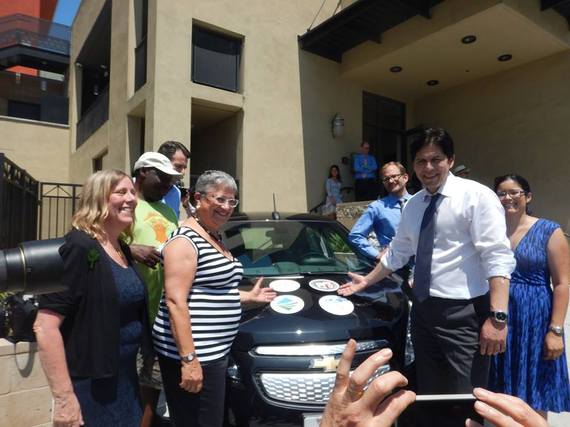 Due to a wealth of local, state, and federal incentives, Los Angeles is already one of the best places to live if you want to drive an electric vehicle (EV). Plus, because the make-up of energy sources in southern California, total emissions from electric vehicles are substantially lower than from gasoline-powered cars. In L.A., a Nissan LEAF emits less than 70 percent of what a comparable Toyota Camry would.
On top of all of this, California state Senate President Pro Tempore Kevin de Leon recently announced a new electric vehicle car-sharing grant for the City of Los Angeles that will make zero emission driving available to low-income residents.
The plan, called L.A. Leading by Example: Partnering to Pilot EV Car Sharing in Disadvantaged Communities, is made possible with a $1.6 million grant funded by the California Air Resources Board's Cap-and-Trade program.
The car-sharing stations housing the 100 pilot vehicles will be located in some of the lowest income communities, including parts of Downtown L.A., Koreatown, and Pico Union. Local community-based organizations will not only provide input on where to install the charging stations, but will also take the lead in outreach to area residents about how the program works. They hope to recruit at least 7,000 commuters, keep 1,000 private gasoline-powered vehicles off the road, and prevent the release of 2,150 tons of CO2 annually.
The pilot program is part of Mayor Garcetti's Sustainable City pLAn, which focuses on improving Los Angeles' environment, economy, and equity. One of Mayor Garcetti's goals is to reduce GHGs by 45 percent by 2025.
Susana Reyes, Senior Analyst in the Mayor's Sustainability Team, said: "Not only will it bring car-sharing within reach of hundreds of thousands of Angelenos, but it will also increase investments in L.A. and create jobs." She also notes that the car sharing program integrates with other regional transportation priorities, providing invaluable first and last mile connections to the subway and light rail and complementing Los Angeles' Integrated Mobility Hubs.
The car-sharing program is the most recent in a string of efforts in the state to increase green transportation options to disadvantaged communities. Last year new programs championed by the California Charge Ahead Coalition were put in place to fund and restructure the state's clean vehicle rebate program and to enhance opportunities for low-income Californians to purchase electric vehicles. They also incentivize car-sharing in low-income neighborhoods, the installation of charging equipment at multi-unit dwellings, and establish a goal of 1.5 million plug-in vehicles on California's roads by 2025.
When asked what makes programs such as L.A. Leading by Example successful, Reyes answered, "It takes a coalition of organizations who feel empowered that they can make impacts in a diverse community." She added that municipalities should take advantage of programs state agencies are offering to reduce greenhouse gas emissions.
Joel Espino and Sekita Grant from the Greenlining Institute, a Berkeley-based non-profit dedicated to empowering disadvantaged groups, also shared with us tips on what communities outside California should consider when creating their own programs to make EVs more accessible to low-income residents: 1) low-income residents and local community-based groups should be involved in any green transit planning and design processes; 2) community-based organizations should play a case worker role in helping residents understand the benefits and how to qualify and sign up for these programs; 3) planning should engage closely with car dealerships; 4) programs and paperwork should be as simple as possible; and 5) incentives should include new, used, and leased vehicles.
While electric cars tend to get all of the hype (looking at you, Tesla, but we know lots of more affordable options exist), they're certainly not the only clean transportation choices. Exciting work is taking place across the country with zero emission buses. Pioneering cities such as San Antonio, Tallahassee, Nashville, Worcester, and (of course) L.A. provide great examples for cities to replicate, making cleaner transit possible for residents of all income levels.
All of this is certainly cause for celebration in itself, but if you're looking for an actual celebratory event to attend, the City of Angels has got you covered there, too. L.A.'s National Drive Electric Week event, one of more than 100 planned nationwide, is set to take place at Exposition Park on Sunday, September 13th, and is "poised to be the biggest in the nation," according to Reyes, who also serves on the Sierra Club's national board of directors.
This event will include test drives, food trucks, and a press conference with notables such as Mayor Garcetti, state Senator De Leon, filmmaker Chris Paine, racecar driver Leilani Munter, actress Alexandra Paul, and Sierra Club Executive Director Michael Brune expected to attend.
As if being able to get behind the wheel of an electric car for free isn't incentive enough, the organizers are also planning to give away food truck gift vouchers to test drive participants. Reyes also hinted at a possible unveiling of a much-anticipated electric vehicle that has a 200 mile-plus range.
Sounds like our kind of party! Break out the champagne (if you're not driving) and cue Kool & The Gang.
Max Menard, a Sierra Club intern, co-wrote this article. Photo courtesy of Susana Reyes.
REAL LIFE. REAL NEWS. REAL VOICES.
Help us tell more of the stories that matter from voices that too often remain unheard.