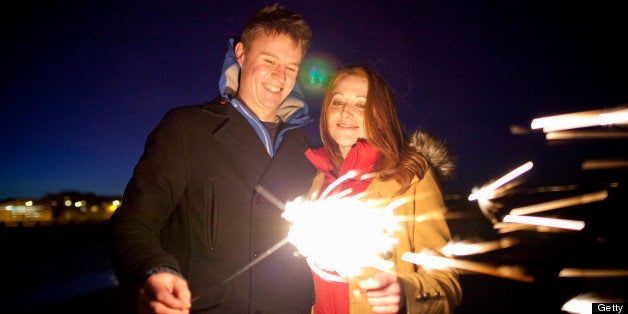 The blast from a quarter-stick of dynamite obliterated a watermelon -- and would have decimated anyone within range.
Los Angeles County police and fire agencies set off the so-called "M-1000" and other firecrackers on Friday to demonstrate the potential harm caused by using illegal fireworks.
Instead of risking life and limb, they urged residents to celebrate the upcoming Fourth of July by flocking to one of 30 professional fireworks shows across the region.
"As you and your family are celebrating our nation's independence, remember that fireworks are illegal in the city of Los Angeles," said Los Angeles fire Chief Brian Cummings during a news conference at the Los Angeles County Fire Department training grounds. "Please celebrate this wonderful holiday with your family and friends by visiting one of the many fireworks shows offered throughout the city and the county."
The illicit fireworks on display would have lit the fuse of any fireworks fiend: Artillery shells, flaming balls and a rainbow of cascading fireworks with such names as Devil's Thrill, Phat Fire and Really One Bad Mother.
Then there was the explosive stuff: the classic Black Cat firecrackers, the ear-splitting M-80s and the mortar rounds bigger than your fist.
Law enforcement and fire officials warned that all fireworks are dangerous, especially to children. They also warned residents not to celebrate the Fourth by firing guns in the air, as bullets head skyward and return to earth at up to 700 feet per second. And not to drive drunk.
Even the so-called "safe and sane" fireworks such as sparklers, available in some parts of the county, can burn twice as hot as the log in your fireplace, said Dr. Matt Young of the Grossman Burn Center in West Hills.
The penalty for using fireworks in Los Angeles is $1,000 or up to six months in jail, police said. If someone setting off fireworks should catch a roof on fire, they're liable for paying for the damage, too. Penalties for larger explosive such as M-80s range from $300 to $10,000, plus jail or prison time.
As Southern California enters its fourth year of drought this Fourth of July, police and fire officials warned they would be beefing up patrols to protect life and property.
"Our objective is to make sure everybody has a safe and fun Fourth of July season," Los Angeles County Fire Chief Daryl L. Osby said.
Law enforcement officials said the use and confiscation of illegal fireworks were on the rise. Last year, Los Angeles police seized 10,000 pounds of illegal fireworks, while sheriff's deputies confiscated nearly 20,000 pounds, arrested 22 suspects and handed out nearly 500 citations.
Last year, Los Angeles police responded to more than 300 calls of illegal gunshots, not including the normal flash bangs.
"There's no such thing as 'safe and sane' fireworks," Los Angeles police Commander Andrew Smith said.
This week, sheriff's deputies arrested three men after seizing 3,000 pounds of illegal fireworks from a San Gabriel Valley garage.
But that's just a fraction compared to what one undercover county arson investigator said has been confiscated this year alone: 62,000 pounds of contraband fireworks. A formal announcement by county fire officials is expected on July 1 or 2.
"All this is what I've confiscated," said an undercover investigator, who declined to identify himself lest he blow his cover.
"The trend is overwhelming in illicit fireworks. It's a feeding frenzy. All of them are from China. They come into the docks, (intended) for out of state, but a lot of them never make it."
Some of them included the 5-inch mortar rounds advertised as exploding into red, blue and "white peony" displays. They were certainly not the fireworks of many of the cops' and firefighters' youth.
"You see this?" said Los Angeles fire Capt. Tom Richards, pointing to a pair of the grapefruit-sized ordinance popular in the illicit street trade. "This is a professional firework. It can go up in the air 500 feet. This is not the fireworks we used as kids.
"Do I begrudge anybody having fun? We went from this," he said, holding up a sparkler, "to this," he added, hoisting one of the mortar rounds employed by such theme parks as Disneyland. "It's a bomb."
For a list of professional fireworks shows, follow #SummerSafetyLA on Twitter, visit safejuly4th.org, or call 1-888-654-FIRE. ___
(c)2013 the Daily News (Los Angeles)
Distributed by MCT Information Services
Calling all HuffPost superfans!
Sign up for membership to become a founding member and help shape HuffPost's next chapter