Story comes courtesy of MarPop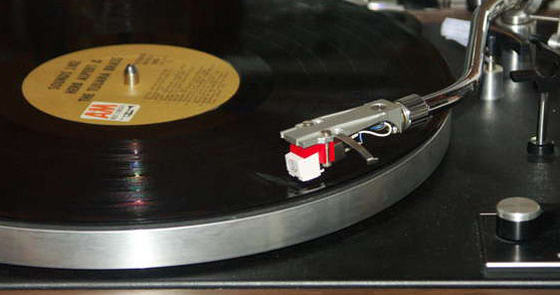 Lookin' for a rekka sto'?? Ease up, old school. Downloading and streaming aren't the only game in town. Vinyl is making a serious comeback. In fact, within the last few years LA has seen more than a few independently owned record stores set up shop. And it's this sort of indie spirit that's driving the recent surge of vinyl record sales across the country. Now, just in time for the holidays: Record Store Day -- a collective of some 900 independently owned record stores in the US, Canada and Europe -- is holding their own Black Friday on November 25 with special-edition vinyl releases and sales. So before you join the herds and head off to the mall at 4am, consider checking out some of these LA record stores for a little vinyl revival.
AMOEBA RECORDS - www.amoeba.com Think record store and you think Amoeba. Probably because it's the largest independent record store in the world. (Some would say too large, bordering on big-box bully large, but that's another story.) This ginormous Hollywood outpost literally has tons of albums, discs, posters and other music-related mishmash as well as constant in-store shows. As for vinyl, you'll find plenty including limited edition, rare, out-of-print and original pressings.
AS THE RECORD TURNS - www.astherecordturns.com Cringe-worthy name aside, As the Record Turns is considered by many to be LA's best resource for vinyl. Once you find the actual store (it's hidden in a narrow alleyway off Hollywood Blvd) get ready to find just about any piece of vinyl you can imagine. And if it's not stockpiled in the exhaustive stacks of vinyl, then owner Kevin can probably find it for you one way or another. Just ask Jay-Z, Dr. Dre, Marilyn Manson, Steven Speilberg and about a million other famous clients for whom he's sourced music. You might pay more for what you get, but Kevin is known to give a free record to everybody who enters his store. (They're from the clearance section, but are you really gonna complain?)
Amoeba from above: Photo by Kelly Wardle
ATOMIC RECORDS - www.atomicrecordsla.com Picked in 2011 by LA Weekly as "Best Record Store for Actual Records," this Burbank record shop has been open since 1996 and specializes in classic jazz, 60s rock/punk/new wave, soul, blues, strange/exotica and soundtracks. They also do a lot of buying and even make house calls. Don't forget the 50-cent bin where you just might strike vinyl gold.
FREAKBEAT RECORDS - www.freakbeatrecords.com Forget the 99-cent store. This old-school shop in Sherman Oaks has a 99-cent room with thousands of LPs and CDs that are restocked every day. Half the store is filled with new and used vinyl, with the rock section being the largest, and there's plenty to browse in the jazz and soul bins. There's also an 80s department with lots of flashback vinyl.
ORIGAMI VINYL - www.origamiorigami.com One of the newer shops on the block (it opened in 2009), Origami Vinyl in Echo Park is the ultimate mom and pop record store for cool kids. The shop is only 400 square feet, but it packs a punch with an eclectic selection of new and used records, much of which is from local artists. (Origami is also an indie record label.) As for in-stores, everyone from Florence and the Machine to Sonic Youth and Ben Harper have taken to the stage. Good things come in small packages.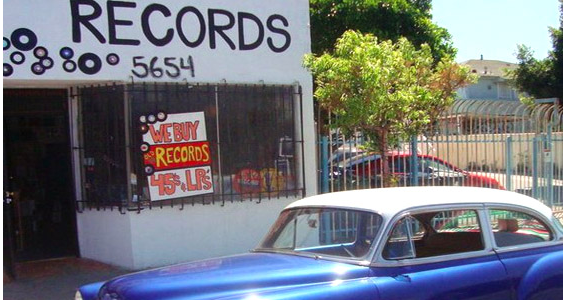 Records LA: Noize n the 'Hood
RECORDS LA - www.myspace.com/recordsla Records LA isn't the oldest rekka sto' in LA. In fact, it opened in 2010. But it is the oldest school of the old school with an unpretentious DIY charm that's hard to come by these days. Located on West Adams, the vinyl-only shop is about the size of your one-bedroom apartment's closet, but owner Scott has just the stuff you're looking for when it comes to soul, jazz, R&B, disco, hip hop, reggae and other back-in-the-day rarities. Just remember: this shop is only open Thursday-Saturday.
RECORD SURPLUS - www.recordsurplus.com One of the largest sellers of used vinyl records and CDs on the West Coast, Record Surplus has a huge selection of music and collectible records that are restocked daily. The store just moved to a new location on the corner of Santa Monica and Centinela with a nice paint job, too. (Not that I judge a record store by its cover, but I do like a pretty space.) You can also find turntables and CD listening stations.
ROCKAWAY RECORDS - www.rockaway.com This Silver Lake staple is fairly small (it's moved a few times since first opening in 1979), but it's huge on the collectibles inventory. Vinyl, CDs and the usual suspects are here as well as lots of memorabilia ranging from $50 autographed photos to a 1965 Beatles lunch box that can be yours for just $1,250.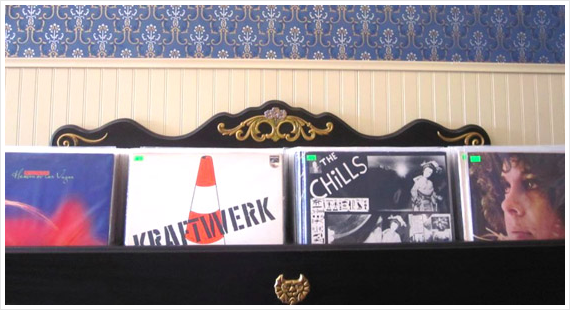 Werk It: Wombleton Records
VACATION VINYL - www.vacationvinyl.com The name might suggest lounging around a sunny beach with a drink in your hand (or maybe that's just me), but this Silver Lake shop is far from checked-out and actually leans a little toward the dark side. Which is to say, you can find a lot of black metal/hardcore/space rock/prog drone/whatever-you-call-it noisy stuff neatly arranged among the shelves. Plenty of in-store shows, too.
WOMBLETON RECORDS - www.wombletonrecords.com Part of the new York strip of Highland Park emerging with little shops, galleries and bars, Wombleton Records is just the kinda thing you didn't know you need: Bountiful bins of rare pop vinyl you can peruse whilst basking in an Edwardian salon that could double as a swinging London boutique. Opened in late 2010, Wombleton specializes in original pressings of rare, imported used vinyl LPs and 45s with "an uncommonly high concentration of desirable titles from the country of origin." Stop by on Thursday nights for the vinyl DJ listening parties. Ascot and smoking jacket optional.
MORE VINYL RECORD STORES IN LA: Angel City Books & Records - Best-kept record store secret in Santa Monica Backside Records - Mostly clothing, new & used vinyl in Burbank and Echo Park Bombass Muzik - Vinyl, CDs, cassettes & accessories in East LA Headline Records - punk, thrash, straight-edge, rockabilly, psychobilly on Melrose Ooga Booga - super-indie shop for vinyl, art, books, misc in Downtown LA Poo-Bah Record Shop - underground hip-hop, experimental & more in Pasadena Record Collector - rare and collectible classical & jazz in Hollywood Turntable Lab - vinyl for DJs who actually scratch; Fairfax Village More info: www.recordstoreday.com
Calling all HuffPost superfans!
Sign up for membership to become a founding member and help shape HuffPost's next chapter