Los Angeles can't make it rain, but it can shield its precious water with "shade balls" -- 96 million of them to be exact.
For months, the Los Angeles Department of Water and Power has been releasing the black plastic balls to float on the surface of the 175-acre Los Angeles Reservoir in a massive drought relief project. The final 20,000 went in on Monday, with some assistance from LA Mayor Eric Garcetti.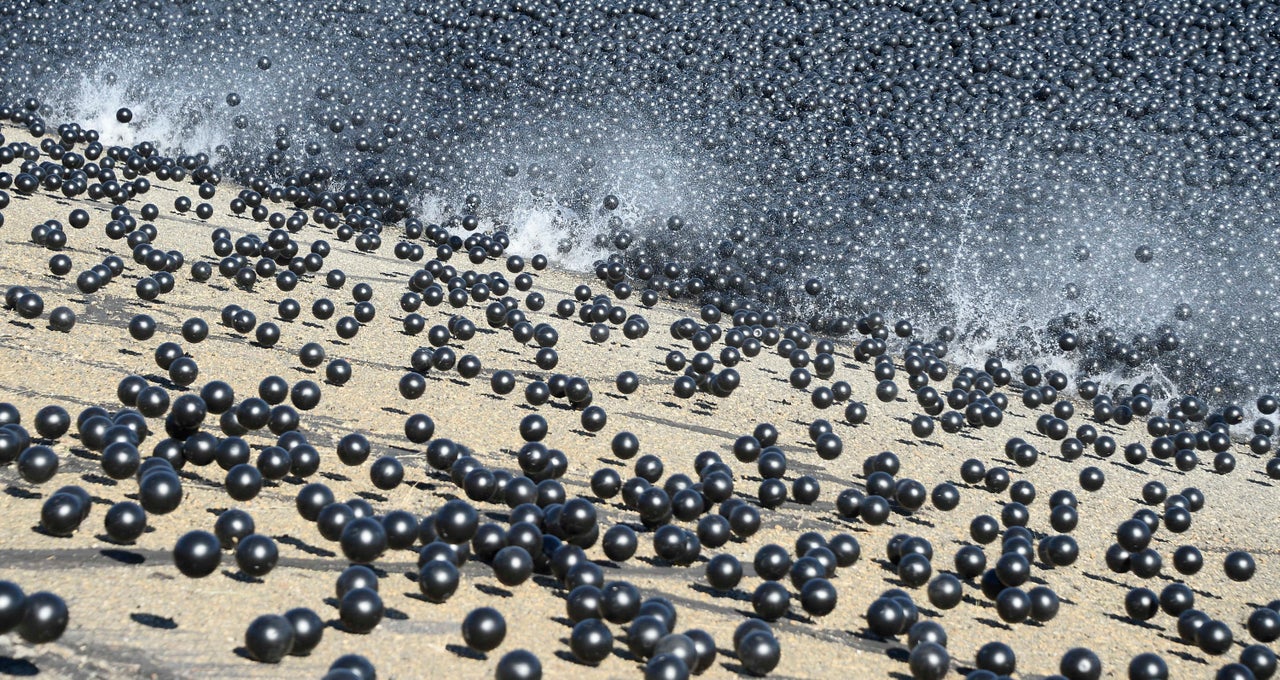 LADWP was the first utility company to use this technology to protect water, according to a press release from Garcetti.
"In the midst of California's historic drought, it takes bold ingenuity to maximize my goals for water conservation," the mayor said. "This effort by LADWP is emblematic of the kind of creative thinking we need to meet those challenges."
Besides slowing evaporation, the shade balls prevent sunlight from triggering a dangerous reaction between bromite, a chemical occurring naturally in groundwater, and the chlorine used to disinfect the water. When sunlight interacts with those two chemicals, Plastic News explains, the suspected carcinogen bromate is formed.
The shade balls also deter wildlife from contaminating the reservoir, shield the water from wind-blow dust and discourage algae from forming on the water's surface.
City officials hailed the shade balls as very cost-effective. They run just 36 cents a piece, The Guardian noted, and require no additional construction or maintenance -- except to be rotated occasionally.
"Shade balls are a great example of how engineering meets common sense," LADWP general manager Marcie Edwards said in Garcetti's press release. "... As we make updates, we are mindful to be wise and practical with our investments. Shade balls are an affordable and effective way to comply with regulations, and help us continue to deliver the best drinking water to our customers."
Watching the shade balls cascade into LA's largest reservoir is also completely mesmerizing. Take a look at the photos below: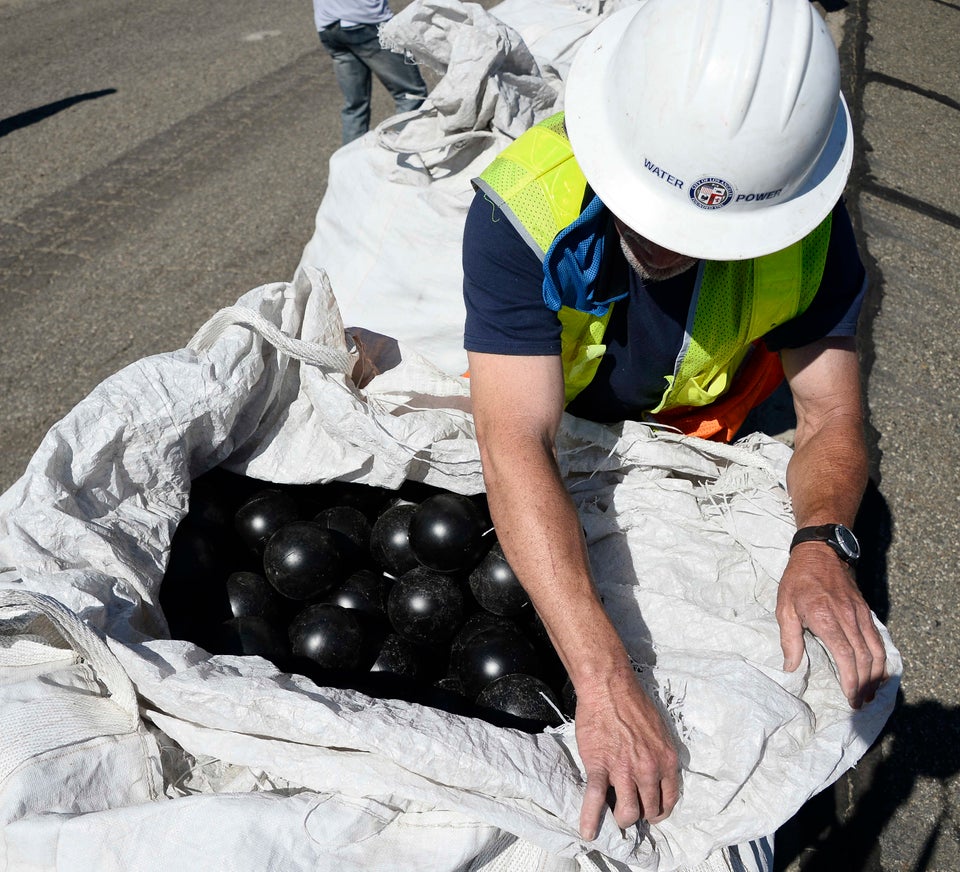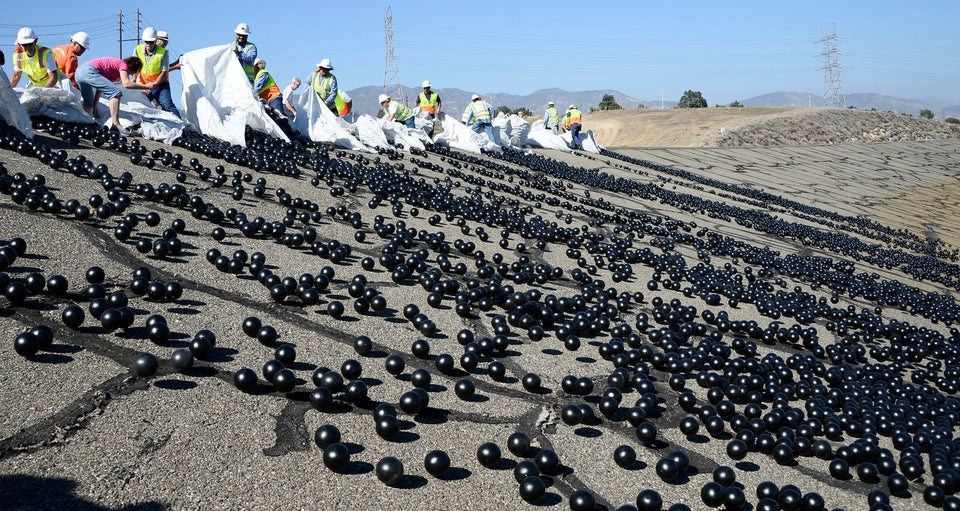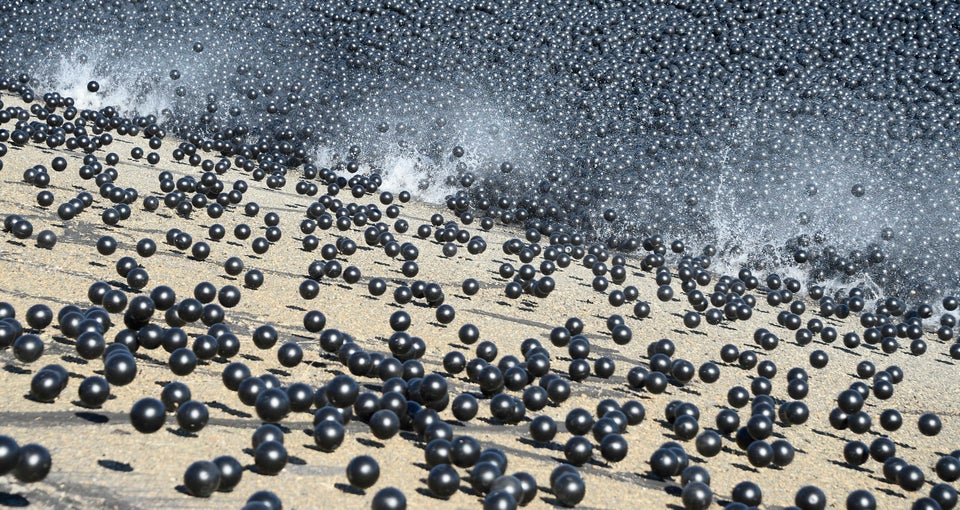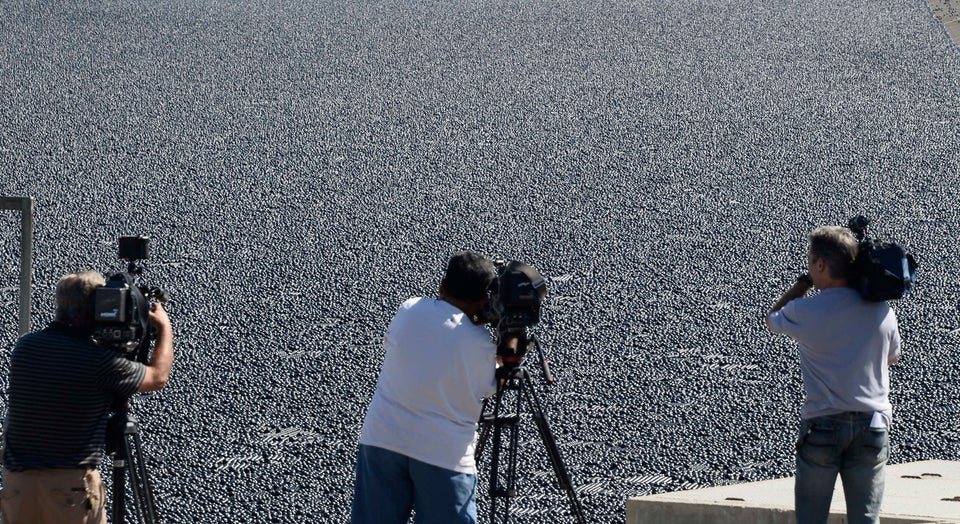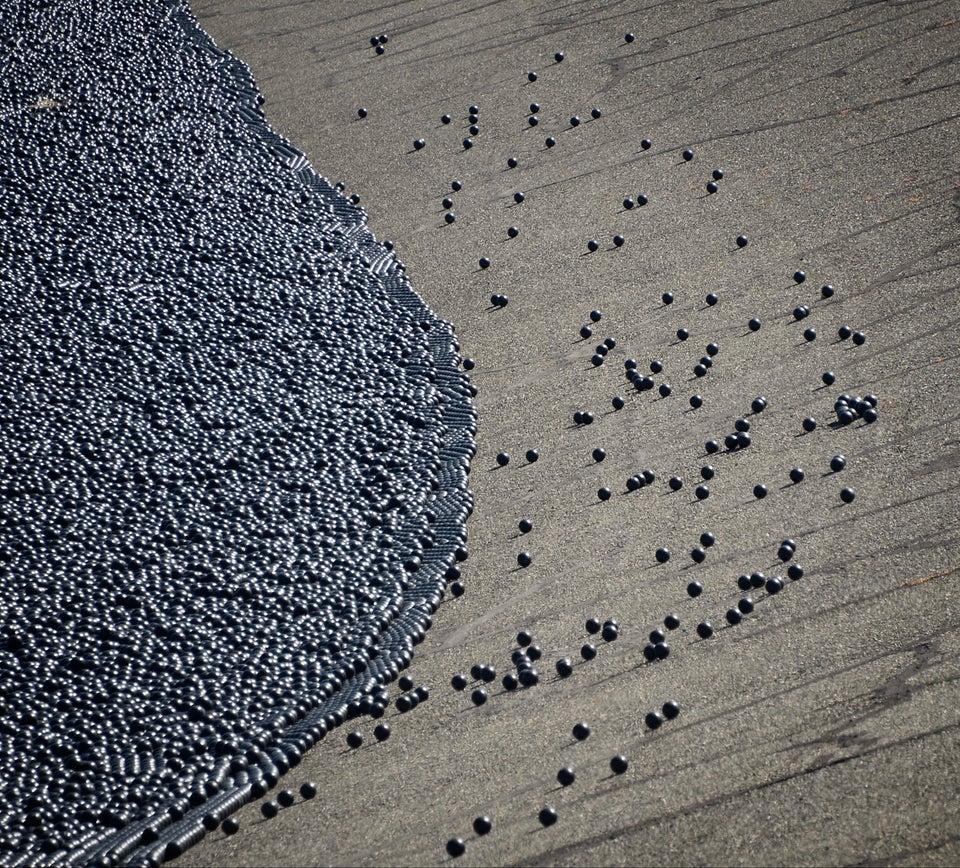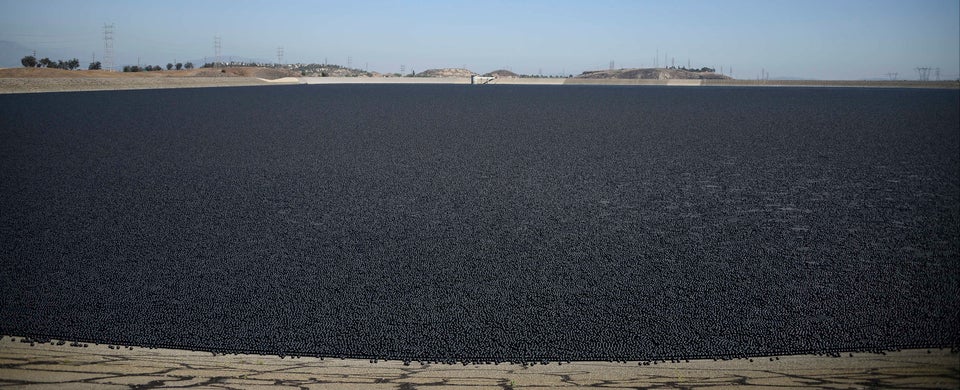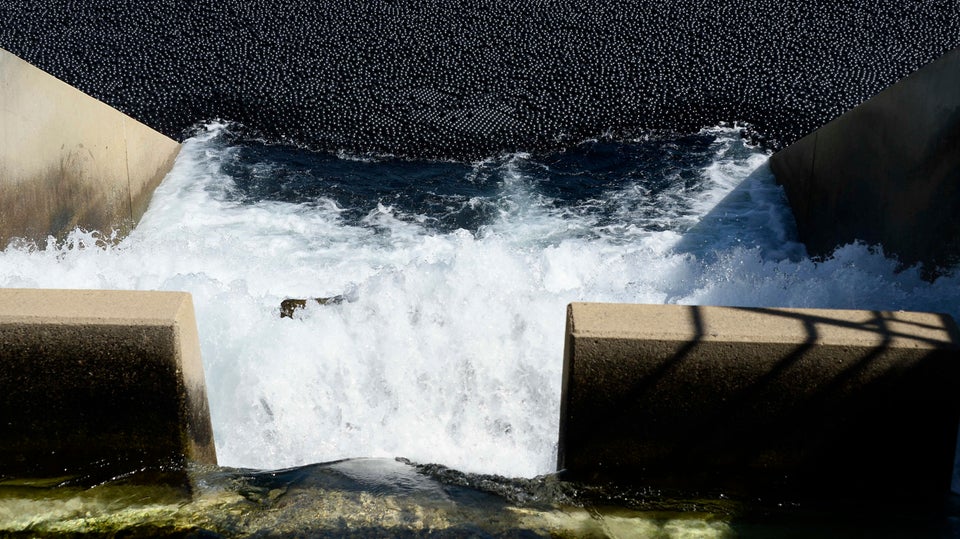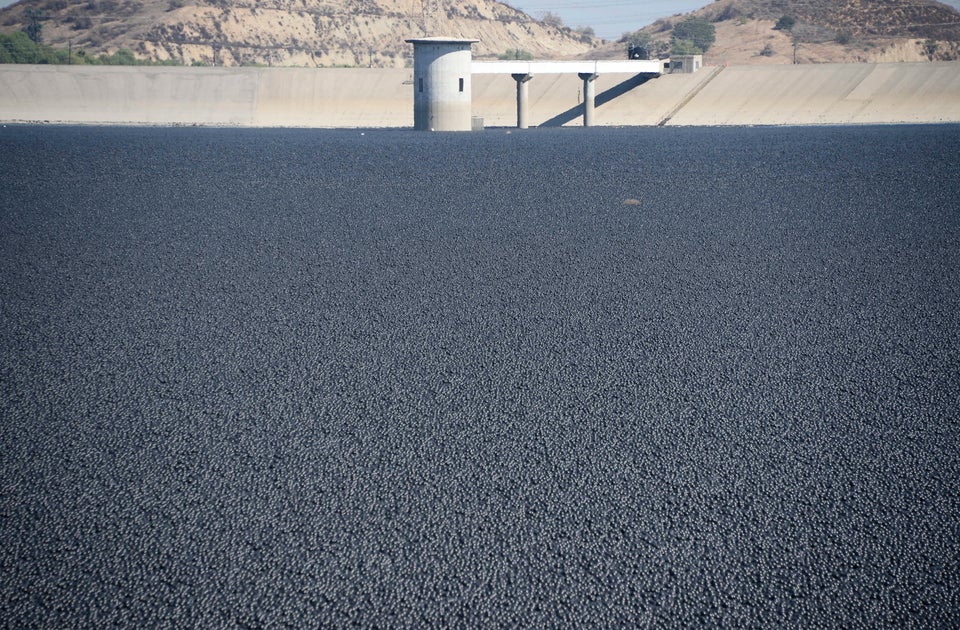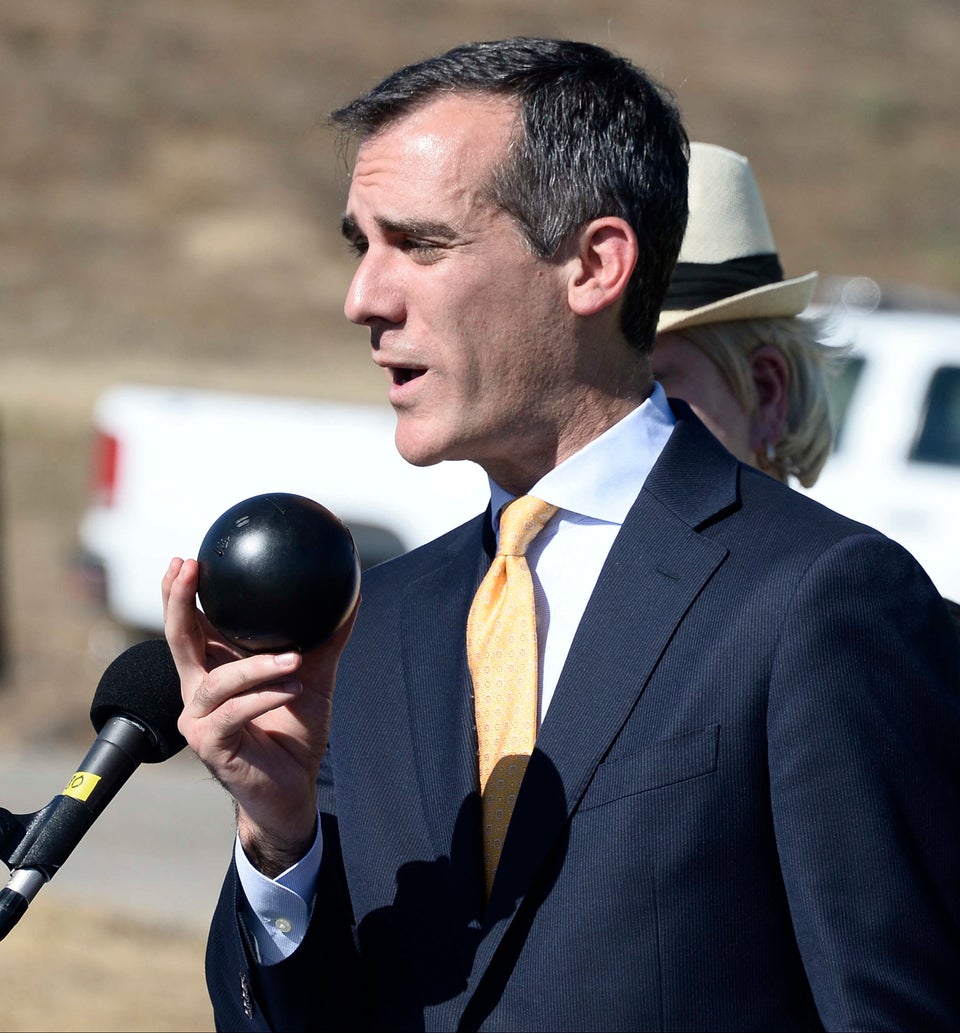 But the shade ball technology doesn't mean Los Angelenos can ease off their water conservation efforts. After a snowpack measure in the Sierra Nevada mountains in April revealed levels at a record low 6 percent of the long-term average for that time of the year, Gov. Jerry Brown (D) announced California's first-ever statewide mandatory water cutbacks, and those remain in effect.
Money could soon become available for bigger projects. Last month, California's two Democratic senators, Dianne Feinstein and Barbara Boxer, introduced emergency drought legislation in Congress, aimed at supporting other water projects in their dry state and helping poor rural communities that face severe water shortages.
Related