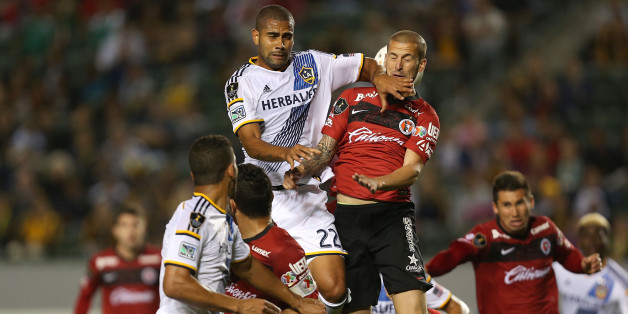 Call Los Angeles a soccer town, and most sports fans will think you're nuts.
But that is what the City of Angels has become, in part because of the religious-like devotion to that sport by the fast-growing, soccer-loving Latino population that is now the biggest demographic group in Los Angeles and supports the game like no other.
Add to that a certain Madison Avenue pop-star sexiness and celebrity that David Beckham brought to the sport in the city, ratcheted up by his wife, Spice Girl Victoria, and you have a glamour that exceeds even Kobe Bryant and the Lakers when he was young and on top.
"Los Angeles has shown that it's a 'soccer town,'" says Beckham, whose photograph is still plastered around Tinseltown where he is the biggest and most visible celebrity endorser of men's clothing, including his own line.
Los Angeles Galaxy billboards throughout the city outnumber those for the Dodgers, Angels, Kings, and especially the Lakers, who are going through their worst season in years.
But the biggest proof of how dominant soccer has become is the kids and how their participation in youth leagues and programs has skyrocketed as increasingly what were once baseball diamonds have been converted to soccer fields.
The legions of children now playing youth soccer in Los Angeles outnumber those playing Little League by more than 2-to-1, and they outnumber those playing youth football by more than 5-to-1.
And kids have to share many of those fields with adults, as the Southern California Soccer Association now oversees more than 230 adult amateur leagues with over 2,000 teams and 160,000 active players.
After all, Los Angeles is a county with a population of 10 million-plus that is about 45 percent Hispanic and overwhelmingly of Mexican descent — and where Latino soccer fans often take to the streets to celebrate their team's victory in important matches.
Fueling the soccer phenomenon in Los Angeles has been the Galaxy, which possibly outspends all other Major League Soccer franchises in the U.S. not only on its team but also on a youth development program going after the wealth of talent in Southern California.
The Galaxy has had some 141,000 registered young male soccer players eligible to play in its youth system of which it has drawn the 135 best young players for the program, according to the team's records.
Overall, the Galaxy has invested upwards of almost $1.75 million in its academy.
"The Galaxy have the resources where it's no cost for the families," says UCLA head coach Jorge Salcedo, who recruits heavily from those academy players. "To couple that with the facilities and everything they offer, it's too enticing to compete against."
The Chivas USA team tried to make a go of it in the Galaxy's back yard but evidently failed, though many believe had the failure had more to with the Chivas USA team philosophy and not because of the potential fan base.
Another soccer team for LA?
That base is there, and now there may be another pro team coming to Los Angeles.
Most recently, there was some excitement among NFL fans in the city when word spread that a huge spread near the vacant Hollywood Park complex was being bought by Stan Kroenke, owner of the St. Louis Rams which Los Angeles fans want back here.
Could the Rams finally be returning to L.A.?
But according to the LA Business Journal, there are reports in England that Kroenke – also a major stakeholder of London Arsenal soccer team – is interested in possibly bringing a "sister team" to play in a new stadium to be built on that parcel of land.
They would be the LA Gunners, and their target would be all those soccer fans who have changed the sports landscape of the entertainment capital of the world.
Originally published on VOXXI as Will Latinos turn LA into US's number 1 soccer town?
REAL LIFE. REAL NEWS. REAL VOICES.
Help us tell more of the stories that matter from voices that too often remain unheard.
BEFORE YOU GO
PHOTO GALLERY
David Beckhams Career in Pictures