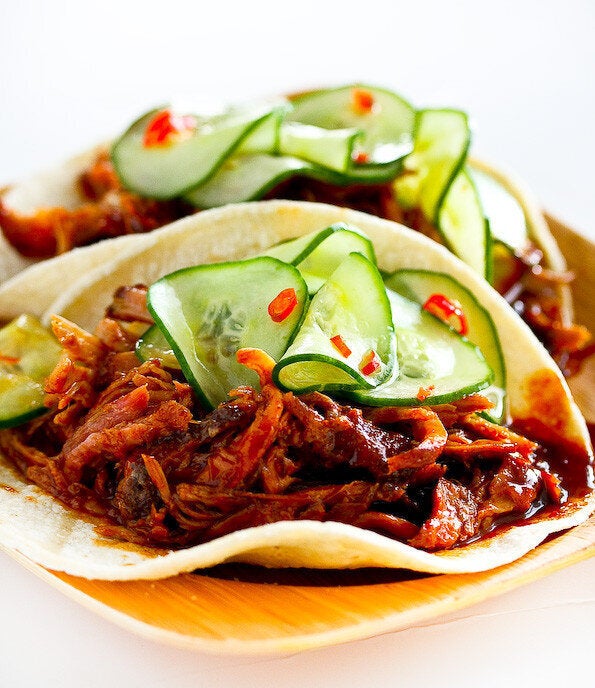 México, nadie lo puede negar, es la capital del taco por excelencia. Pero Los Ángeles, donde viven casi cinco millones de latinos -la mayoría mexicanos, está creando su propia historia: cada vez se afianza más como la cuna del taco fusionado. Se trata de la máxima expresión, en lo culinario, de la integración cultural: el plato más popular, más característico de la presencia latina en esta metrópoli, que se metamorfosea, se adapta, se integra a la nueva sociedad, cambiando de gusto y aceptando la influencia de otras cocinas.
Gavin Cha, chef de su restaurante, Chacha Chili, ubicado muy cerca del Este de Los Ángeles -cuya población es 97 por ciento hispana, y es además bastión de la comunidad mexicana en el condado angelino- es una muestra de este proceso. Pero su análisis sorprende.
"Para mí no hay mucha diferencia entre la cocina mexicana y la coreana", dijo Cha en una entrevista con HuffPost Voces al tiempo que echaba al asador colocado en el exterior de su local unos jugosos filetes marinados. "La única diferencia es que nosotros [los coreanos] usamos más ajo".
En Chacha Chili, que abrió en 2010 y se llamaba anteriormente Red Hot Kitchen, se sirve comida mexicana fusionada con la coreana, una corriente que comenzó hace tres años con la ocurrencia de Mark Manguera, un chico filipino de 33 años que después de una noche de farra se preguntaba a qué sabría un taco mexicano con barbecue coreano.
Esa idea se hizo realidad luego de que Manguera comprara un camión rodante para comida y se asociara con un chef coreano de renombre, Roy Choi, quien había trabajado para varios reconocidos restaurantes en varias partes del mundo.
El resto de la historia tiene un final más que feliz. Con Kogi Korean BBQ, Manguera, su socio y sus empleados, llegaron a logros que nunca habian sospechado. Ayudados por las redes sociales recorren las calles de Los Ángeles con su delicia fusionada movil. Aunque sirven varios platillos, el taco coreano, como se lo ha denominado, es el rey. Y ocupan orgullosamente un lugar entre aquellas cosas que definen ser latino en Los Angeles.
La historia de Cha es diferente a la de Manguera. Pero el resultado es el mismo: un total reconocimiento de la presencia hispana en la ciudad. Primero, Cha conoció los guisos mexicanos por medio de su niñera; luego, como sus padres tenían una tienda de sándwiches en City of Commerce, otra localidad al este de Los Angeles, se familiarizó con la comida de un restaurante de la cadena King Taco que estaba en esa misma área.
"Los empleados de mis padres me recomendaron que fuera a ese lugar, porque yo solía antes ir a comer a Taco Bell", reconoció Cha, quien ahora se ríe al darse cuenta de que la comida de esa cadena fue un invento estadounidense, y no mexicano. "Ahí aprendí que existían los tacos a la parrilla".
Algunos de los observadores y comentaristas de las tendencias culturales generadas por la presencia latina en Los Angeles ya dieron cuenta de la influencia de la comunidad en los gustos culinarios. Gustavo Arellano, editor en jefe del semanario OC Weekly y autor de la columna ¡Ask a Mexican! en la misma publicación, sacó a la venta el mes pasado el libro Taco USA, que aborda la historia y evolución de este platillo en Estados Unidos.
A pesar de puede parecer un alimento muy simple, el taco es sin duda el platillo de México que más se conoce en el mundo (el tequila y los mariachis son cosa aparte), comenta Arellano. Atribuye esta fama a que dentro de su simpleza, hay una complejidad que tiene que ver con sus ingredientes y "sus infinitas variaciones y constante satisfacción".
"Es también uno de esos únicos platillos de la cultura mexicana, junto con las tortillas y los tamales, que encuentras dondequiera que haya mexicanos", dijo el autor en una entrevista vía correo electrónico.
Los mexicanos, que suelen ser celosos de su cultura, no objetan, sin embargo, que un coreano -o un filipino, en el caso de Kogi- reinvente uno de sus orgullos culinarios. Arellano atribuye este fenómeno a una tradición que data desde la llegada de los españoles a América.
"Claro que es aceptable [la fusión]", escribió Arellano, también bloguero de The Huffington Post y fanático de los restaurantes y la comida. "Los aztecas nunca comieron tacos de carne asada hasta que llegaron los españoles. Los tacos es lo más nuevo en la cocina de fusión".
Esa fusión se repite en un condado como Los Ángeles, donde cohabitan decenas de grupos étnicos y donde se hablan más de 200 lenguas diferentes. Menos debe de sorprender la fusión culinaria cuando los mexicanos y los coreanos son dos de los grupos más numerosos de la región. De acuerdo con los datos más recientes del censo, 47% de la población en el condado angelino se identificó como hispano o latino; los mexicanos son el grupo más numeroso dentro de esta minoría. Los asiáticos, por su parte, suman 13% de la población, dentro de los cuales están integrados los coreanos.
Por lo tanto, los tacos, por esa capacidad que tienen de unir culturas, merecen un estatus mayor del que tienen en México y otras partes del mundo, comentó Arellano, quien considera que mientras que en el país de origen de este platillo se lo ve como no merecedor de formar parte de la alta cocina, en Estados Unidos no existe esa distinción.
"He comido tacos de filete miñón de 22 dólares que, aunque quizá nunca los vuelva a ordenar, estuvieron locamente deliciosos", escribió Arellano.

Popular in the Community