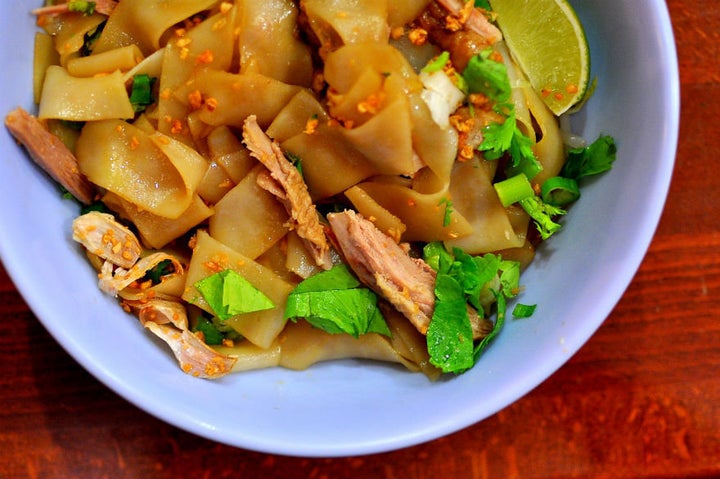 Jitlada has seen us on plenty of L.A. Date Nights. Can we not spice things up (we are in Thai Town, after all)? The Hollywood Thailand Plaza is set up like a game of get-in-the-mood Monopoly -- a Thai restaurant with easy-cuddling leather booths, a Thai market with cutesy custard desserts. And a stone's throw away is a new enclave of nightcaps to cool your peppered tongue.
Ruen Pair: Thailand Plaza has dining fare for days -- eschew the flashier Thai Patio and Red Corner Asia and seek out the green sign that bears mostly Thai lettering (we believe "Ruen Pair Thai Cuisine" was added as a let's-help-the-Americans afterthought). Request a table that shares the leather banquette, and like a magnet, your date will opt to sit beside you for the entire meal (as my date did recently -- swoon!). After a heaping papaya salad that's a must-share, an order of stewed duck with these wide, flat noodles (pictured, at right) might inspire a "Lady and the Tramp" moment. And another thing: A night at Ruen Pair is barely two dollar signs. 5257 Hollywood Blvd., Hollywood; 323-466-0153
Bhan Kanom Thai: Across the valet lot is a mini-mart brimming with Thai desserts, both sweet and savory, and a small army of eager consumers. Apart from the ice cream and "pudding" case, Bhan Kanom offers unusual Thai candies, bags of durian chips, stacks of oddities to put in your mouth. However, it's the housemade treats like mango and sticky rice, pumpkin in coconut milk, and something called panchi, a patty of taro, corn, shredded coconut and sugar that will make your mouth water most. The potato balls, $3 per dozen, look as tempting as the Cuban ones from Porto's. 5271 Hollywood Blvd., Hollywood; 323-871-8030
Harvard & Stone: Perhaps if you tempt your bartender with a potato ball, you'll get your artisanal drink stirred quicker. Harvard & Stone, little cousin to your favorite clandestine rum bar, La Descarga, is dark, handsome, even a little scruffy. The drinks, ranging between a reasonable $8 to $11, highlight liquors with monikers you might name your first-born: Elijah Craig, Evan Williams, Fighting Cock. If you're confidently old-fashioned, get Baby's First Bourbon, a familiar marriage of Bulleit bourbon, St. Vincent's orgeat syrup, lemon juice and a dash of Angostura bitters. 5221 Hollywood Blvd., Hollywood; 323-466-6063
Calling all HuffPost superfans!
Sign up for membership to become a founding member and help shape HuffPost's next chapter