As lunch was winding down Wednesday in the Los Angeles Times cafeteria, Bruce Upbin, one of several newly hired but as-yet-unannounced assistant managing editors, sat alone at a table speaking a little too loudly into his headphone mic.
Upbin was a mystery to much of the newspaper's staff, which had just voted to unionize the week before. He was one of several similarly unannounced middle-manager types who had come aboard in recent weeks. Although he and the others were listed in the Times' human resources software as having editorial titles, they were reporting to Rob Angel, the Times' chief business development officer. These new L.A. managers had also been working on the second floor, despite the newsroom being on the third. And, of course, there was the bizarre fact that they had yet to be introduced to any of the actual newsroom staff of about 400.
One L.A. Times employee, who spoke to HuffPost on the condition of anonymity, overheard Upbin say they were creating a national newsroom outside of the union, to service all of Tronc's markets. Tronc, formerly Tribune Publishing, is the owner of the L.A. Times, along with other newspapers in 10 markets across the country.
Upbin also mentioned that he had a total of five people to hire. This was the closest thing Times employees have gotten in weeks to a real answer about what the company is up to — and it was a confirmation of some of their worst fears.
The new management team is apparently being framed as part of a "reorganization," according to Harvard's Nieman Lab. Since being hired in October, L.A. Times Editor-in-Chief Lewis D'Vorkin has quietly brought on a number of editors from around the country. In addition to Upbin, who had worked with D'Vorkin at Forbes, he hired former Fox Sports executive Steve Miller as an assistant managing editor for digital; Louise Story, a renowned former New York Times reporter, as managing editor; The Washington Post's Sylvester Monroe as an assistant managing editor; and Will Tacy of Good Media as an editor.
With the exception of Miller, none of these new managers has been announced to the public or even to the staff itself. And the only reason anyone knows any of this is thanks to the company's internal HR software, which has proved to be one of the only windows into management's thinking. HuffPost spoke with 12 current and former Times employees, all of whom asked to remain anonymous for fear of retribution. They described an atmosphere of intense secrecy, distrust and anxiety as they try to get to the bottom of a story they're living instead of reporting: What exactly does Tronc have in store for them?
"The newsroom has basically become a large-scale intelligence operation to figure out what the fuck our managers are up to," one current employee explained. And though the newsroom did discover bits and pieces, Upbin helped tie the whole thing together. Staffers fear that Tronc is building a shadow national newsroom — non-union, of course — that would duplicate not only parts of the L.A. Times union staff but that of other Tronc properties as well, making the union employees expendable. And, although Tronc and L.A. Times senior management — which includes D'Vorkin, Times President Mickie Rosen and CEO and Publisher Ross Levinsohn, who is currently on a leave of absence following allegations of sexual harassment — have refused to offer any clarity about what this might mean, much less acknowledge the existence of a new national operation, you can only stonewall a roomful of reporters for so long before they start digging on their own.
D'Vorkin and the newly hired managers did not initially respond to HuffPost's requests for comment. On Jan. 29, after this story was first published, Louise Story told HuffPost, "I had agreed to work at Tronc and at The Los Angeles Times in very high-level managerial roles. But, as a result of recent significant changes in those roles, I decided not to work there in any capacity. I'm sorry that I won't get to join the scores of great journalists who work there."
A Shadow Scab Outfit
Part of what makes these new hires' roles so difficult to pin down for staffers, though, is a curious little trait shared by all of Tronc's new managerial hires (and at least a few non-managerial ones): They've all actually been hired under a different company than the one employing every other editorial employee on staff. Though union L.A. Times staffers are all employed under Los Angeles Times Communications LLC, according to the same internal HR system that revealed the existence of these hires in the first place, these mysterious new employees have been hired under a Tronc company that was renamed Los Angeles Times Network LLC in November, as reported earlier Friday by Nieman Lab's Ken Doctor.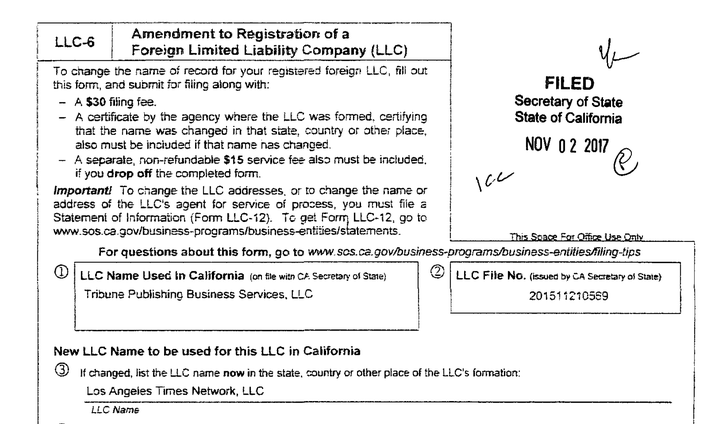 The new L.A. Times entity first came to the attention of newsroom employees when they saw an "LA Network" referenced in a Tronc job listing.

Employees realized this was likely the "network" mysteriously referenced in a slide from a presentation Levinsohn gave on Jan. 18, the same day sexual harassment allegations against him came out. This presentation was ostensibly about an upcoming network of unpaid contributors, along the lines of the one D'Vorkin implemented at Forbes.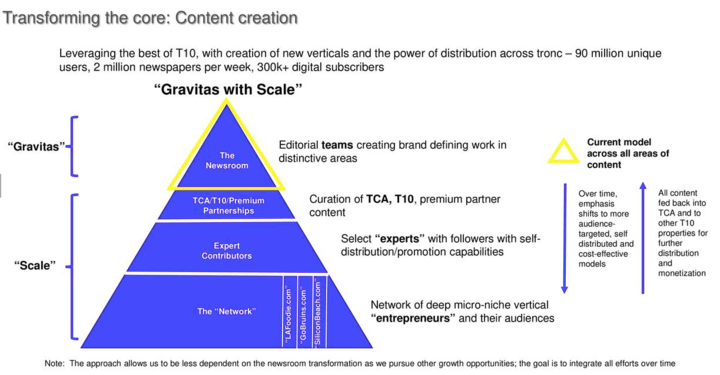 According to both a former employee and a current staffer, Levinsohn wasn't explaining the full picture. In addition to this free contributor network, Tronc is apparently planning to create a series of specialized teams, called verticals, that will exist entirely within this new L.A. Times Network, which is being referred to internally as NewCo and which exists as part of the business side — not editorial, as one would expect from a news operation. Each of the new managers is supposedly presiding over a different vertical, multiple employees told HuffPost. For instance, Monroe will head up a vertical covering race issues, Upbin will be overseeing the tech vertical, and Story, who is in New York, will take on an investigative vertical. The work created under these verticals, both from professional and non-professional contributors, will then be distributed across not only the L.A. Times but also Tronc newspapers nationally.
Complicating this is the fact that many of these non-union verticals already exist under the actual L.A. Times editorial operation, which strives to maintain a strict separation from any business interests. (The paper has a history of trampling the line between business and editorial.) Some employees worry this is a precursor to layoffs for the union staffers, whom Tronc seems to be actively making redundant. Another possibility is that Tronc will focus on building up a non-union workforce under NewCo and kill the union through attrition.
On Jan. 19, the newsroom voted overwhelmingly to unionize, 248 to 44, with the NewsGuild. Given the turmoil in recent days, the union sent a note to members informing them of their so-called Weingarten right to be accompanied by a union representative in any meeting with management in which discipline seems possible. After workers vote to unionize, a company generally has to keep the status quo in place as the parties bargain toward a contract, meaning that, legally speaking, it would be tough for the company to fire a bunch of newsroom staffers and give their work to new non-union workers.
The NewsGuild declined to comment, but the standard union move here would be to demand information from the company on any new hires and where they fit in with the current organization. As one staffer put it, "Our strategy right now as a union is to find out everything we can and to raise our voices without fear of individual repercussions."
Whatever its intentions, management is taking no steps to assuage staffers' concerns.
At a recent meeting that D'Vorkin held with a group of reporters and editors, one employee asked what Levinsohn's Jan. 18 presentation meant for Times staffers. D'Vorkin didn't have an answer, according to a current employee and a former employee. "I didn't see Ross's presentation" was all he would allow. Staffers pressed him, explaining that that's not what they'd asked — they had asked what was going to happen to them. "I didn't see Ross's presentation," he said again.
"The Los Angeles Times is like a Soviet circus right now," said one current employee. "Propaganda. Dancing bears. Mercurial leaders who say weird shit. People who disappear. It sucks, because we have a good team here."
Blurred Boundaries
The company may not have officially explained what this hazy border between the Times and the business side of Tronc actually means, but its effects are already causing trouble for the paper's increasingly anxious staff.
Last week, Dan Strauss, senior vice president and general manager for entertainment and lifestyle, met with a group of entertainment section editors. Strauss, who works at the Times under the Tronc business side, introduced several of the editors to Christina Schoellkopf, who is listed internally as a senior social media manager and who Strauss said would be running the entertainment social channels on a day-to-day basis. Schoellkopf, however, had been hired under NewCo, meaning she was technically a business employee and reported directly to a business manager.
When an editorial staffer raised an objection to someone from the business side running accounts that were supposed to represent the news outlet, according to an employee, Strauss said simply: "We're all on the same team. We all work for the L.A. Times." When the employee noted again that the two sides were supposed to be separate, Strauss said that they would take the conversation "offline" and discuss it later. They did not discuss it later.
In an email addressed to D'Vorkin and Miller that eventually got forwarded around the newsroom, Jessica Roy, the audience engagement editor, plainly laid out the reasons for her and her team's discomfort:
Lewis and Steve-

I wanted to raise some concerns I had based on my meeting this morning with Dan Strauss and the entertainment editors. Dan informed us that he has hired Christina Schoellkopf as a senior social media manager, and that she would be assuming responsibility for all entertainment editorial social media accounts.

I have serious concerns about an employee who was vetted, hired by and reports to the business side of the Los Angeles Times making editorial decisions and assuming publishing control of our brand on social media. Such an arrangement is unprecedented in this newsroom ― and is not the standard practice in most newsrooms. Our audience has an expectation that these accounts are independent from the business side in the same way print readers expect that editors choose the stories on the front page. What we post on social media and how it is framed is an extension of the journalism that we do here at The Times, and it should come from our editorial side.

Over the past few years, my team has guided best practices and style across all social media channels, including Entertainment. When we trained the WebEnt producers to do this, we went over things like photo permissions (which photos we legally can and can't tweet, for instance), the L.A. Times voice on social media, our policy for corrections on social media, and general best practices.

Furthermore, journalists in the newsroom adhere to certain guidelines and standards. We carefully craft social media messages to maintain both the objectivity of our work and the trust of our readership.

I am deeply concerned this violates the separation between editorial and business. At the least, this infringes on the structures that ensure our editorial independence. I wanted to raise this issue with both of you to get your perspectives.

-Jessica Roy

Co-signed by the entire audience engagement team
D'Vorkin replied thanking her and assuring the team that there would be "more discussions to come." When, exactly, D'Vorkin intends to hold those discussions remains unclear.
The secrecy surrounding both the editorial staff's future and NewCo hires in general has begun to take its toll on the staff.
"They're creating these supposed management jobs, and they're not opening any of them to the people currently on staff," said a current employee. "So no matter how many Pulitzers you've won, what your reputation is, [newsroom employees] have not been given the opportunity to apply for any of these jobs. D'Vorkin won't even answer questions about them."
The Crackdown
Though he has so far refused to answer any questions, D'Vorkin has been plenty busy asking them. According to multiple current and former employees, D'Vorkin is still livid about an article that appeared in The New York Times in November. That paper had obtained a recording of a meeting in which D'Vorkin forbade Los Angeles Times staffers from recirculating their own recent investigation into Disney's business ties with the city of Anaheim. A couple of months later, NPR obtained a recording of a second meeting, in which D'Vorkin berated his staff for the first leak: "At its core, it was unethical. And frankly, I think it showed a degree that whoever was involved was morally bankrupt."
Now, according to several employees, D'Vorkin is determined to find the leaker in his midst, and Tronc is supporting the cause by sending human resources executive Dyana Burke to L.A. to assist the investigation. According to one former employee, "They had to bring her in because there are no HR people left at the L.A. Times." Cindy Ballard, Tronc's former chief HR officer, resigned in December. Ballard, in the words of one former employee, was "the architect of the masthead purges" in August, in which the editor-publisher, a managing editor, a deputy managing editor and an assistant managing editor were axed.
D'Vorkin is also getting proactive about leaks, multiple staffers worry. They expressed concerns that Tronc was monitoring company phones and computers — and apparently they have reason to be worried. One former staffer noted that "people are being hauled before D'Vorkin and Burke to explain why, for example, they had an 11-minute conversation with Sydney Ember of The New York Times on a particular date." Staffers have been using encrypted messaging apps, such as WhatsApp, to speak with one another, with some going so far as to buy actual burner phones to discuss their own newspaper.
"It strains belief that the editor-in-chief of a major newspaper, with all the other issues and challenges confronting the LAT, is conducting a leak investigation of his own staff," a former employee told HuffPost. "That's the kind of thing the FBI and NSA do to persecute journalists. To see an editor do it is dumbfounding, and sickening."
Multiple staffers said that this investigation is what led to business editor Kimi Yoshino's removal from the building on Wednesday. Management hasn't explained why Yoshino was escorted off the premises and suspended for two days. But a former employee and a current employee both pointed to the Disney story that caused D'Vorkin so much grief, which Yoshino edited.
That Yoshino edited the Disney investigation is particularly significant considering that multiple current and former employees commented on D'Vorkin's particularly rough treatment of Yoshino, with one describing his behavior toward her as "harshly critical" and "caustic." Yoshino declined to comment.
A recent profile of D'Vorkin in the Columbia Journalism Review, titled "LA Journalism's 'Prince of Darkness,'" noted that "even those who speak positively about him acknowledge he can be difficult, threatening, and, in the words of one writer who worked with D'Vorkin for more than four years and actually likes him, 'without journalistic ethic.'" Though D'Vorkin has been in his position for only a few months, he's made sure to leave a mark, with one employee noting that "he's at war with the entire staff. It's incredible."
Still, though the current editorial staff has fluctuated somewhere between misery and terror, the recent landslide union victory has offered some consolation. "People have zero confidence in top management," said one current employee. "Nobody believes a word that comes out of Lewis' mouth. They're pushing a business plan from 10 years ago. And yet people are banding together, and we are still doing what we've done since 1881, which is putting out the goddamn paper every day."
UPDATE: Jan. 27 — The Los Angeles Times Guild organizing committee has released a statement demanding that Tronc's management team explain its plans for their future and reminding Tronc of the Guild's rights as employees, saying, "As journalists, we demand transparency from the people we cover. As employees of the Los Angeles Times, we demand the same of the executives who run our company." You can read the Guild's statement in full here.
This story has been updated to include comment from Louise Story.
CORRECTION: An earlier version of this article said that executive Dan Strauss met with the newspaper's audience engagement team. He met with a group of Times entertainment editors. Also, Yoshino was removed from the building on Wednesday, not Thursday.
Related
Popular in the Community