As you transition into your 30s, your friends fall into one of two camps -- the ones who have kids, and the ones who don't.
I'm in the latter category, but I still want to keep up with my Los Angeles-based pals who have a toddler or two in tow. And let's be honest, you can't just drag kids to any restaurant in town, you need a place that's accommodating. With that in mind, here are a few of my favorite spots I take harried parents to get a good bite, some drinks and a high chair.
MidiCi
Everyone loves pizza. Come to MidiCi if you want to bring the kids but eat like a grownup. This Neapolitan pizza joint on Ventura Boulevard in Sherman Oaks serves up delicious and reasonably priced pies in an upscale setting. Sam Marshall, behind the look of hotspots such as République and Gjelina, had a hand in designing the 4,000-square-foot space with high-ceilings, a Naples-built wood-fired oven and a living olive tree in the center of the dining room.
The adults can start with the housemade meatballs with smoked mozzarella, served with crushed Italian peeled tomatoes, Parmigiano-Reggiano, organic sweet basil and oregano. And everyone at the table will love the fire-baked truffle cheese bread that features black truffle cheese from Venice. The one in Italy. The cheese is infused with truffles and covered in wood ashes for months to flavor it to perfection.
So what makes MidiCi's pizza worth a trip to the Valley? The restaurant adheres to Italy's strict method of preparing Neapolitan pizzas. The country protected the method with legislation in 1998 -- that's how serious the Italians take their pizza. MidiCi's dough only has four ingredients: non-GMO Double-zero Neapolitan flour, water, sea salt and yeast. The red sauce? Pure crushed Italian peeled tomatoes.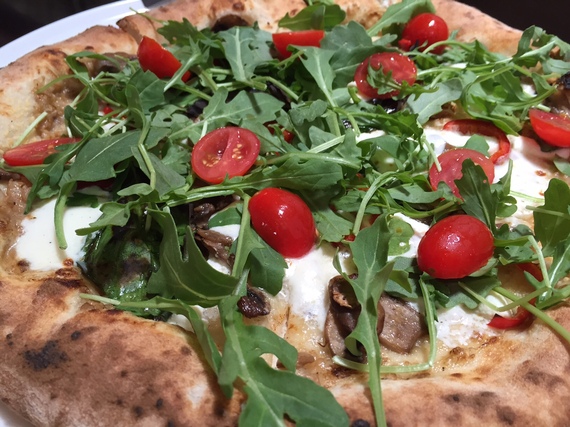 MiciCi pizzas are baked at nearly 1,000 degrees Fahrenheit - Photo by Gina Hall

The pizzas are perfectly sized to share with a table of friends and little ones. The grownup palette may favor the Truffle and Prosciutto di Parma Pizza, topped with truffle cream, whole Mozzarella, mushrooms, Parmigiano-Reggiano and topped with prosciutto di Parma after baking at nearly 1,000 degrees Fahrenheit. The Double Pepperoni Pizza should prove popular with the whole table, topped mozzarella, gourmet pepperoni, spicy Italian salami and Parmigiano-Reggiano. Specialty pizzas range from $9.50 to $14 and personal pizzas start at $7, with toppings costing extra.
The red and white wines by the glass are primarily from California, with the occasional Italian. And since kids always have room for dessert, I'll recommend the signature Nutella Calzone, which is MidiCi's Neapolitan dough baked with Nutella, blackberries, raspberries, blueberries and strawberries, then topped with a dab of balsamic reduction and shaved coconut.
The Pie Hole
Kids will get a kick out of the name, but The Pie Hole has some serious bites. With locations in the Downtown Arts District, Pasadena and a new expansion in the middle of Hollywood, you can pick the best spot to meet up for an ideal brunch -- that excellent meal in which you can fill up on breakfast or lunch, possibly both.
If you have a craving for breakfast food, then go for the quiche. Want something more substantial? Go for the Mac 'n' Cheese Pie -- the kids will be floored that something like this actually exists.
The real treats, of course, are the sweet pies. There are staples that remain on the menu, such as the Earl Grey Tea Pie and the Cereal Killer Cheesecake -- which is cheesecake mixed and topped with bits of cereal and worth ordering just for the Instagram photo if nothing else. The menu also alters seasonally. This being fall, you can certainly expect some killer pumpkin pie.
And what's pie without a fine cup of coffee? Pie Hole features its own blend, which can be served up as an espresso, drip coffee, cold brew or nitro cold brew.
Wood Ranch BBQ
Burbank can be a sleepy part of town, so imagine my surprise when I entered Wood Ranch BBQ one Sunday evening to find it packed with families -- on a school night. And for good reason, the barbecue is amazing.
Wood Ranch is the place to hit when you're feeling pretty indulgent and carnivorous, although there are some vegetarian and gluten-free options, as well. Be warned, the portions are more than generous, so come hungry or ready to carry home some doggie bags.
Start with either the spinach-artichoke dip or the shredded onions. The restaurant features a full bar and several specialty cocktails. If you're feeling adventurous, try the Smokin' Mary, made with Ketel One vodka, a signature Bloody Mary mix, applewood-smoked bacon & grilled jalapeño. Yeah, that's a beverage. If you want something with less kick, I recommend grabbing a glass of Ballast Point's Sculpin IPA, which pairs nicely with the appetizers and the barbecue to follow.
You can't go wrong with the tri-tip, which is slow-roasted overnight, smothered in Wood Ranch's original BBQ sauce and mesquite-grilled to order. Love ribs? Order the Pecan wood-smoked beef ribs with the chipotle-cherry sauce for a little twist. Feel like a sandwich? Try the brisket sandwich with Swiss, Carolina slaw, pickles and Thousand Island dressing on a lightly toasted brioche bun.
You can order sides to share with the table, I highly recommend the skillet baked beans and the mac 'n' cheese. The restaurant does have a kids menu featuring smaller portions of the adult items. Make sure not to dress Junior in his Sunday best, he'll probably leave smothered in sauce. But then, are there any parents you know who roll without wet naps in the ol' fanny pack?
REAL LIFE. REAL NEWS. REAL VOICES.
Help us tell more of the stories that matter from voices that too often remain unheard.