By Christina Rice, Acting Senior Librarian -- LAPL Photo Collection
In the early part of the 20th century, Southern California was a land bathed in seemingly perpetual sunshine, scented by fields of orange blossoms as far as the eye could see, with beautiful young maidens dancing though its crisp, clean air. At least, this was the Southern California marketed to the rest of the country through the aggressive efforts of organizations like the All Year Club of Southern California and the Los Angeles Chamber of Commerce.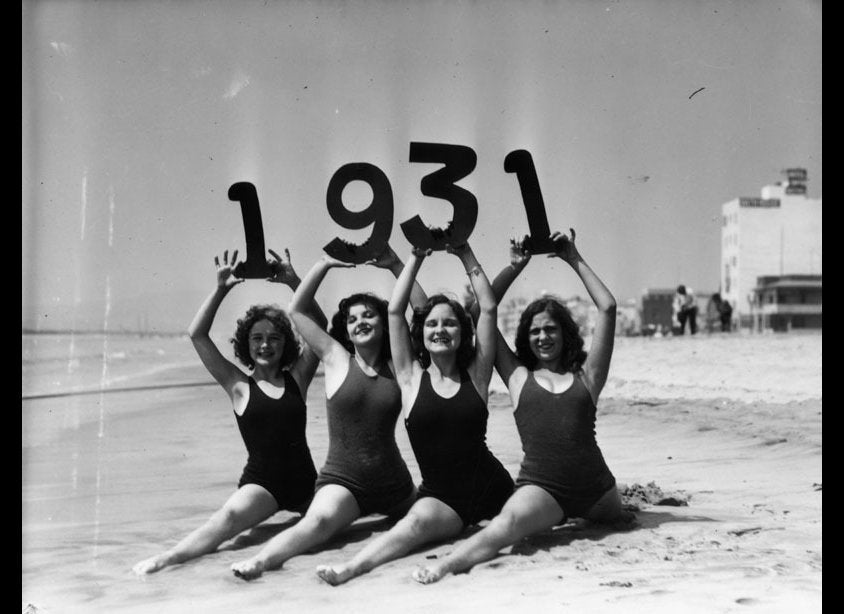 Los Angeles New Year
Los Angeles had seen a major real estate boom in the 1880s, followed by an equally major bust in 1888, which lead to a mass exodus from the area. Efforts to lure people back to this land of plenty were soon undertaken in earnest with the booster campaigns by groups like the Chamber of Commerce. These crusades lasted into the 1930s and, to say the least, were quite effective, as the population boomed from around 50,000 in 1890 to over 1.2 million by 1930.
Not unlike today, the major selling point of living in Southern California was the weather. The Chamber was always ready to promote this "land of sunshine," especially in the winter months when parts of the country were buried in snow. In the early 1930s, the Chamber began a fairly regular ritual of showing the east coast how Los Angeles brought in the New Year. This consisted of bathing beauties sprawled out on warm January beaches, holding signs indicating which year they were bringing in. What could be more wholesome or natural than that?
Just in case the sand-covered nymphs didn't do the trick, there was always the annual Tournament of Roses in Pasadena, which demonstrated our ability to hold a sun-drenched parade on January 1st, featuring floats made of flowers. The L.A. Chamber of Commerce did not come up with that dazzling idea, which was actually the brainchild of the local Valley Hunt Club, but they eagerly participated by contributing their own floral entry.
A century later, we still have sunshine and a Rose Parade to bring in the New Year, though far fewer orange blossoms and a population of almost four million. You can probably head to the beach this January 1st for a sun filled day, and if you do, don't forget to dance around with your giant letters spelling out 2013.
Happy New Year from the Los Angeles Public Library Photo Collection!
Popular in the Community