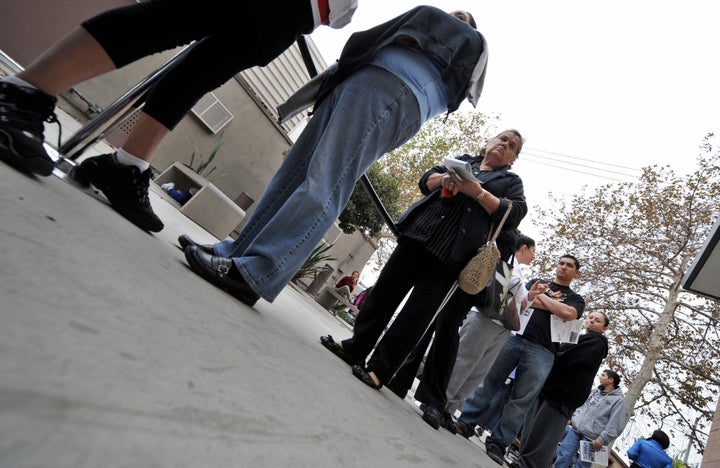 I'm not sure if anyone caught the Golden Globes recently, but I noted with interest a silent film called The Artist was a winner.
That's certainly encouraging for me as I'm never the loudest one in the room.
It also struck a chord with me because in Los Angeles we hear so much about the problems we face yet there is so little action -- nothing seems to get done.
We hear about failing schools, broken streets and sidewalks, budget deficits and the lack of jobs.
That raises an unsettling question: Is Los Angeles' city government capable of changing that conversation from one of laying blame to one of finding solutions?
It's time we start hearing about solutions.
It's time our government starts solving problems.
And it's time we recognize our potential as a great city of the 21st century. We have everything we need right here.
We are one of the most diverse big cities in our country with institutions of higher learning second to none. Unlike most big cities, Los Angeles owns its port, an airport and a utility. And we are the window to Asia and Latin America.
With strong leadership we can and we will find a way for every Angeleno to realize the promise of a good education, good quality of life with safe neighborhoods and decent transportation, and good paying work to support a family.
A century ago, before Henry Ford made cars affordable, if you asked government what we needed the answer would have been predictably unimaginative: Find a faster horse.
Los Angeles city government needs to stop trying to sell us on the promise of faster horses. It's time to do things very differently.
We're in the fifth year of a recession with unemployment nearly 12 percent.
Add in those who've given up hope and are no longer looking for a job, and in some communities almost one in five Angelenos are out of work.
Make no mistake, there are many challenges facing our city -- education, public safety and transportation -- among others.
The top priority of our next mayor, however, must be getting Los Angeles back to work. A good paying job is a source of pride allowing an individual to provide for one's family and helping kids get a good start on life.
Jobs also provide the tax base to support the services government has to provide.
I spent 30 years in business and only 15 months inside City Hall, but I was there long enough to know we must change the way city government does business. We need to bring transparency and accountability to City Hall.
It's going to take leadership with the ability to see a problem, find a solution, and most importantly get the job done.
The politics of empty talk, forgotten promises, and impractical ideas have to become a thing of the past.
Any discussion of how we realize all that Los Angeles has to offer is not simple and cannot be captured in a sound bite. The opportunities are many.
In a speech at Town Hall Los Angeles, I shared a series of new ideas to rebuild our economy in Los Angeles. Among them:
Trade -- Recognize L.A.'s Place in the Global Economy
Modernize LAX
Accelerate investment in port infrastructure
Support local exporters
Unlock EB-5 money for the film industry
Hire Veterans as TSA screeners at LAX
Technology and Education -- Embrace Our Universities
Partner with USC, UCLA and CSUN as NYC has done with Cornell
Better align our community college resources with the jobs of today
Tourism -- Raise Our Game and Start Collaborating
Replace LA Inc. with a public-private partnership
Encourage collaboration among cities, businesses and cultural institutions
Get Farmers Field built
Manufacturing -- Pursue the Jobs of the Future
Leverage our assets -- an experienced workforce and large market
Follow up on the opportunity in electric buses
Transportation -- Rebuild Our Local Infrastructure
Stop high-speed rail and spend the money in our own community
Put together a plan based on common sense and use technology
Get it done now
Small Business -- Support the Needs of Employers
Cut business taxes and regulations
Open regional business centers
Get Sacramento in line
I have laid out an ambitious agenda, many areas where we will create jobs.
Some will say we cannot do it. These same people will choose rhetoric over results, and press conferences over progress every time.
The career politicians in this town will continue to extol the virtues of faster horses.
After all, they have spent their entire careers living in the barnyard called City Hall. It's a conversation for another day about the barnyard odor from the way business is commonly conducted at the corner of 1st and Spring...
The ideas I spoke of are a start, but I would be remiss if I didn't mention the most important difference between rhetoric and results.
Leadership. Angelenos need to ask:
Who has the ability to take this city in a new direction?
Who brings real world experience and a track record of getting things done?
Who brings independence and is not bound by ideology or special interests?
Call me old-fashioned, but I come from a time when public service was an honor... an honor based on a record of true accomplishment.
Holding office was a temporary stop on a longer path through life... it meant a sacrifice of time and income. It was a life choice, not a lifestyle.
No one is going to confuse me with the bodybuilders on Muscle Beach.
But it's time to fix this barbell economy of ours -- a "barbell" with income heavily weighted on two ends, rich and poor, with a disappearing middle class in between.
It's time we start getting Los Angeles back to work.

Calling all HuffPost superfans!
Sign up for membership to become a founding member and help shape HuffPost's next chapter