Parents looking for a laugh, rejoice! There's a new parody Twitter account in town, and it's got us in stitches.
Los Feliz Day Care highlights some of the more ...er ... modern rules and customs of 21st century parenting -- from the all-natural, kale-infused snack foods to the kid viral video sensations.
According to CBS Los Angeles, the funny mind behind the Twitter account is comedy writer Jason Shapiro. While not a dad himself, the LA-based comedian was inspired by his co-workers' stories about their children and the "ridiculous" mandates at their day cares, he told the local news outlet.
Below is a sampling of some gems from the parody account. Check out the Twitter page for even more hilarious updates on the day-to-day happenings at Los Feliz Day Care.
Very important that all yogurt coming through these doors is goat yogurt. That's the yogurt our school community feels most comfortable with

— Los Feliz Day Care (@LosFelizDayCare) October 15, 2014
We have finally identified the family that brought hot dogs to the LFDC BBQ. Swift action is being taken and we're sending letters home.

— Los Feliz Day Care (@LosFelizDayCare) July 21, 2014
Someone left the shed open and now we have skunks living in our cider press. Please explain that we can't name them. That's not for us to do

— Los Feliz Day Care (@LosFelizDayCare) October 19, 2014
Tallulah's moms haven't picked her up & she's on a terrible agave bender. No use taking it, she has a seemingly endless supply in her pocket

— Los Feliz Day Care (@LosFelizDayCare) October 18, 2014
Had to write an incident report - Ash called Lulu the B word after she showed him how to hold his Zen rake. That's not bossy that's helpful.

— Los Feliz Day Care (@LosFelizDayCare) September 2, 2014
Stellan demanded 2 Thai iced tea pops because he's a "viral sensation." If his moms are reading this, please call. And take down that video.

— Los Feliz Day Care (@LosFelizDayCare) July 10, 2014
We try not to clap after show & tell presentations because clap volume/length is hard to regulate. Instead we maintain friendly eye contact.

— Los Feliz Day Care (@LosFelizDayCare) June 18, 2014
While discussing the crisis of our oil based economy in Om Room, Nico's great point about wind power was undermined by his minecraft tantrum

— Los Feliz Day Care (@LosFelizDayCare) June 13, 2014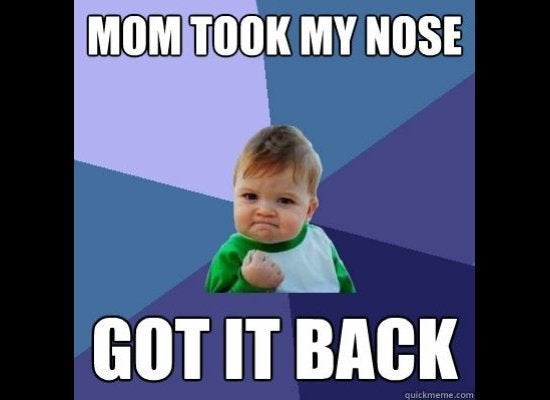 Baby And Kid Problem Memes