As the United States wrestles with a demographic shift set in motion by the fast-growing Latino population, a small North Carolina town could offer the country a glimpse of what lies ahead.
At least that's how Paul Cuadros sees it. For almost two decades, Cuadros, a journalist turned soccer coach in Siler City, has witnessed the community's changing attitude toward Latinos. And as the protagonists of NUVOtv's docu-series NUVOtv's docu-series "Los Jets," Cuadros, his all-Latino team and their families aim to give viewers a new perspective on Latino youth and the realities of first generation immigrants in the U.S. today.
"When I first got to Siler City in 1999, it was a community in transition, and dealing with that transition in an unsettled way," Cuadros told The Huffington Post. "Things were changing very rapidly, and they were uncomfortable with those changes."
Cuadros had initially traveled to North Carolina to report on immigrant poultry workers. When the workers brought their families into town and settled in, they gave rise to a burgeoning Latino community.
The demographic shift that followed was fast. In 1990, only 3.6 percent of the population in Siler City described themselves as Hispanic in 1990, according to the town's website. By 2000, that number had gone up to 39 percent -- and by 2010, the U.S. Census Bureau found, it was nearly 50 percent.
"When you think of the immigration issue or the Latino community, and where you see a lot of newcomers, people don't think of the traditional Southeast and how those communities are dealing with it," Lynda Lopez, who executive produces the series with sister Jennifer Lopez, told HuffPost.
The story of "Los Jets" can thus be seen as a reflection of what many Latino immigrants in the U.S. face as demographics shift.
"[Siler City has] gone from a place that was angry and confused and upset about the changes that were happening in that community, and now it's close to sort of an acceptance of that change and of that community," Cuadros said. "And I think America can go through the exact same story."
But it wasn't long ago that there were signs of resistance to the growing Latino community in Siler City. Over a decade ago, Cuadros and other Latino adults suggested someone start a soccer team at Jordan-Matthews High School, so that Latino kids would have a sport to play. But the school and some members of the community resisted the idea. The program was finally given the green light in 2002 -- and in 2004, the team became state champions.
The original team's struggles are documented in the series -- Lopez says the network is still considering a scripted show inspired by Los Jets' beginnings -- but the main focus is the kids who make up the team today and aim to become state champions again.
"You see what their regular life is like, what their family is like, how they deal with family and love and community and fitting in [in school]," Lopez said. "What's inherently American about these boys is apparent when you see them in the series."
For Cuadros, this intimate look at the students' lives and families is a way of shattering negative stereotypes of Latino teens.
"[There] is sort of an image of criminality applied to Latino youth, even to the children who have been crossing the border recently from Central America. They are seen as criminals and not necessarily seen as child refugees fleeing violence to save their own lives," Cuadros said. "What 'Los Jets' really does is presents this sort of very realistic face of Latino youth in America today, kids who are growing up here, kids who are struggling with the very same issues and things that any other high schooler is dealing with."
"When people talk about Latino youth or incomers or immigrants, you never see the reality of how their lives really are, how integrated in our society they really are," Cuadros added.
One of those realities is being undocumented. In the series, some of the players discuss their families' harrowing journeys across the border and the struggles they now face when it comes to education and job opportunities after high school.
"It's just a testament of how brave these kids are," Lopez said of the undocumented students. "They themselves feel they want to make their voices heard, that they want to take that stand, they want to have that feeling of inclusion even if everybody is not ready for it."
Darwin Ramirez, one of those undocumented players featured in "Los Jets," said he shared his story because he hopes viewers "get something out of it, [when] they see the struggles that I face."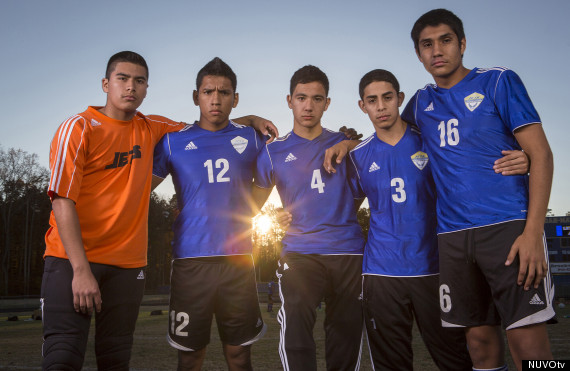 Team members of Lost Jets. Left to right: Daniel Estrada, Darwin Ramirez, Martin Cirrillo, Jonathan Lopez, Cirilo Rangel.
Lopez agreed with Cuadros that Siler City and the team's story could teach the country about acceptance, especially when it comes to immigration.
"It just shows you the capacity of our country to be able to integrate newcomers in our society, and these kids also show you how they can become a part of our society," Lopez said.
After a long career reporting on the Latino community, Cuadros understands that the perception of immigration is often influenced by politics. Still, he has high hopes for how the country will adapt to the demographic shift.
"Aside from how this issue is used politically as a tool, and how much fear is ingested into the issue, I'll be very honest with you -- this issue is just about change in America," Cuadros said. "Some people want to use that change to scare people into doing things or use that fear to get what they want to get."
"[But] America has been through change before," he added. "There is a way to get through this, and there is a way to something that is closer to acceptance."
The entire series, which was directed by Mark Landsman, is currently available on Hulu, and episodes are also available on NUVOtv's website. "Los Jets" will return to NUVOtv with a marathon on Sept. 17, during Hispanic Heritage Month.
CORRECTION: A previous version of this article stated that the Sept. 17 "Los Jets" marathon on NUVOtv would be hosted by Jennifer Lopez. A Jennifer Lopez special will air after the marathon.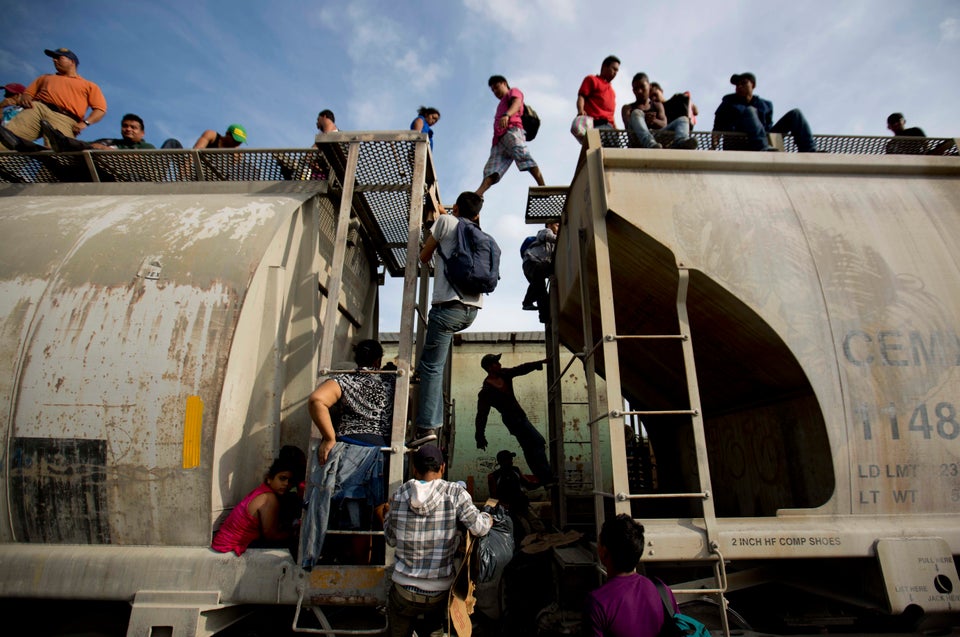 Why Latin Americans Really Come To The U.S.