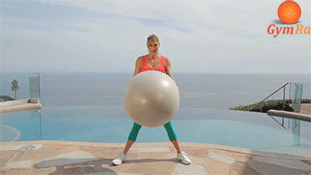 Had a baby three months or 13 years ago and can't lose the baby fat? Well, you're not alone. As a matter of fact, you are in the 90th percentile of all moms that just can't lose the baby fat, muffin top, er, whatever you want to call it -- those squishy places. As the author of Lose That Baby Fat, I hear this all the time. And with summer fast approaching, trying on that bathing suit is just around the corner so it's time to get going, and it's time to get going now!
Getting started is always the hardest part, so I put together six core moves using an exercise ball that you can do 3-4 times a week in only 10 minutes. And I've made it even easier for you by making this video to do along with me. So no excuses -- let's get going and get in shape for summer!
MOVE 1: SIDE TO SIDE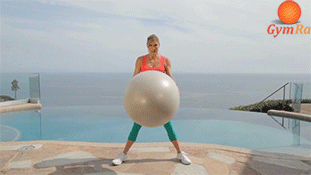 TARGETS: Lower body
Stand with your feet hip width apart and hold the ball at your waist.
Lunge to one side as you swing the ball until it reaches shoulder level.
Lunge back to the other side swinging the ball to the opposite shoulder.
Repeat for 10-12 repetitions.
MOVE 2: AROUND THE WORLD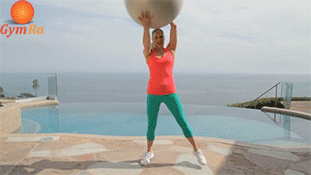 TARGETS: Obligues and abs
Stand with feet hip width apart and hold the ball at waist level.
Start by making a figure "8" with the ball moving the ball from side to side.
Begin by stepping to the side, then bringing your legs together, then stepping to the side again.
It will take a moment to get the timing of your feet and arms together. Repeat on the other side.
Complete 10 to 12 repetitions.
MOVE 3: CRUNCH ON THE BALL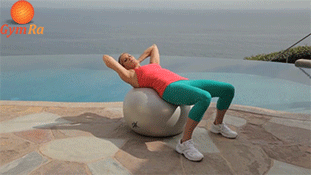 TARGETS: Abdominals and back
Sit on the ball with your knees at a 90-degree angle. Walk your feet out slowly until you are halfway between a seated and lying position. Place your hands behind your head. Curl your body up halfway keeping your tailbone pressed down on the ball. Slowly roll back down onto the ball, one vertebra at a time.
Complete 10 to 12 repetitions.
MOVE 4: PUSH UPS ON THE BALL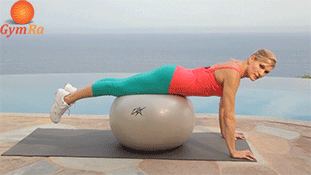 TARGETS: Abdominals and lower back
Lie with your belly on the ball and walk your hands forward until the ball rests under your legs.
Make sure that you keep your hands directly below your shoulders.
Lower your upper body toward the floor, bending the elbows out to the sides.
Straighten the elbows and exhale as you press back up into starting position.
Complete a total of 10 to 12 repetitions.
MOVE 5: BALL EXCHANGE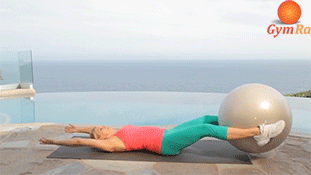 TARGETS: Core, abdominals and back
Lie on your back, making sure your lower back is pressed down into the mat or floor.
Holding the ball, extend your arms and the ball directly above your head on the floor.
Keep your head and neck resting on the floor. Raise your arms and legs up to meet at a 90-degree angle above your torso. Exchange the ball by grasping it between your legs. Then bring the ball back down to the floor.
Continue exchanging the ball 10 to 12 times.
MOVE 6: ACCORDION CRUNCH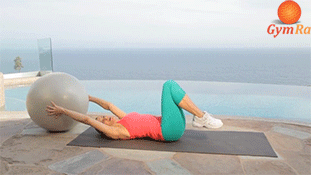 TARGETS:Abdominals and back
Lie on your back with your knees bent and your feet flat on the floor. Place the ball above your head. Bring the ball overhead to meet your knees, like an accordion, then return your feet back down to the mat and your arms overhead. Complete 10-12 repetitions.
References:
LOSE THAT BABY FAT, (M.Evans & Co. Dec. 2012) by LaReine Chabut
American College of Sports Medicine (ACSM) guidelines