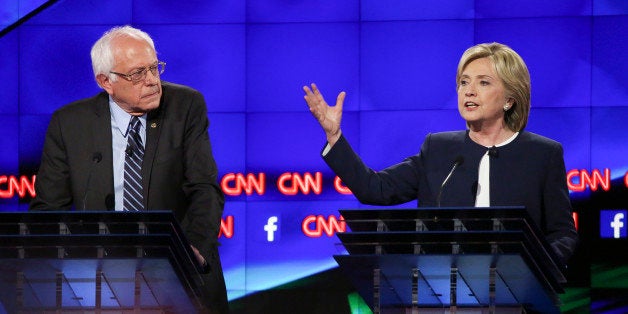 I've seen a lot of articles following the presidential debate, and to say it's one-sided is an understatement.
"Hillary Clinton's Democratic Debate Magic," "Clinton scores big in first debate," "Hillary Clinton crushes it," "Hillary Clinton towers over her debate rivals," "A Runaway Victory for Clinton."
I could point out that these same news outlets all wrote articles calling Sanders "old, fringe, leftist" and dismissed his candidacy just months ago. Or bring up Hillary's seventh biggest contributor is Time Warner, which owns CNN.
Instead, let's take an objective look at the night, excluding Chafee, O'Malley, and Webb, as they assumed irrelevant roles.
Bernie came out showing his passion by addressing climate change, private prisons, and racial injustice.
Hillary immediately pulled the grandmother and mother card- multiple times- throughout the debate, a trick her team has told her to emphasize, in order to seem more human. While I read right through this tactic, it generally made her look more agreeable. Well done.
Hillary's strong points included her preparedness in her rebuttals and attacks against the other candidates. Responding "No" if she wanted to respond to Chafee's claim that voting for the Iraq War made her an ineligible candidate. Flowing through her rehearsed answer: while she had voted for the Iraq War, President Obama ultimately asked her to be Secretary of State, valuing her judgment. Immediately saying "No, he does not," when asked if Sanders had been tough enough on guns. Hillary had also been the only candidate to mention and support Planned Parenthood. Hillary distanced herself from Obama as the would-be 'first female president,' and spoke strongly against Putin. Succinct, memorable lines that served her well, summing up a successful performance.
Bernie lacked all these polished lines. Call it what you wish- style, preparedness, savvy- Hillary championed what Bernie sorely missed. His inexperience showed, culminating with him speaking about himself in the 3rd-person twice and labeling Syria a "quagmire in a quagmire." Bernie got lost on a 'China' question before Clinton jumped in and dominated foreign policy questions. Bernie also didn't seize opportunities to attack Clinton's gaffes ("I never took a position on Keystone until I took a position on Keystone" or "I represented Wall Street as a senator from New York").

But Bernie is an entirely different candidate. What he lacked in style, he made up in substance. He touted his populism and mentioned a variety of issues. He named climate change the greatest national security threat to the US- something Obama has similarly claimed, yet CNN laughed at. Unlike Clinton, Bernie clearly stated #BlackLivesMatter. He's the first presidential candidate ever to support legalized marijuana. Bernie also verbally plugged for his website, raising 1.4 million dollars in just four hours last night.
Hillary also claimed she was proud of making enemies of the Republicans. Notice that earlier, she had said, "I'm a progressive who likes to get things done. And I know how to find common ground... We found ways to work together... I've got a history of getting things done." So what cards are you trying to play? You're not a progressive, you're a New Politics Democrat, a fiscal conservative, until Bernie moved you left; you're now proclaiming yourself a progressive to win his voters.
Isn't Hillary's argument that she is more electable compared to Bernie, and that she'll get things done? Making enemies of Republicans doesn't seem to be the right method. Bernie has consistently showed that while he purports a series of idealistic and leftist views, he can work across the table. Anderson Cooper acknowledged this, bringing up the 2014 VA bill that Bernie and John McCain had written together to get more funding for Veterans sitting in long waiting lists before visits.
Bernie is also experiencing the 'Ben Carson' effect- generating the most buzz online after the debate translates to higher polls. A graph by the Washington Post shows remarkable spikes in Google searches after each of his talking points. Sanders' intro spiked 90% of Google searches. After each talking point, from attacking Wall Street to defending Hillary on the emails, searches shot up. On the other hand, O'Malley, Chafee, and Webb rarely spiked in interest. This proves that people aren't just looking into Sanders because they don't know him, but because his message is a reflection of their own interests.
Bernie also is winning the people- prominent yet unscientific polls on Facebook and throughout the internet proclaim Sanders victorious, sometimes in huge margins.
(Polls were still open so numbers may be slightly different when I checked at around 10 PM ET on October 14, 2015)
TIME- 58% Sanders, 11% Clinton
Drudge- 54% Sanders, 9% Clinton
US News and World- 82% Sanders, 12% Clinton
FOX8- 79% Sanders, 13% Clinton
New Twitter followers- 42,730 Sanders, 25,475 Clinton
Total Twitter mentions- 407,000 times, more than any other candidate combined.

Note similar trends to Obama's 2007 run. In his first debate on April 26, 2007, Obama was declared the victor in the poll in the debate's host state South Carolina. Initially, Obama won the people, not the pundits. However, pundits like Chris Matthews, Keith Olbermann, Howard Fineman, and Joe Scarborough declared Clinton the 'most presidential.'
Similar to comments today from The Hill- "Clinton looked good in the debate - and presidential."
This debate is exactly what Bernie needed. Sanders showed who he was and the new ideas he was fighting for- change in Washington- that moved more voters.
Clinton, on the other hand, fulfilled her goal of 'looking like a frontrunner,' comforting those who were voting for her. About time, since Clinton has been the frontrunner for months now.
I recommend you pay attention to the future. Expect similar numbers in pre-debate and post-debate polls due to strong showings by both candidates. I would not be surprised if Sanders' numbers increase. Nationally, Bernie's around 15-20 percentage points behind Hillary (Obama was 18 percentage points behind Hillary at this time last year), and Bernie's got more potential- his name recognition was a shaky 30-40%.
Either way, it's gonna be a hell of a ride.
Calling all HuffPost superfans!
Sign up for membership to become a founding member and help shape HuffPost's next chapter