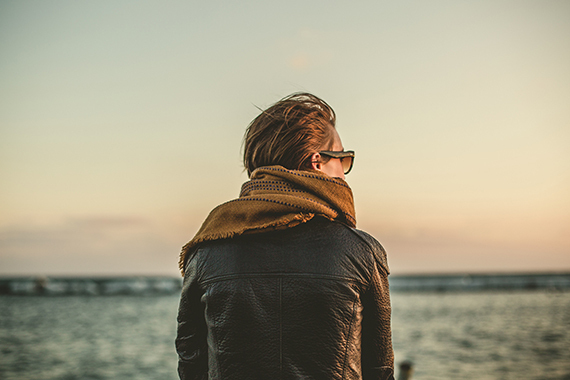 Matthew Wiebe via Unsplash
When I hear of a suicide, I can immediately relate to the anguish and guilt the families of the victims are experiencing. My husband took his life three years ago, and I would like to share what I have learned -- with the sincere wish that it might give solace and hope to the family and friends impacted by suicide.
I know your hearts are broken and your lives feel shattered. Your pain is so intense you can barely breathe. You most likely feel guilty and relive over and over in your mind what you could have done differently. You will replay many different scenarios in your head, all with different endings, in which your loved one gets the help they needed and don't resort to taking their own life. You may be angry at the same time. How could they do something that would cause such pain to so many people? It may seem like they rejected all your efforts to help and chose this path to punish you.
But eventually you will let go of anger. Your loved one did not and could not even think about how they would hurt you or others; they could only think of ending their own anguish, and that you would be better off without them. They saw no other possible solution.
In time you will let go of guilt. Although it may take a while to get there, you must understand that often, when someone takes their life, it represents a failure of our healthcare system to effectively deal with mental health issues. In others, even the best available medical treatment could not help; we simply do not fully understand the human brain, mind, and soul enough to effectively treat all mental illnesses.
There is no right way or wrong way to grieve. There should be no pressure to move on. There is no "acceptable" intensity or duration of grief. Please make sure you don't suppress your grief. To heal you must express your feelings, whatever they are -- sadness, anger, despair, confusion. Talk with your friends, family, professionals and support groups. If you can, express your feelings in writing such as in a journal or letters. Every bad feeling and emotion that is expressed is a small release that will ultimately help lighten your emotional burden. Sharing stories of your loved one will give you a bit of joy, even if mixed with sadness and grief. Those stories are the narrative of love for the one who has died.
You may find that some of your friends do not show up to comfort you when you need it, or may not even call or attend the memorial. Don't take it personally, and don't let this destroy an otherwise valuable friendship. Many people are uncomfortable and don't know what to do or say, and may even feel like they shouldn't intrude. Our society doesn't always know how to deal with death -- and death by suicide is even more difficult because of the lingering stigma.
Make sure you create a space for hope, for peace, for relief, and even for a bit of joy. Your grief does not have to be "all or nothing." One feeling can sit right beside another perhaps for a long time to come. Know that living will eventually soften and you will become more comfortable moving on with your new life without your loved one.
You may even find that there are gifts that come from your grief. You will discover that you are now capable of loving more deeply than you ever imagined possible. You will look at life -- and the whole world -- differently. The little things matter far less, and the people that are there for you become far more important.
Grief is not the enemy. Grief is the teacher.
This post is part of Common Grief, a Healthy Living editorial initiative. Grief is an inevitable part of life, but that doesn't make navigating it any easier. The deep sorrow that accompanies the death of a loved one, the end of a marriage or even moving far away from home, is real. But while grief is universal, we all grieve differently. So we started Common Grief to help learn from each other. Let's talk about living with loss. If you have a story you'd like to share, email us at strongertogether@huffingtonpost.com.