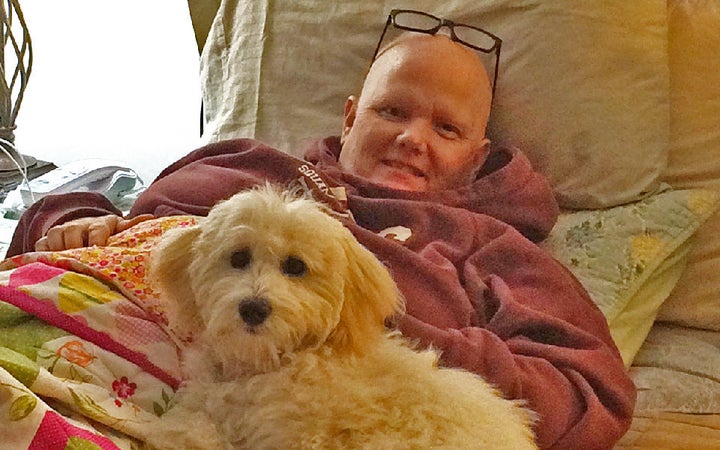 One way to avoid my eyes and asking the real question, "Are you going to live?" is to look at my hair, which has bloomed to a new silvery gray with astonishing curl.
During pickup at my children's elementary school, folks I haven't seen in a while venture over. "Love your hair!" "You look great!" "It's really come back nice." "It's really come back nicely." "Great hair." "Oh, my God. Look at your hair!" "Is that curl natural?"
As it ends up, all of life is natural, even death. I have now run out of responses to these comments, all well-meant, of course, full of hope that I am cured (which I am not) and that I look even better than I did before. The loss of weight from cancer surgery combined with this fabulously gray hair seems to some like a makeover instead of the natural result of trying to save my life.
As it ends up, my hair was the only feature of my body and soul that has never been in need of improvement. My hair had a natural tendency to obey, which cannot be said of the rest of me. My knees bend together. My arches have to be housed in ugly shoes because of their tendency to go in. I have my family's broad shoulders, my legs are fatter than either of my brothers', but that hair! My hair was thick, wavy, ginger blond. Unlike the rest of me, it came to rest naturally where it was, no matter how awkward the cut.
I was lucky when it came to hair. And it seemed like I would be lucky with cancer as well.
The first proposed treatment involved mostly radiation, with some adjutant chemotherapy that would not cause me to lose my hair. I remember tilting my chin in the air, thinking "Well, that's good," though I did not feel a particular way about my hair anymore.
Once you hear "cancer," you really care about living instead of dying, about being well and present, instead of sick and absent. You come to realize that the outside of your body can obscure or hide any number of things, including an incredible messy tumor that clawed all around your reproductive system like one of those creatures from "Stranger Things."
A PET scan revealed that the cancer had metastasized, ruining my hope for a cure, requiring full-blast chemo — because who knew where else the cancer was that we could not see?
The social worker in oncology kindly handed me a packet about losing your hair. She said, "two to three weeks, 14 to 21 days." I know the packet had some other things in it, about what to do, about wigs, etc. I never read the packet.
"Once you hear 'cancer,' you really care about living instead of dying, about being well and present, instead of sick and absent."
Those two weeks between the start of chemo and the coming out of my hair was as normal as it could be. Given the chemo protocol, I felt pretty good. I took a host of pills that quelled my stomach and moved my bowels and life went on. I was able to take my children to school or pick them up. I read books and wrote. I spent time with my wife, who took the semester off to be with me during treatment.
For cancer patients, the sense of life continuing has a double edge. On the one hand, it feels vaguely insulting. You have cancer, after all. You wake up in the middle of the night, worried about a pain, worried about your children, wanting it to be over, wanting it to never have started. And then, there is a tremendous relief that you are still there, pulling the cereal box out of the cabinet the next morning, since you imagined that the sickness would take you somewhere else.
I thought I might care about my hair. I had prepared, getting two cuts that spread out the loss. When it happened, I was sitting in a writing workshop and I felt my scalp tighten. I had never had that feeling before, like a frown from the top of my head. I got in the car and pulled a little out. I almost giggled. I had never done that before.
On the way home, I pulled a little more out. I went into Boston for a poetry reading that night. I sat on the subway, and pulled a few clumps out, until I realized that was probably socially awkward and could be frightening to others.
And that was that. I had a final buzz in the next few days. There were clumps of hair in the shower. I scooped them up and threw them away. All the time, I thought to myself, "This is not the important thing," because it wasn't. Hair, of course, is mostly dead. I was concerned with living.
Still, I was surprised by the attention I received for my hats. "Great hat!" total strangers would say to me. "I really like your hat," the cashiers would say. A number of people wondered if I was going to get a wig. There was a shop by the place I got chemo with all kinds of wigs and scarves, and I was sure this was a comforting and reasonable solution for some. But I wasn't looking to be reasonable (after all, I had metastatic cancer), and fake hair would not be comforting to me.
Of course, being bald should not be, but is, a screaming symbol that you are having chemo. As I went about my life, I would be subject to other's narratives, sincerely wrought, with ungodly detail, about friends and relatives of complete strangers in Barnes and Noble who had gone or would go through chemo and their pains and their lives and their deaths. If I was feeling very vulnerable, I might resent those narratives, but I began to learn the need for talismans, my glowing head by the bestsellers, a call to story, to making experience visible. I rather enjoyed it.
When chemo was over, it was summer. I continued to wear hats, so I wouldn't get sunburned. I didn't have to shave my legs (score!) or under my arms (double score!). Slowly, but surely, the hair came in, at first a gleaming whitish gray. I wasn't surprised by the grayness. It had been coming on for some time. I was stunned by how people wanted to touch it or to comment on its progress, which they always judged as very rapid or fast. By the fall, I pretty much had hair again, short and styled the way it had always been, except for its color and curl.
Even months after chemo, in the winter, at a school fundraiser, two drunk mothers ran their fingers through my hair with complete tenderness and entitlement. I felt like I was in a bad lesbian porn movie.
I will most likely have chemo again and lose my hair again. It might come in a different way after that. I think it's possible that, within a year, my hair will return to its previous texture.
I wish the mirror I look into every night could take a scan of my body. What I really care about, incessantly, even manically, is what my cells look like, what might be growing at the site of the tumor, where it spread, or in the invisible folds of my organs. The seen world is not static, of course, but lately it buzzes by me, for it is my interior where both my heart and my illness are singing all the time.

Do you have a personal story you'd like to see published on HuffPost? Find out what we're looking for here and send us a pitch!