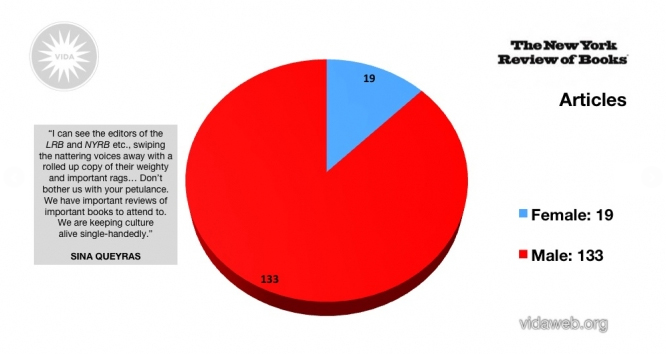 Source: VIDA: Women in Literary Arts. Click here to view the entire series of pie charts.
It's appropriate that the red, the color of passion and anger, represents the male slice of the pie in latest set of charts created by VIDA: Women in Literary Arts. The infographics reveal an ugly, unchanging truth: in 2011, the number of articles published by women in top thought-leader magazines was significantly less than the number of articles published by men.
For those unfamiliar with "The Count," as VIDA calls it, the numbers are shocking. At the Atlantic, women wrote 64 articles in 2011, while men wrote 184. The overall percentage of female bylines dropped 1.5 percent from last year, when the numbers were 52 to 158.
At the New Yorker, whose byline disparity was covered by CJR in 2005, men wrote 449 articles in 2010, while women wrote 163 -- or 26.63 percent of the total. In 2011, that percentage slid to 26.44 percent. At Harper's, the number fell to 16.66 percent from 21 percent. Female bylines in the New York Review of Books comprised a mere 12.5 percent of the total in 2011, down from 14.6 percent in 2010. Women's bylines in the London Review of Books dropped to 13.88 percent from 17.74 percent in 2010. The Boston Review also slipped from 34.96 percent to 31.41 percent. Even progressive magazines like The Nation aren't gender-equal; in 2011, just 28.71 percent of Nation articles were written by women.*
Though a few outlets, like the New York Times Book Review and the New Republic, increased their female bylines, to 34.42 percent and 20.16 percent respectively, overall, in the past year, we've crawled backwards...
Popular in the Community