Last winter, as I sat at my second chemo session, I could feel my hair fluttering down all around me. It literally started falling like leaves off of a tree. I tried to ignore it, thinking it was just a few strands, until the nurse (who was a bit of a smart-ass) said, "Honey, your hair is done. You need to go home and have your husband shave it off. Just have fun. Don't even think about it." And so I did.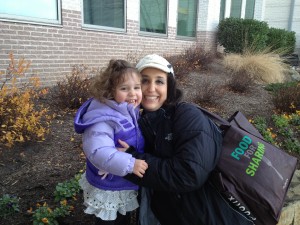 Leaving my second chemo -- if you look closely, you can see how all the hair around my temples had already fallen out.
That evening, we had a Head Shaving Party. I didn't know what to expect. I didn't want to cry and cry. I knew I had to be brave for my girls, so I just made it as fun as possible.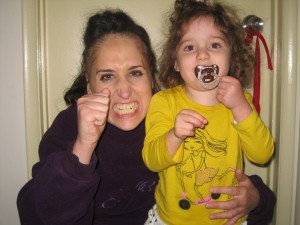 We're gonna kick some cancer ass!
As you can see in the picture above, the hair around my temples was completely gone. As it had fallen out, it tangled with the rest of my hair and had started dreading. I looked like a true Boulder Hippie. We shaved off the dreads and went into punk mode, creating a rockin' mohawk. In a matter of minutes, I was able to experience hippie dreads and a punk mohawk -- not bad for one evening.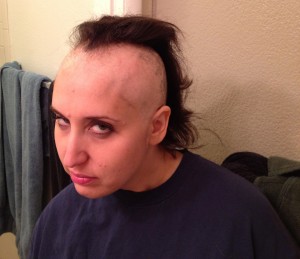 Bathroom punk
My husband kept shaving my head and we kept laughing -- trying to mask what was really going on -- until there was only one little bit of mohawk left.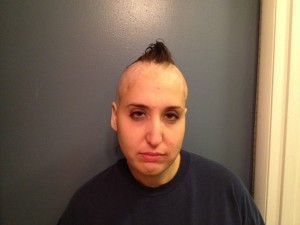 The last little mohawk
And on the count of three, it was gone. I took a deep breath, and tried to smile and laugh when I heard this sad little cry, "Nooooooooo." It was my 2-and-a-half-year-old. "No, Mommy. Daddy cut all of your hair!" And then she started to cry which brought tears to my eyes. So I gave her a big hug and said "It's OK. It's just hair. It will grow back really soon."
They say the key to raising a strong, resilient child is to share your experiences with them -- good, bad and ugly -- and by doing so, show them how you can make it through. I'm glad I shared this with my daughter and didn't try to hide it. I know in moments like these some people may use grace and others a stiff upper lip. We used lots of hair gel and laughter. I know this resonated with my daughter and will forever help her tackle life's challenges. As we all learned in the '80s, no matter the situation, lots of hair gel (and comedy) can make you bigger than the sum of your parts.
Support HuffPost
A No-B.S. Guide To Life
Related
Popular in the Community