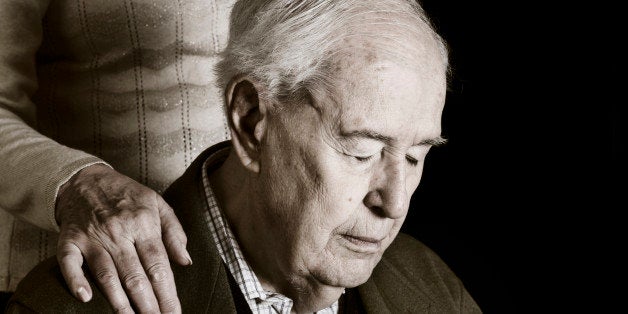 It's no secret that aging is marked by loss--of mobility, sensory acuity, social network, independence, memory. Poets write about the loss. Our aging parents (and we ourselves) complain about it. Google "loss and aging," and you will get 170 million results.
Loss is at the heart of change, and change is at the heart of living. So we see it with great frequency, even if we're not always adept at coping with it. The organization where I work, VNSNY CHOICE Health Plans, takes a holistic view at delivering managed long term care to vulnerable people as they age in their homes and communities. An essential part of that mission is to provide both a bulwark against loss as well as support and resources for coping with it--to help our members make their lives the best they can be given the health challenges they face.
Emotional loss can affect health in myriad ways. Whether someone is navigating the loss of a loved one; a long-time home; a pet; their own physical mobility; their social network; the feeling of autonomy or independence; even loss of their vision or hearing; no matter what the loss, perhaps the most devastating effect is isolation and loneliness. These are often part of a downward spiral that can land a vulnerable person in the hospital unnecessarily. The change that comes from a void left by the loss of someone or something dear to you can be not only difficult to make, it often takes a serious toll on your health.
For someone going through loss, it's often difficult to realize that these transitions don't have to happen alone. At VNSNY CHOICE, our care coordinators are keenly aware of this. Every day they communicate to those in their care that it's ok to ask for--and accept--help from family and friends, from neighbors, and from health care providers who can help you adapt and can connect you to community resources. One new connection that comes out of loss can counteract a downward spiral of isolation, and help stitch life together anew.
We saw this in evidence when Superstorm Sandy devastated our area in 2012. VNSNY and VNSNY CHOICE were on the ground immediately, delivering medical and behavioral health care, as well as support and connections, to people who had lost their homes, lost whole neighborhoods and a way of life, even lost loved ones. We worked with people--especially the elderly and the most vulnerable New Yorkers--to rebuild communities one day at a time, one person at a time, one familiar comfort, habit or object at a time. To help seniors cope with the losses and begin to heal, we connected them to people they trusted, whether it was a longtime nurse, a neighbor, or a friendly homecare nurse, physical therapist or social worker with a warm blanket, a bottle of water, or way to get prescriptions filled when so many pharmacies and doctor's offices were closed.
It is important to remember that while loss can happen suddenly, rebuilding can take some time and considerable planning, starting with acknowledging what's gone and then, slowly sometimes, identifying steps and personal goals for moving forward.
Alicia Schwartz, a registered nurse with VNSNY CHOICE, still remembers the powerful words of one patient she worked with, a woman in her eighties who had suffered a debilitating stroke. She told her nurse: "The stroke took part of me."
"Yes, it took a lot," Alicia said. "But it didn't take everything."
Together, they identified one task to work on: trying to stand up--just get out of bed or a chair, and stand on her own two feet--every day. Soon, this one action began to yield a whole new outlook. "When I visited her after six months, she was so excited to show me," says Alicia. "She stood up without a shake in her leg, walked out the door and up the long corridor. It's a powerful thing when people see that things can change for the better."
For another of Alicia's patients, a familiar daily ritual was transformed into a meaningful personal health goal. While Mrs. G, age 102, had lost a great deal of mobility, she told her nurse and home health aide that she was determined to carry her tea to the table herself each morning. Alicia recognized that this action represented independence and hope--a bulwark against loss. She worked with colleagues in physical therapy to get Mrs. G a tray fitted on her walker, and taught the home health aide to follow Mrs. G.'s lead--not carry the tea for her, but make sure she could do it safely (for instance, clear a path and make sure light is adequate).
Our clinicians often work with older New Yorkers to reframe their goals after loss.
Oscar Messer, a per diem social worker with the Visiting Nurse Service of New York, works with a number of people who have congestive heart failure and must follow a strictly regulated no-salt diet. For some of them, family gatherings such as Easter or Passover can present a challenge, especially if the patient focuses on what is lost. "I say to my clients, "Yes, eating is an important part of the holiday, but more important is that you are spending time with family," Oscar says. "And maybe you're not the one doing the cooking like you used to, but you are surrounded by people who want to help you do things."
For people with dementia, for whom safety is the utmost concern, our clinicians come up with ingenious ways to modify activities. For someone who loved to cook, Alicia suggests letting her participate in chopping--certain ingredients and with a child's knife.
"Don't take it all away because you think they've lost too much," she says. "The more you take away, the more they'll lose."
For those who have suffered a truly profound loss, such as the death of a spouse, it is important to keep in mind that life won't return to "normal" or ever be exactly as it was. But a "new normal" can come if you let it, and you can begin to rebuild by starting with small goals: say, having lunch with a friend or taking that yoga class once a week. Add in slowly. Return to your volunteering once a month. Take a trip with a friend by the end of the year. Prepare a meaningful ritual to celebrate your spouse's upcoming birthday, perhaps writing a long letter about what he meant to you and keep the letter on hand. Soon, you will be navigating the loss, forever changed but able to go on with living.
Helping people navigate the loss that comes with aging is at the heart of what we do every day when we provide Managed Long Term Care to help New Yorkers age in place, safely and as healthily as possible in their homes and communities. "You have to accept what they feel is their loss," says Alicia. "When you don't acknowledge it, a person feels you're not listening. It's a matter of rephrasing. 'Yes, you did lose him, but what can we do to help you with what you have right now?' That's what we do all the time."
To keep our aging population living the best quality of life possible, we need to understand the issues that can make individuals vulnerable to a sharp decline. Honoring loss and building strength wherever possible is what we must strive to do.