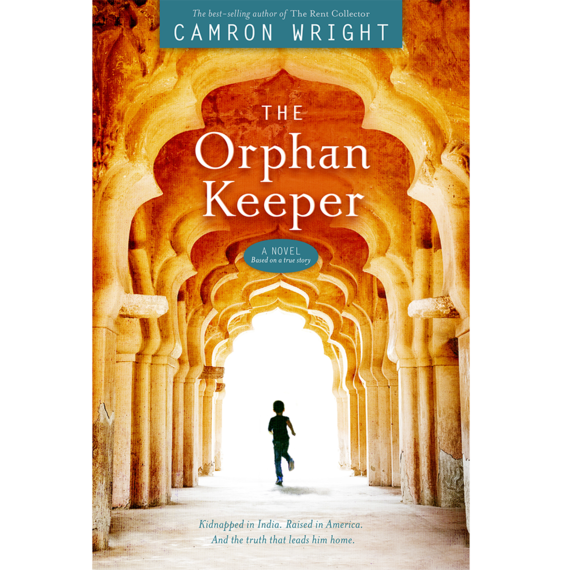 When I finished The Orphan Keeper I was keenly aware of the fragility associated with losing something precious then finding something of even greater value. This is a novel based on the true story of Taj Rowland, a successful entrepreneur with numerous companies in Asia and the US.
Chellamuthu, Rowland's Indian name, is born into a lower caste family in southern India, plagued by a lack of food and an alcoholic father. Not knowing better, he has a relatively carefree childhood. At age seven he's snatched from the street. Two car rides and three hours later he's delivered to a Christian orphanage where food is plenty and lives are sold. The administrators are Dickensian characters, one a businessman, the other self-convinced that regardless of how his wards reached the orphanage, their lives will be better than when they started.
Eventually an American couple adopts him, and he becomes a thoroughly Americanized young man. As he grows up, the only reference to his origins is the color of his skin. Then, through a series of remarkable -- and true -- events, he reconnects with his birth family.
The Orphan Keeper is beautifully crafted by Camron Wright, whose ability to express character and place has developed over the course of his two earlier prize-winning novels, Letters for Emily and The Rent Collector.
Chellamuthu has lost his family but, in a perverse way, finds an entirely new life. In the orphanage he finds a friend and loses her to an untimely death. Then he is found by the American couple and loses his Indian identity, which he rediscovers years later when he takes a college year in London, living with a multi-generational, middle class Indian family. The descriptions of these encounters -- especially as he "discovers" Indian food, are hilarious.
Returning to the States, he befriends a young Indian restaurateur and, after seeing a family picture, falls for his sister. She lives abroad, but that doesn't stop a determined Taj from making a coded, long-distance connection. When they finally meet, her father wants nothing to do with this out of place American who has lost his Indian identity.
To tell what happens next would be a spoiler. This is where the story could only be conceived in the imagination of a talented novelist. But everything that happens is not fiction. It happened as written, and for a reader who waivers between agnosticism and belief, this is a story that has me -- and keeps me -- thinking.
Like Dickens, the child in this story is subjected to loss leavened with love. Adults have control, but often are out of control. Life changes quickly and sometimes comes to an abrupt end. But for all the loss and pain that the author describes with consummate skill, The Orphan Keeper taps into questions of coincidence and belief that have kept me in a state of wonder since I reluctantly closed its covers.
The Orphan Keeper
Camron Wright
Published by Shadow Mountain Publishing
ISBN 1629722243 • $24.99 .
432 pages • Hardcover
Calling all HuffPost superfans!
Sign up for membership to become a founding member and help shape HuffPost's next chapter