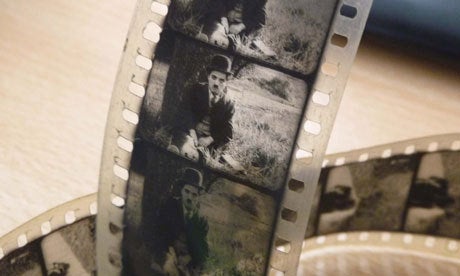 Essex resident Brian Hann, 40, bought a rare Charlie Chaplin film, "Zepped," in a junk shop for only $5. Hann found the 35mm nitrate film at the "Second Time Around" store in South Shields. The seven minute "Zepped" is a World War I propaganda film Chaplin filmed in 1917 in order to help diffuse the tension of the terrifying idea of Zeppelin bombings.
Last week what was believed to be the only copy of the movie was auctioned off last week for 100,000 pounds, though it failed to sell due to the extravagant price. One of Bonham's film experts is examining the footage in order to make sure it's authentic. Hann told the Shields Gazette:
when I read about the auction in London, and saw the footage, I realised it was exactly the same as I had picked up at the charity shop. I couldn't believe it. The only thing missing is the Zeppelin footage at the start. There's Chaplin reading a newspaper while leaning against a tree, then a bathing beauty comes into shot and there's a wartime message about saving food. I'm not greedy, I'm not expecting £100,000 for the film, but it should be worth more than what I paid for it.
According to the Independent, the film contains the following footage:
The unearthed film, called Charlie Chaplin in Zepped, features footage of Zeppelins flying over England during the First World War, as well as some very early stop-motion animation, and unknown outtakes of Chaplin films from three Essanay pictures including The Tramp. These have all been cut together into a six-minute movie that Mr Park describes as "in support of the British First World War effort". It begins with a logo from Keystone studios, which first signed Chaplin, and there follows a certification from the Egyptian censors dating the projection as being in December 1916. There are outtakes, longer shots and new angles from the films The Tramp, His New Profession and A Jitney Elopement.

The main, animated sequence of the film starts with Chaplin wishing that he could return to England from America and fight with the boys. He is taken on a flight through clouds before landing on a spire in England. The sequence also features a German sausage, from which pops the Kaiser. During the First World War there was some consternation that the actor did not join the war effort.
Popular in the Community