If talent is an aphrodisiac, and we all know it is, then Zoie Palmer should be very careful with her superpowers, because she is absolutely brilliant. Not only is she on fire this season in the Syfy Channel's hit series Lost Girl, her phenomenal film work places her firmly and completely into the rising star category.
Charming, smart and witty, with an easy, almost tactile laugh, Palmer is clearly in love with Lost Girl, and its fans. "It's been a lovely ride," she says and its success a "really beautiful surprise." There is no doubt that the show -- a Canadian import, launched by Prodigy Pictures, along with Shaw Media and Showcase -- put Palmer, who plays the gorgeous, yet super nerdy, Dr. Lauren Lewis, who inadvertently makes science sexy, on America's radar. In the series she's engaged in a conflicted, and yes, uber hot relationship with Bo -- beautifully played by Anna Silk -- a kickass succubus, who has sexual relationships with women and men alike, in an adventure-laden sci-fi fantasy world where no excuses are made for her sexual preferences or her propensity for sex. Making it a refreshing and in some respects ground breaking series, driven by a killer cast, as well as writers and producers, that Palmer calls "spectacular" -- and, well, she's right.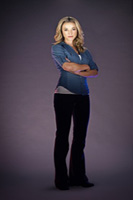 Whether your sprawled out in front of the TV watching an episode of Lost Girl, or checking out one of Palmer's movies, you'll see shades of brilliance weaving their way throughout her performances. Recently, I settled in to watch The Untitled Work of Paul Shepard, in which she literally, and completely, rips a scene apart at the seams. In a way that's incredibly raw and utterly breathtaking, reminiscent of Bette Davis's performance in Of Human Bondage. All full of rage, passion and brokenness, along with a really amazing dose of crazy.
It's an emotionally and physically demanding scene, which Jeremy LaLonde, its director, had Palmer film just about eight times. Frankly those retakes, which Palmer calls "great and crazy" really paid off, as she transforms Haley, from a somewhat controlled woman vibrating with an undercurrent of pent-up emotion, into a woman who is totally unraveling and deconstructing before your eyes. At one point throwing her co-star Kristen Holden-Ried, a look that would make the most hardened mafia wiseguy a little scared and a bit proud all at the same time. So it's not really surprising that she received an ACTRA nomination -- Canada's version of a SAG nod -- for this film.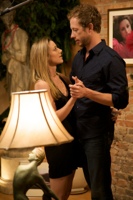 What's Palmer like to work with? "If there's one actor in this world I'd love to grow old working with, it's Zoie Palmer" says LaLonde, who also worked with her on Sex after Kids. Palmer rarely gets to do comedy, so Sex after Kids, which also stared Lost Girl cast-mates Kristen Holden-Ried and Paul Amos, was a great experience for her. "There was so much talent in that group," she says, and many of the actors were friends, too, so "it was a bit like going to camp." Now that's a camp I'd love to go to, especially since the "campers" include Mary Krohnert, who killed it in the Paul Sheppard movie and Amanda Brugel, who's fantastic in Seed, a Canadian series, which I can only hope comes to the U.S., sooner than later.
From her earliest memories Palmer knew exactly what she wanted to be when she grew up. She didn't want to be a vet, a doctor, or a lawyer -- all she ever wanted to do was act, and her parents supported her every step of the way. "I have the best parents in the world," she says. So "never feeling like being an actor wasn't a possibility," she did what she knew her parents expected -- for her to work hard and do her best. And all that love, hard work and support really paid off. Out of the Ashes, a heartbreaking holocaust movie, staring Christine Lahti, Beau Bridges and Richard Crenna, was Palmer's first film right out of school -- a dream come true. "I was beside myself... I couldn't believe I was doing it" she says.
Since she had never been on a film set before, and her first scene was with Lahti, she understandably struggled with some anxiety too."There was a small kernel that I couldn't do it," she says. However, she had nothing to worry about, she delivered a really beautiful performance. Since it was also her first time in Lithuania, Palmer took some time to explore, which she loved, although she also admits to being directionally challenged, more often than not relying on her cars GPS, so it's not surprising she got a bit turned around. "I explored myself lost," she says.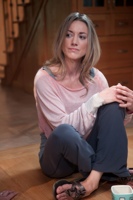 Family, friends, the Lost Girl fans who humble her with their passion and support, her big bellied cat Clover -- who has her own twitter account -- and her dog who apparently looks like yarn, and riles Clover up on a daily basis, are all aspects of her life that she's passionate about. Yet there's more, including Live Below The Line, a campaign designed to raise awareness and money to help fight extreme poverty. Ennis Esmer, who you probably already know from The L.A Complex, originally turned her on to the campaign.
So what does it mean to Live Below the Line? From April 29 to May 3, Palmer, and thousands -- hopefully millions -- of others will take up a challenge: spend no more than $1.75 a day on food and drink. Something many around the world do every day, because they have to, and Palmer wants to help do something about it. "There shouldn't be the kind of poverty there is in the world, and I think we all have a responsibility to help each other out, that's why I got involved." she says.
Zoie Palmer will no doubt continue to do a slow burn next season, with Lost Girl's renewal, and several movie premiers and releases in her future. She just wrapped filming for Patch Town, an exciting new sci-fi fantasy film she's starring in, while The Untitled Work of Paul Shepard is coming out on VOD and Sex After Kids, will be released next year.
Oh, and if your going to be at the Motor City ComicCon or Comicpalooza, she'll be there too --and well Detroit and Houston have never seemed more alluring.
Special thanks to Jeremy LaLonde and Prodigy Pictures for the amazing pictures