It's 8:30 a.m. on a Tuesday, and Allison Manderino is in deep doo-doo.
Strong-arming a shovel, she scours the yard of a private client for dog waste to either dump in a designated trashcan or load into the back of her company's van.
"I guess you could say this wasn't my plan," Manderino admits. "But it's a job."
Manderino always had her sights set on animal research, dreaming of one day working in a lab. She attended the Delaware Valley College of Science and Agriculture, majoring in Animal Biotechnology and Conservation. But then life -- and the recession -- got in the way.
No one was hiring in the field she loved, and as her search became more desperate, Manderino settled for less and less. When she saw a position open at "DoodyCalls" -- a pet waste removal service headquartered in Fairfax, Virginia which has more than 45 franchises operating nationwide -- she applied and got the job.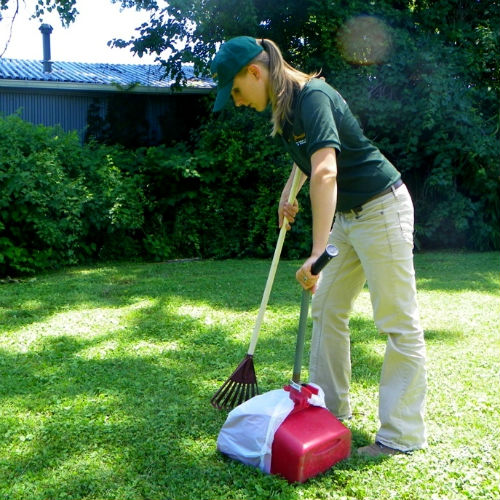 Allison Manderino
"By the end there, I just needed a job. It wasn't about furthering my career anymore, it was about bringing in a paycheck."
Manderino is part of a growing population of young women who are in employment purgatory. They are "going places" in the long term, but really struggling in the short term. According to the U.S. Department of Labor, one in five women are currently working part-time jobs because they can't find full-time work. Prior to the recession, that number was less than one in ten.
"I can't totally complain," Manderino said. "I have a job, when so many people don't."
Like Manderino, student loans and bill payments force some women to take jobs for which they are overqualified. Many young women with specialized degrees end up taking short-term jobs that have little or nothing to do with what they have studied, just to get by until that dream job comes knocking -- if it ever does.
"This Upper East Side lady actually asked me if I was stupid."
Cassy Cameron is a lot of things. Stupid -- she is most definitely not. As one of four kids, she has been an overachiever from the womb. Fending for attention in a big family, being argumentative was in her blood, so it made sense that law became her passion. And to pursue her dreams, she got a scholarship to Columbia University.
"The toughest thing about college now isn't necessarily college -- it's getting the money to go," Cameron, now 24, said as I followed her around the city on one of her days off.
Which brings us back to the Upper East Side lady. That lady yelled at Cameron for messing up her kid's birthday cupcake order. Yes, with no other option, Cameron took a job at a cupcake shop.
"I was too well qualified to be working there. But for now, I'm just like everyone else in the service industry -- trying to get by in a city that is way too expensive and during a recession when everyone else is looking for work, too."
It seems like Cameron has it all: a brilliant mind, striking good looks and an easy smile. She's the poster child for "young and successful." But she doesn't have it all. She's part of the "Lost Girls" generation -- a generation of 20-something women who find themselves with calluses and anxiety attacks, taking "dirty" jobs because the ones they are qualified for don't exist.
"The funny thing about being a female and an overachiever is that you really don't believe people when they tell you you're as good as you really are," Cameron says.
For the long-term, Manderino and Cameron represent a demographic that is quickly taking over its male counterpart. Women in the U.S. now surpass men in educational attainment: 37 percent of employed women aged 25 and older have at least a bachelor's degree, compared to 35 percent of men.
Joanne Cleaver, a manager at Wilson-Taylor Associates, a research firm that measures the advancement of women in various industries, said that she has noticed a trend toward young women pursuing alternative jobs to forward their careers, in lieu of that elusive "dream" job.
"Young women are ambitious, and the recession has forced them to think about how they can build their own career tracks, not just stay on the obvious path where they work," Cleaver said.
Girls like Manderino and Cameron might be in careers that only vaguely resemble their ideal ones, but, Cleaver said, today's economy demands that women develop skill sets across fields, not just within them. "You have to be ready to make lateral career moves -- to 'lattice' your career, not 'ladder' it -- to be able to adapt to rapidly changing business conditions," she said. "There is no safe haven."
Alexia Vernon, a career and workplace expert and author of the book, Awaken Your CAREERpreneur, said that she has seen rapid growth in the number of young women who work for a few years before going back to graduate school in order to gain real-world experience -- a path that may align them more with their professional goals, but brings them farther and farther away from financial security.
"As a former women's studies professor, I'm not knocking higher education," Vernon said, adding that she finds the influx of women into MBA and PhD programs to be particularly exciting. "However, when young women accrue massive educational debt and haven't necessarily chosen degrees that will make them more competitive job candidates, I worry."
The good news is that, once in a job, young women in major cities are earning more than their male co-workers. A recent study in Time magazine showed that in almost all of the largest cities in the U.S., the median full-time salaries of young women are 8% higher than those of the men in their peer group. This is even truer in the largest and most desirable job markets for young people, with young women in New York City and Los Angeles making 17% and 12% more than their male peers, respectively.
But, in the meantime, they are over-educated and under-employed. They are lost.
"You always think 'it won't happen to me.' You always think 'I did so well. I'm not going to be that person. I'm not going to get stuck.' And then you realize, everyone gets stuck," Cameron said.
"Sometimes you think doors will open for you, and they don't."
Popular in the Community