"A DAY BY THE SEA"
Mint Theater
410 West 42nd Street
Performances through 24 September 2016
For a quarter of a century, the Mint Theater held court in its intimate 3rd floor setting on West 43rd Street. Far more often than not, the forgotten plays artistic director Jonathan Bank unearthed produced thoroughly enjoyable evenings.
But typical of New York these days (especially involving things you really care about), the Mint was forced out.
The good news is the Mint relocated nearby in Theatre Row on West 42nd Street. And its first show in its new digs is the best production I've ever seen at this multi-theater venue. "A Day by the Sea" is intelligent and moving. It presents a slice of real life. In a word: terrific.
Though the play is pitched as a quiet study of character, that seems like an unnecessary nod to impatient theatre-goers challenged to sit through thoughtful dialogue without scenes of shock and awe or a good tune mixed in. Don't be deceived by the passive-sounding title; cataclysmic events are the backstory here that Hunter weaves deftly throughout the story.
At the start, the play invites us into a family seaside home in Dorset, England as it pleasantly meanders from character to character, providing a lay of things. But the play soon changes gears soon after Doctor Farley (Philip Goodwin) starts to mix things up. His penchant for drink and frankness towards others as well as towards himself starts to reveal where the story's heading.
N. C. Hunter's play is driven by the trauma of two world wars. When it premiered in London in 1953, it was only 8 years removed from the fall of Berlin. This theme clearly resonated with its West End audience. The play ran for a year, with a cast that included Sir John Gielgud and Sir Ralph Richardson. And when the show arrived in New York, the audience enjoyed Jessica Tandy and Hume Cronyn in leading rolls.
We have Julian (Julian Elfer), a quixotic British foreign officer whose deep faith in diplomacy consumes his life at great cost. He dreamily recalls, "moments when I seem to see faint signs in the dark--signs, I mean, that this age of anxiety may be transformed almost imperceptibly into a period when people can breathe and stretch and look into the future without fear."
In contrast, war has stolen the life of the aforementioned doctor, who's just living out his days, intent on sharing his pain. He scoffs at Julian's profession: "You play with matters you don't understand, and what happens? Other people suffer for your mistakes! Yes! You're not as clever as you think!"
Julian's mother, Laura (Jill Tanner), likewise can't understand her son's career choice, instead seeking escape through a singular focus on making her home pretty: "Why must we have these wearisome world problems dragged into the garden, among the flowers? Really, I won't have it!"

Don't misunderstand. The play doesn't leave you wanting to jump into a river. Characters evolve and you do care what happens to them. There are humorous splashes throughout. When a colleague of Julian spots a pub, the doctor responds, "You interest me strangely." All sorts of compelling musings are bantered about along with bits of inspiration. But there is an intense undercurrent.
Like all Mint productions, the set design is museum quality. Executed by Charles Morgan, the action is literally framed--like the large oil paintings that are backdrop. Director Austin Pendleton has done a splendid job choreographing a story that moves with comparable artistry.
Hunter does end the story on a hopeful note. But can a brief bow to optimism alter the story's trajectory? Hard to say for a family that has survived a war-- living a galaxy away from the rubble that still defines much of Europe--and yet is still far from content? Perhaps after revealing everyone's illusions, this was Hunter's way of saying, remember, in spite of everything, remains "a chance to dream."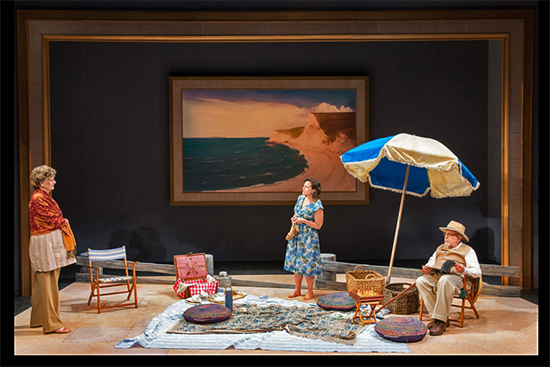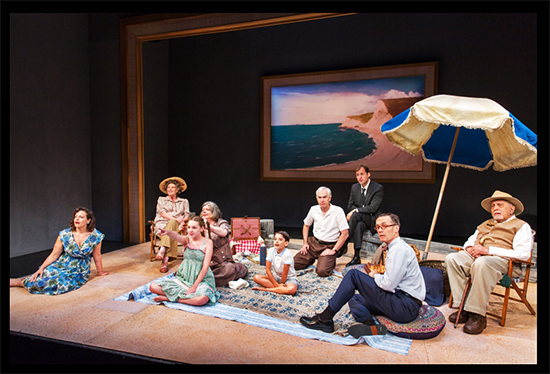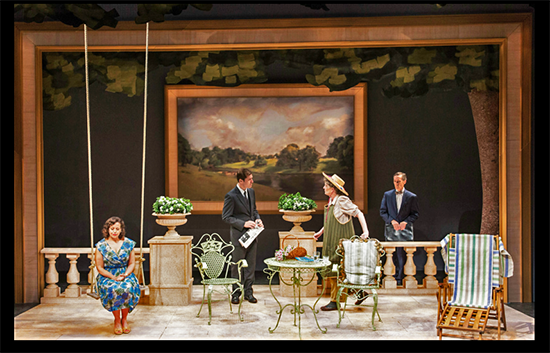 Popular in the Community