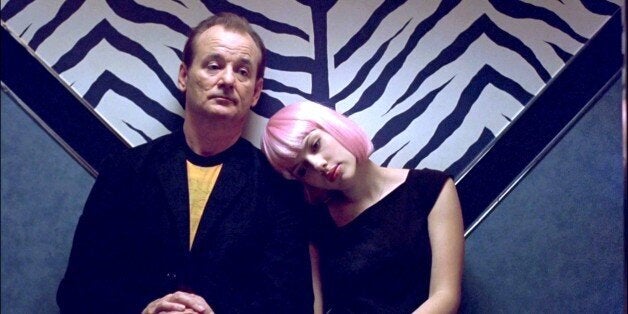 After hitting the festival circuit in Telluride, Colo., Venice and Toronto, "Lost in Translation" opened in limited release on Sept. 12, 2003. (The film's wide release happened on Oct. 3, 2003.) Coppola's film, her second as a director, cast Bill Murray as famed fictional actor Bob Harris and relative newcomer Scarlett Johansson as Charlotte, the young woman who strikes up a relationship with the aging star during a trip to Tokyo, Japan. Their tender, chaste romance is filled with longing glances and knowing silences. Also, karaoke.
Johansson and Murray both won acclaim for their performances, but it was Murray who basked in the glow of the Academy of Motion Picture Arts & Sciences, earning a nomination for Best Actor. He would lose the award to Sean Penn.
"I didn't know it at the time, that I had gotten a little caught up in the possibility of winning," Murray said about his Oscar nod during press rounds for "Hyde Park on Hudson" last year. "So, shame on myself for getting caught in it. But I won a lot of the prizes [for 'Lost in Translation']. So I thought it didn't seem unnatural to expect that I would be rewarded just one more time. So when it didn't happen, I thought, 'Well that's kind of funny.' But it's a funny thing and people get prizes. People don't get prizes. That's not why you work. It's nice when you do." (Coppola, for her part, did win a prize: the Oscar for Best Original Screenplay.)
Following the release of "Lost in Translation," much was made of the film's ambiguous ending, where Bob whispers something to Charlotte before heading off to the airport. Years later, the content of their conversation was revealed with the help of some digital whiz-bang, but the details won't be spoiled here. (Feel free to ruin the moment for yourself by watching this video.)
PHOTO GALLERY
Celebrity News & Photos
Calling all HuffPost superfans!
Sign up for membership to become a founding member and help shape HuffPost's next chapter