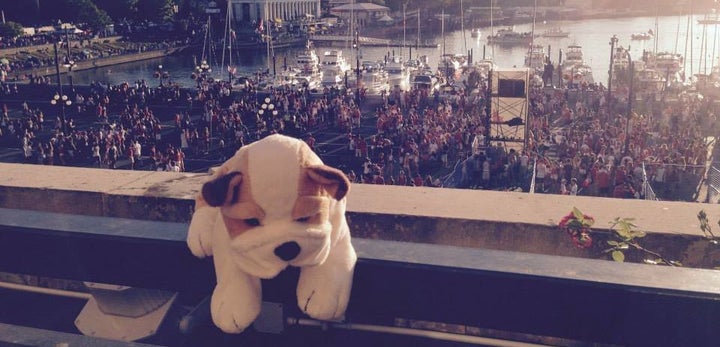 A stuffed bulldog named Boris recently got a taste of real Canadian hospitality when staff at a British Columbia hotel kept the toy happily occupied before reuniting him with his owner, located half a world away. 
Boris belongs to Annelies Vredeveldt, a legal psychologist from the Netherlands. Vredeveldt told Buzzfeed Canada that she "shamelessly brings her stuffed puppy ... wherever she goes." 
"I always bring him when I'm traveling," she said. "I find it difficult to fall asleep without him."
Recently, Boris tagged along for a work trip to Victoria, Canada; but during Vredeveldt's stay at a local hotel, her travel companion went inexplicably missing.
Vredeveldt says she and staff at The Fairmont Empress Hotel searched everywhere for the lost dog, but he couldn't be found.
Two weeks later, however, Vredeveldt got a wonderful surprise in the mail: a package had come all the way from the Empress Hotel. In it, she found her travel buddy Boris — and a whole stack of photographs documenting his Canadian adventures.
Hotel staff had evidently ensured that Boris had an enjoyable send-off before his journey home.
Hotel staff say the stuffed pooch was found on June 30, the day before Canada Day. Before shipping him off to his owner, they said they decided to give Boris (or at least his owner) an unforgettable treat.
In the photos that Vredeveldt received, Boris is pictured hanging out in different locations of the hotel and posing with employees. He's also seen watching Canada Day festivities from a balcony.
"Dear Dr. Vredeveldt, I wanted to once again apologize for the delay in finding your stuffed dog," said a letter that accompanied the photos."We ensured that he enjoyed Canada Day here at the Empress in Victoria and all the staff enjoyed having him on our country's special day."
Vredeveldt says she was moved — and tickled — by the hotel's thoughtfulness.  
"It's one thing to get your stuffed toy back, I mean, that's great service, but to actually get him back with all these pictures is just really funny and really sweet," she told CTV. "It kind of confirmed what I already thought about Canadians. They're super nice and just very chilled out."
PHOTO GALLERY
People Receive The Best News Ever
REAL LIFE. REAL NEWS. REAL VOICES.
Help us tell more of the stories that matter from voices that too often remain unheard.