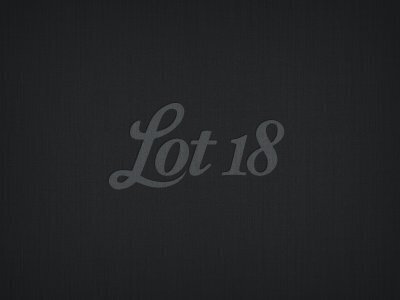 Many online retailers boast that they're revolutionizing the shopping experience by making it more high tech, more Facebook-connected, and more personalized. Philip James, founder of startup Lot18, which sells hand-picked wines over the web, just wants to make his online storefront more like a winery.
"We're trying to capture the essence of what it would be like if you were to go to a winery. We want people to soak up the lifestyle," said James.
Though he insisted that Lot18 is different from other flash sale sites, the startup is in many ways a Gilt Groupe for wine: it is invitation only, offers luxury items at a discount and for a limited time, and presents carefully curated descriptions of its wares.
The New York-based startup brings in around $1 million in revenue per month and has attracted 325,000 registered users since it launched in November of last year, up from 200,000 users in May. It has grown from six employees to 75 in past seven months.
Lot18 has been focused on selling wine, but James told the Huffington Post that the site will soon be expanding into a new category: food. Lot18 is hardly the first to tempt shoppers with discounted high-quality edibles online, and Gilt recently launched its own specialty food section, Gilt Taste.
Lot18 will sell "something that an epicurean, gourmet food lover would like," James said of the expected edibles, listing honey, cured meats, pastas, and pestos among the items users might find.
HuffPostTech sat down with James to discuss Lot18, New York's Silicon Alley and more.
HPT: How hospitable is New York City to tech startups? PJ: It's a heck of a lot easier now [to start a startup]. There are more VCs now and there are more people willing to work at a startup. Four years ago, everyone wanted to work at a bank. Now we're hiring people from banks and consultancies. The infrastructure in New York is also much better for entrepreneurs--there are mentors and meetups.
HPT: So what is New York City still missing as far as the startup scene? What else does it need to have if it's to be a real home to tech startups? PJ: To make New York more of a tech hub, you have to get more first time founders. People should make sure that people like me stay. There's a layer of infrastructure that does not exist enough yet. If you're 22 years old and you and your friends scrape together $10,000, there's no standard way to get incorporated. General Assembly is full, so how do you get office space? Where's the cheap accountant? That basic organizational stuff is as a barrier...Helping me incorporate should be simple, helping me file my taxes correctly, helping me get Internet and a table, that should all be easier so that a founder can focus on building a business and raising money and other things unique to startups. [Entrepreneurs] get bogged down in the stupid mechanics of "help me find Internet access and a table" and that kind of stuff.
HPT: What question do you always ask someone that you're hiring? PJ: The person needs to do what they're going to do at work in their spare time. So if I hire a photographer, that person better be out taking pictures on the weekend. It better not be just a job for them, but a hobby too. You can pay someone to come early and stay late, but you can't make anyone think about their job and the company and how it's going to succeed in the shower on the weekend. If we can find people who have natural inclinations toward their positions, then if we're lucky their job will not just be a job but a calling. We're trying to make sure that a person is truly passionate about her career or role.
HPT: What difficulties has Lot18 faced as it has grown? PJ: Maintaining our culture at this rate of growth is challenging. We have five people or so joining every week and the person that they report to may only have been there 45 days. Being able to maintain the cohesiveness as a business is something that we spend a lot of time on. Our team members' average age is 25 and our average consumer is 45 years old and quite rich. We have to get career hungry 25 year-olds to sympathize with 45 year-olds. We try to teach them an appreciation of the product. Word spreads that we're a company that pays for wine education for the entire company, opens wine every evening, and will bring in cheese and proscuitto for [employees].
HPT: What makes Lot18 so different from more traditional ways of choosing a wine, such as in a store or off of a wine list at a restaurant? I can't taste it online, and I'm still faced with having to choose from a curated list of wines. PJ: We cut through the clutter. The average store has 1,000-plus wines. We sell three or five or seven. When you have 1,000 products in a store, there will be some failures. When it's seven or ten, there are no filler products. The other thing that sets us apart is the quality of our procurement team. These people are world class experts.
Popular in the Community