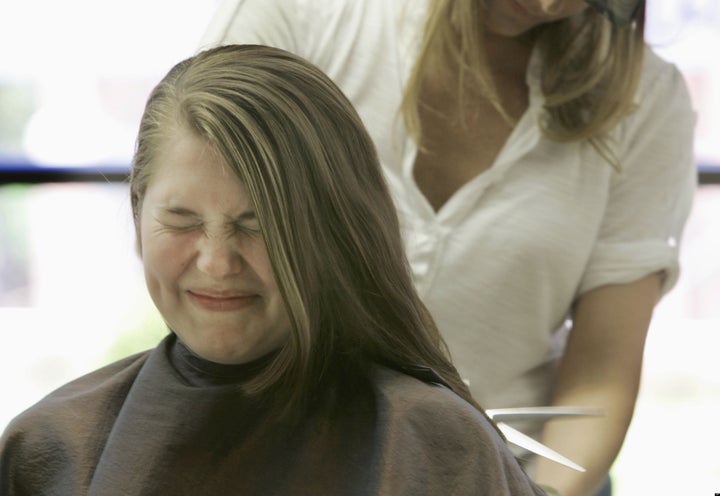 "You're crazy," said my boyfriend. I was 17, and it was two months before high school prom. Without much thought -- and no regret -- I simply walked into a salon, cut 10 inches off my long, sun-kissed brown curly hair, and parted with my ponytail. Flipping my new do with the flick of my wrist, it became evident that I had gone from a suburban Rapunzel to Snow White, sans dwarfs and Prince Charming (needless to say, the boyfriend was gone by the time my hair grew back).

With envelope and stamp, I proudly bound the mail and said bon voyage to my bundle. I imagined my tresses trekking to Locks of Love, where it would help a child in need.

Locks of Love is a public non-profit organization that provides hairpieces to financially disadvantaged children in the United States and Canada under age 21 suffering from long-term medical hair loss from any diagnosis.

Looking back on my senior year and Locks of Love donation, it seems unreal. Familiar, like an old episode of Saved By The Bell, but without the appearance of scrunchies, high-waist jeans and Zack Morris (sigh). I must explain: this was very unlike me, simply because my young-but-stubborn l7-year-old self always had long hair. Always. It was who I was -- my staple, if you will -- what Justin was to *NSYNC, what crop tops were to late 90s Britney Spears, what Screech was to the inside of a locker, but I digress.

I realized what I was doing. Was I sacrificing my looks? Maybe. Changing someone's life? Sure. Was I changing my own life? Definitely -- but at the time, I had no idea.

Of the 1,167 community service hours I earned throughout my high school career, I can say with confidence and certainty, this project took the most hours to prepare for and the least amount of effort to complete.

Six to 10 ponytails are required to make one hairpiece. Every day I see teens, college students, young professionals and established adults with long hair. Especially with summer coming so fast -- and therefore summer haircuts -- I can't help but wonder if they know about Locks of Love and other hair donation organizations. With the simple slice of a scissor, one person can contribute a bundle to complete a hairpiece, helping a minor regain confidence, normalcy.

As mentioned, my pre-prom chop changed my life. Since, I've donated my lengthy locks to charity an additional two times within four years -- giving a grand total of 31 inches of hair.

My staple hairstyle has been replaced with various lengths of hair year-round, which is always a topic of conversation with family and friends: "When are you donating again?"; on job interviews: "You've donated your hair how many times?"; and certainly with my hairdresser: "When will I see you next (insert sad face here)?"

This spring, I will embark on my fourth cut for charity. I'm excited to see my hairdresser again (let's hope she remembers me).

My Prince Charming (not the toad from earlier) supports my decision to donate. Recently, he sweetly (and innocently) asked if I'd ever cut my hair again without donating.

"Maybe someday, but not anytime soon," I said. And it's true. I'll continue to donate my hair until my brown braids go grey, at which time, I will assume it's time to stop wearing pigtails.
Calling all HuffPost superfans!
Sign up for membership to become a founding member and help shape HuffPost's next chapter