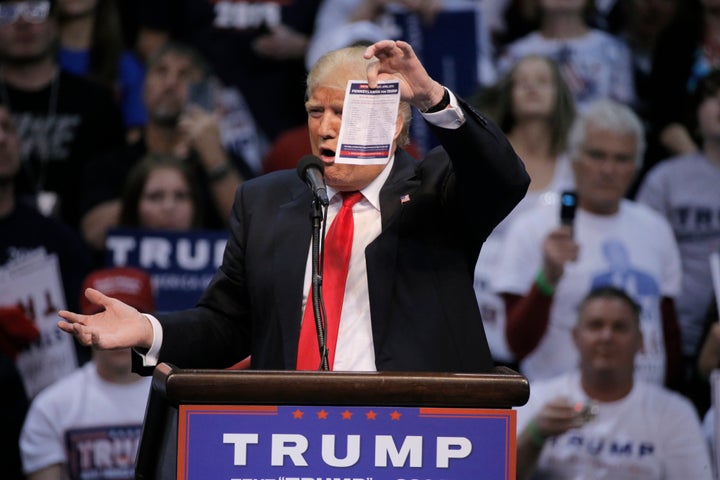 Donald Trump's sweep of five state primaries Tuesday night wasn't enough for him to actually clinch the nomination. But it was enough for him to declare himself the GOP's "presumptive nominee," and it may be more than sufficient to convince Republican voters that, as the party's clear front-runner, he deserves to be its standard-bearer.
Trump remains as gleefully divisive a figure as ever. But in a primary dominated by voters who feel disenfranchised and betrayed by their party, it's hard to envision anything more likely to engender backlash than Republican leaders deciding to nominate someone who's won fewer votes than Trump -- or none at all -- based on the vagaries of delegate math.
About two-thirds of Connecticut and Maryland primary voters think that the candidate who gets the most votes should win the nomination, even if that candidate fails to reach the 1,237-delegate majority needed to win outright, according to preliminary exit polls. Seventy percent of primary voters in Pennsylvania feel the same.
"If there's a chance that Trump goes in with the most, and Cruz comes out with the nomination, I don't think that's fair," one Pittsburgh voter said to wide agreement last week in a focus group of Republican women.
"I would feel totally misled," another chimed in. "I would not even want to participate. What is the point of us going to vote, exactly?"
Trump nodded to that argument in his victory speech Tuesday night. "You know what's going to happen?" he said, imagining a scenario in which he's not the nominee. "Those people, at a minimum, are going to be very upset, very angry. But at a minimum, they are just not going to vote."
The sense that the leading candidate should win the nomination isn't solely a self-serving argument from his supporters. In Wisconsin, where Cruz scored a significant victory, voters said by a 12-point margin that the leading candidate, rather than the "best candidate," should get the nod. Nationwide, Republican voters say by a 50-point margin that it would be bad for the party to choose an alternate nominee.  
Many Republicans believe Trump is the best candidate, if only by the process of elimination. A March HuffPost/YouGov poll found that more than 40 percent of Republican voters would be dissatisfied or angry to see Sen. Ted Cruz (R-Texas), Ohio Gov. John Kasich or another candidate picked as the nominee. While Cruz garnered the least resistance, a majority of his party now views both him and Kasich as establishment candidates, a label they don't mean as a compliment.
Calling all HuffPost superfans!
Sign up for membership to become a founding member and help shape HuffPost's next chapter