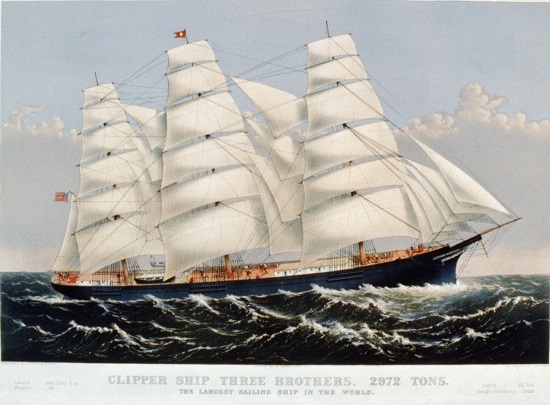 Clipper Ship Three Brothers, 2972 tons: The Largest Sailing Ship in the World. This hand-colored lithograph was published by Currier & Ives in 1875, and is therefore in the public domain.
In the folk world, "Sea Music" or "Maritime Music" refers to the work songs and leisure music of people who make their living from the sea: sailors, fisher-folk and watermen of all kinds. There's a thriving scene for historical and contemporary sea music, with festivals all over Europe and North America. Here in the U.S., the premiere festival is at Mystic Seaport in Connecticut, and last month my band Ocean Celtic was lucky enough to play there and meet many of the great sea music performers from all over the world. I'll introduce you to some of this music through some prominent recordings.
I'll start out with Geoff Kaufman's Sea Song Sampler. Kaufman is on the staff of Mystic Seaport, and the festival's main organizer. He's also one of the most acclaimed performers of sea music in the country. This album gathers his favorites, including traditional chanteys (work songs), traditional forebitters (leisure songs) and modern songs about sailors and the sea. It features a nice mix of the unaccompanied vocals that were the norm at sea and acoustic arrangements on guitar, concertina, fiddle, mandolin and banjo. Kaufman has a strong, clear tenor voice, which you can imagine cutting through the wind on the deck of a tall ship, and he sings with gusto. If your taste in sea music runs to traditional chanteys such as "Running Down to Cuba," whaling epics such as "Wings of a Goney," showcases for sailors' jargon such as "Old Fid," or popular hits such as "Sloop John B." and "The Wreck of the Edmund Fitzgerald," Kaufman can supply renditions of these and more, brimming with the salty authenticity of an honest sailor.
Geoff Kauffman sings "Old Fid" at the Mystic Seaport Sea Music Festival in 2010
On Outward Bound on the J.M. Carpenter, singer and scholar Bob Walser applies his research into the American Folklife Center's James Madison Carpenter Collection. Carpenter was an American who collected folklore in Britain from 1929 to 1935, harvesting hundreds of chanteys from former sailors. He zipped around Britain in a car, carrying sound equipment (rather than just writing down what he heard), so the Library has hundreds of wax cylinders, which Walser has listened to and transcribed. He selected his favorites to adapt and sing on this disc. The result is an album of delightfully unusual sea songs, some with familiar features ("The Bridget Ann" is a set of words I've never heard before, set to the same tune as the Newfoundland song "Feller from Fortune,") and others completely new ("Donnelly and the Goat" and "Down in those Valleys" were new to me). Pretty turns of phrase like "fire away, Fagan, and Bully for you," and "beef as salt as Lot's wife's chin" are lovely details. Walser's strong voice and a chorus of friends perform most of the songs unaccompanied, but his button accordion chimes in here and there for variety. This one's recommended especially for anyone looking for new songs!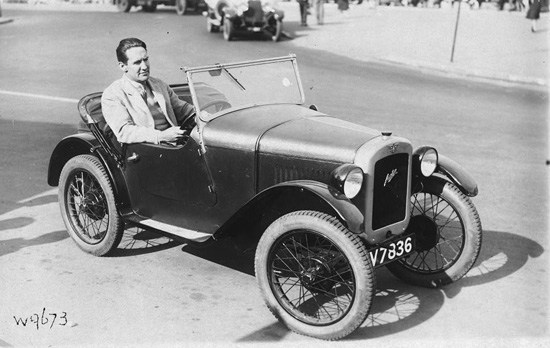 James Madison Carpenter in his car in Aberdeen, Scotland, ca. 1930. Used by permission of the American Folklife Center, Library of Congress.
Suppose you like nautical authenticity well enough, but what you really want is something that rocks? Then I'd recommend William Pint and Felicia Dale's latest release, Blue Divide. As usual, Pint's lead vocals, guitar and octave mandolin are supported beautifully by Dale's sensitive vocal harmonies, whistle and fiddle. Best of all, Dale plays the hurdy-gurdy, a European stringed instrument which can sound like an organ, a bagpipe, or (when she really cuts loose) Jimi Hendrix. Unusually, they're supported on this album by guest musicians on fiddle, electric guitar and keyboards and a muscular rhythm section for extra punch. Their material includes traditional songs ("Whiskey is the Life of Man"), nineteenth-century poetry set to music (Kipling's "Anchor Song"), and modern sea songs (Brian Bedford's "High Ground"). There's an undercurrent of spookiness, with Janie Meneely's ghost ballad "Brigantine" and John Masefield's witch tale "Mother Carey" adding dark, supernatural elements. But there are also lighter, breezier moments, such as the bouncy chantey "Windy Weather." Their version of "Lowlands" even has another version of the "Lot's wife" line, which sums up the disc's no-BS attitude: "Beef as salt as Lot's wife's ass." The following video doesn't have the rhythm section, but it will give you a sense of their taste, energy, and musicianship:
There are a lot more great artists performing sea music: John Roberts, Joe Stead, Danny Spooner, Janie Meneely & Calico Jack, The Pyrates Royale and my other group, Ship's Company Chanteymen, all spring to mind. But the highest-profile sea music release in recent months doesn't come from sea music artists per se. It's Son of Rogues Gallery, a double CD that promises "Pirate Ballads, Sea Songs and Chanteys" from pop stars and other celebrities. The original Rogues Gallery, a Pirates of the Caribbean tie-in, had some nice material but also quite a few renditions where the performers seemed to be sneering at the songs. I was prepared to dislike the sequel, too; in the notes, producer Hal Willner refers to sea music as an "unexplored area of folk music," dismissing the work of hundreds of musicians, collectors and scholars who don't happen to be pop stars. And indeed, there is some dross. As one of the world's experts on the song "The Leaving of Liverpool," I suggest you give Shane MacGowan's album opener a miss. There are other, similar missteps, but there are many gems as well, including Sean Lennon's folky rendition of "Row Bullies Row," Ivan Neville's funkified New Orleans "Mr. Stormalong," Marc Almond's heartfelt and gloomy "The Ship in Distress," Tim Robbins and Susanna Hoffs's classic rock take on "Marianne," and (believe it or not) Todd Rundgren's over-the-top disco rendition of the whaling song "Rolling Down to Old Maui." Macy Gray, Marianne Faithfull and Patti Smith all turn in strong performances too. And yes, Johnny Depp and Gore Verbinski are on it as guitarists, as is Keith Richards, who teams up with Tom Waits for a gravelly rendition of "Shenandoah." Here's a favorite of mine, Michael Stipe and Courtney Love performing "Rio Grande":
Among the most interesting pieces on the set is "The Chantey of Noah and His Ark." This song was written by Harry Kemp (1883-1960), a poet and novelist who spent time as both a deepwater sailor and a train-hopping hobo in the early twentieth century. Kemp published the song in a 1920 book. His original version's introductory lines about "hickory bark" (left off the album track) carried the attribution "Old School Song," which the producers apparently mistook for a subtitle. This shows that Kemp was familiar with the traditional school song about Noah's ark, and probably also with a sea chantey version. However, this is a different piece, a new work, not a folksong. Kemp was interviewed about it by the Federal Writers Project in 1938, explaining that he wrote it during a stint in jail, where the only book he was allowed was the Bible; to pass the time, he wrote chanteys and ballads based on Bible stories.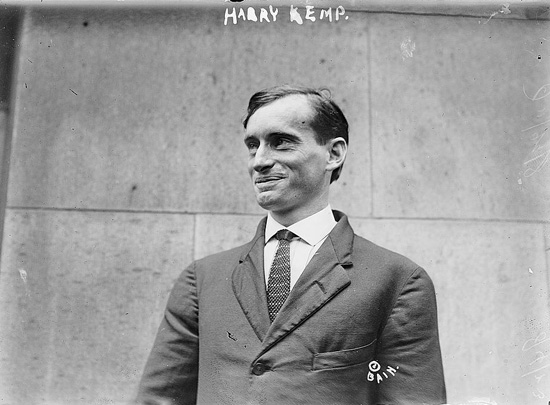 Sailor, tramp and poet Harry Kemp, uncredited author of "The Chantey of Noah and His Ark" from Son of Rogues Gallery. This Library of Congress Photo was published by the Bain Photo Service ca. 1912, and is therefore in the public domain.
On the album, Ricky Jay performs Kemp's piece as a spoken-word poem at a rather morose pace, with atmospheric sound effects provided by Willner and several musicians. It might have been fun instead to include Kemp's refrains, add a tune and make a true chantey out of it, although it also would have been really long. Kemp is not credited or mentioned anywhere on the album or in the notes, which is a shame, but any project that brings to light such a sweet piece of folk history is welcome in the sea music world.