By Hong Soon-do, Beijing correspondent, AsiaToday - South Korea's large conglomerate Lotte Group is in big trouble in China as Seoul and Beijing remain at odds over the deployment of the Terminal High Altitude Area Defense (THAAD) system on the peninsula. In the worse case, it could not only remain as a target of continuous sanctions by China, but could be kicked out of the Chinese market.
This analysis is not an exaggeration considering China's growing anti-Korea and anti-Lotte sentiment fueled by recent rumors that Lotte Group finalized its decision to relinquish its golf club in Seongju for THAAD deployment after the Chinese New Year. China seems to be actively seeking revenge against Lotte as it is not showing a sign of withdrawing its decision despite strong pressure and sanctions by the Chinese authorities.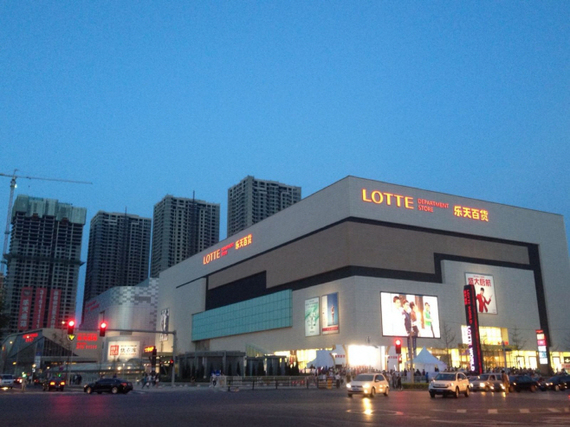 [Lotte Group has become the target of a boycott in China after THAAD move. If the move intensifies, this Lotte Department Store at Shenyang, Liaoning Province, could be hit hard as well./ Source: search engine Baidu]
One of the most prominent movements is the joint campaign of Lotte boycott by civic groups in Beijing and other big cities in China as well as some anti-THAAD organizations in South Korea. According to a Beijing source on Wednesday, several discussions over the issue have been made since the beginning of the year. "China's stance over the THAAD deployment is clear. We see it as an act of harming the friendship of China and South Korea. If so, the move to prevent it is natural. If Lotte Group does not care about our position and makes the final decision on the provision of the site, we have no choice but to fight," said Mr. P, a Beijing civic group secretary who demanded anonymity. He added that the destructive power will be immense if the boycott is carried out, and that Lotte Group should take full responsibility for the future situation.
Mr. Q, another NGO official, said, "Both China and Korea are long-time friends except for some time in the last century. We have to remain friendly. But the THAAD deployment is totally against this justification. In this case, we cannot find any other solution." He stressed that China's Lotte boycott is only a matter of time.
The pressure on Lotte is also intensifying in Chinese social media sites. Extreme comments that urge people not to visit Lotte Duty Free Shop when visiting South Korea are flooding online. Some extreme right-wingers even leave comments like, "Lotte Group is making fun of Chinese while making money in China. We have to retaliate for 30 years," and more. It's clear that Lotte Group's business in China is now facing serious challenges.
Popular in the Community