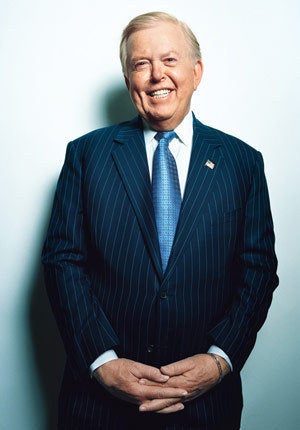 Laskas, who spent several days with Dobbs and found herself acting in various capacities — "wife...mother, campaign manager, shrink, cohort, brat" — got Dobbs to say he is considering a run and that his wife is growing more and more OK with the idea.
"I never said I'm running for president," Dobbs said, adding that he never said he isn't either. "I'm not ruling anything out. I don't know what I'm going to do."
"You're considering it," Laskas said.
"I am," he said, adding that his wife Debi is "probably more open to considering it than she's ever been."
"Oh, my God, you're running for president," Laskas said in response.
Dobbs, who has appeared on Fox News since leaving CNN in November, also discussed the cable news landscape with GQ.
"Do you think they'd have the guts to bring an independent onto MSNBC?" Dobbs said. "Are you shitting me? Are you kidding? Have you looked at their ratings? Have you looked? They're scared to death. They have a corporate agenda. MSNBC is GE's gift to the Obama administration! 'And please, give us some more defense contracts. It's all good!'"
Calling all HuffPost superfans!
Sign up for membership to become a founding member and help shape HuffPost's next chapter