Conservative commenter Lou Dobbs, who has hosted his eponymic show on the Fox Business Network for more than seven years, suggested the suspicious packages intercepted Wednesday were not real.
"Fake News ― Fake Bombs" he wrote in a now-deleted tweet Thursday morning. "Who could possibly benefit by so much fakery?"
Dobbs momentarily joined a cadre of right-wing pundits and Trump supporters who are suggesting the bomb scare is actually a "false flag" attack meant to make the president look bad.
Fox News spokespeople did not immediately return requests for comment.
Devices suspected to be pipe bombs were found addressed to several prominent Democrats Wednesday, one day after one such package was intercepted outside the home of progressive donor and frequent conspiracy-theory target George Soros. The devices, sent in manila envelopes with bubble wrap interiors, were addressed to Democrats including former President Barack Obama, former Vice President Joe Biden, and Bill and Hillary Clinton.
Another was sent to CNN's New York headquarters, prompting an evacuation that could be heard during a live broadcast. The package was addressed to former CIA Director John Brennan, who does not work at the network but is a frequent critic of President Donald Trump.
Other packages were found addressed to Rep. Maxine Waters (D-Calif.), a frequent target of Trump's ire, and a New York building linked to actor Robert De Niro, another frequent Trump critic.
Debbie Wasserman Schultz, former chairwoman of the Democratic National Committee and current Florida congresswoman, was listed as the return sender on the packages, the FBI said.
In a slightly toned-down follow-up tweet, which he also deleted, Dobbs accused the media of reporting on the bomb threats as a way to shift attention away from the migrant caravan bound for the southern U.S. border, a topic Trump has hammered on as the midterm elections approach.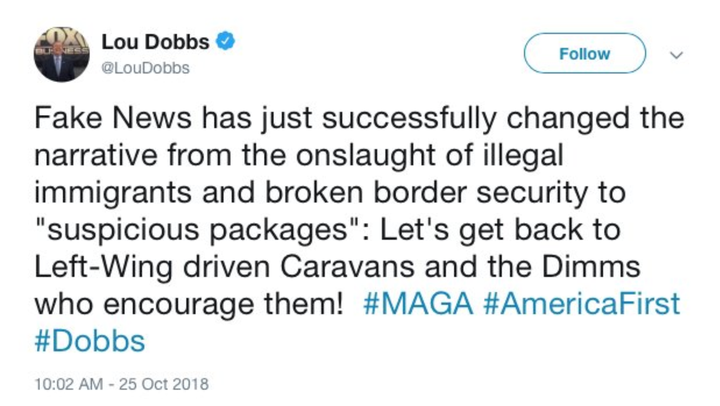 "Let's get back to Left-Wing driven Caravans and the Dimms who encourage them!" Dobbs wrote. Trump and right-wing commentators have suggested, without citing any evidence, that the Democratic Party is somehow behind the caravan and that it contains Middle Eastern terrorists.
In another message, again suggesting that the bomb threat was a leftist conspiracy, Dobbs said he would be discussing the issue on his next show.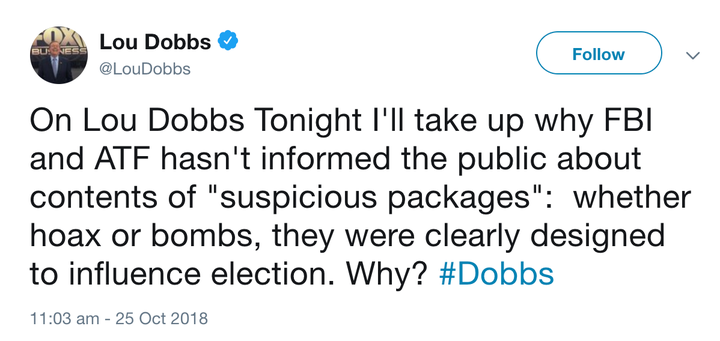 "[W]hether hoax or bombs, they were clearly designed to influence election," he wrote. "Why?"
This story has been updated with another tweet from Dobbs.
Popular in the Community