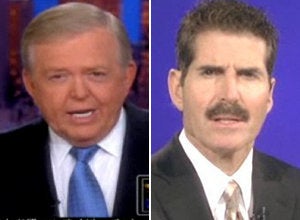 Stossel had taken Dobbs to task for what he called "rants about immigrants wrecking America."
"Immigrants wrecking America -- I've never said anything close to that," Dobbs said. "As a matter of fact, I embrace immigrants to this country, I welcome them, I want more -- and as a matter of public policy, we need them. In no way am I restrictionist, and to hear this ass continue his act over at Fox News. I just can't wait until he starts blowing bubbles in the air -- that's about all he's equipped to do."
The New York Times reported earlier this month that Fox Business was eyeing Dobbs for a potential role at the startup business network.