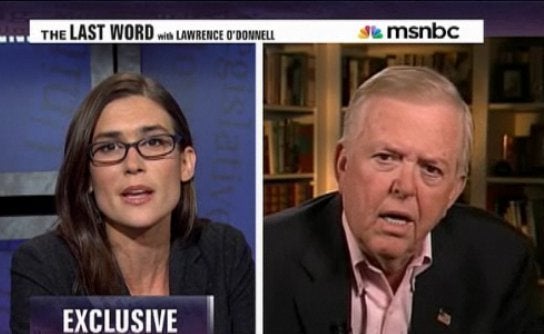 The night after The Nation published its explosive article alleging that former CNN anchor Lou Dobbs, who has become infamous for his hard-line stance on illegal immigration, had had undocumented workers tending to his estates and his daughter's horses for years, Dobbs and the author of the article, Isabel Macdonald, appeared on "The Last Word With Lawrence O'Donnell" Thursday to discuss Macdonald's claims.
In a lively, lengthy sparring match, refereed by Lawrence O'Donnell, both Dobbs and Macdonald essentially stuck to two basic points.
Macdonald said that she had concluded that Dobbs, who has become infamous for his hard-line stance on immigration, "had been exploiting undocumented labor."
Watch Part 1:
Watch Part 2:
Dobbs countered that Macdonald had admitted on his radio show Thursday that she was not accusing him or his company of ever having knowingly and directly hired an undocumented worker. He acknowledged, though, that contractors and trainers he was paying could have done so.
"What I mean by indirectly is intentionally hiring a contractor who -- for the specific purpose of hiring an illegal immigrant...I have never done that. Either directly or indirectly," he said.
Macdonald noted that Dobbs had previously called employers "ridiculous" for saying that they should not be held accountable for the people their contractors hired. "I mean Lou, does the buck stop with you or not? I think the American public deserves to know," she asked Dobbs.
O'Donnell also played a clip of Dobb's appearance on his own show Monday, where the former anchor had identified landscaping as being a sector with one of the highest concentration of undocumented workers.
"You look at the landscapers on your property. The crew shows up, the contractor you know, makes the deal with you and you look out there and you say to him, 'are all these people legal? Can you document for me that all these people are legal?'" O'Donnell asked Dobbs. "Why wouldn't you do that? You know. You know, landscaping is exactly where they're going to end up in your employ."
Popular in the Community