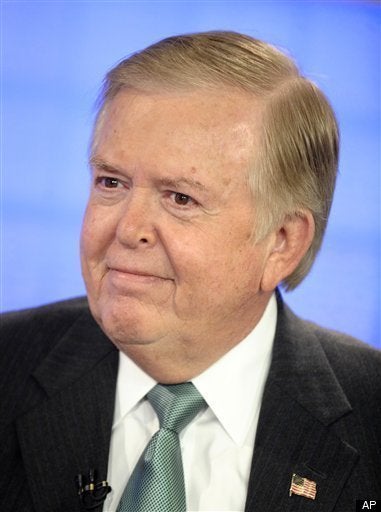 Seems like only weeks ago that CNN was parting ways with former anchor Lou Dobbs because everyone was yelling at Dobbs to stop saying crazy birther and anti-immigrant nonsense on the teevee. Despite all that negative attention, Dobbs is setting his post-CNN job-seeking hopes very high, telling reporters that he is "considering career options including possible runs for the White House or U.S. Senate" and that, "Right now I feel exhilaration at the wide range of choices before me as to what I do next."
Since his departure, some have speculated he might run as a candidate for the U.S. Senate in New Jersey, where he has a home, or even run as a third-party candidate in the 2012 U.S. presidential elections -- options he says remain on the table.

"I am ruling nothing out. ... I have come to no conclusions and no decisions," he said. "Do I seek to have some influence on public policy? Absolutely. Do I seek to represent and champion the middle class in this country and those who aspire to it? Absolutely. And I will."
One is reminded of the fact that Dobbs is just one of a long line of ivory-tower-educated millionaire media elites who fancy themselves to be an authentic voice of the "middle class." Fun fact: Dobbs's daughter is way into equestrian sports, America's most populist pastime!
At any rate, Dobbs's presidential hopes face numerous obstacles. His CNN ratings suggest that voters' first reaction to a potential Dobbs candidacy will be to raise the question: "Wait. Who is Lou Dobbs?" He mainly enjoys name recognition among people who at best think that he's some sort of bloviating joke, and at worst think he's some sort of weird nativist. Which leads me to the next impediment to Dobbs's presidential hopes -- he will not win the vote of a single Hispanic voter -- not one, not ever.
Still, in these recessionary times, it's nice to see that not everyone has become completely discouraged from looking for work.
Popular in the Community