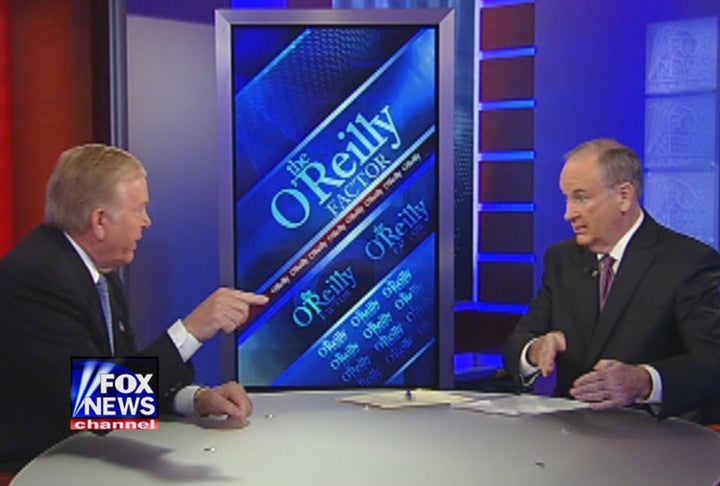 ***SCROLL DOWN FOR VIDEO***
Lou Dobbs guaranteed Bill O'Reilly Monday that he is going to "remain in the public arena," and suggested that the only factor that made his brand of "advocacy journalism" unacceptable at CNN was the arrival of the Obama administration into power.
In an appearance on Fox News' "The O'Reilly Factor" set to air Monday night, O'Reilly welcomed Dobbs — who he described as "recently emancipated" — for his first cable news appearance since resigning from CNN last week.
"Now, there's been speculation you might run for the Senate in New Jersey. Is that on your mind?" O'Reilly asked.
"A lot of things are on my mind," Dobbs responded. "I'm not going to be coy about this....I'm thinking — my wife and I are thinking about a lot of opportunities. I'm very blessed to have a lot of opportunities. I can guarantee you 100 percent I'm going to remain in the public arena. These issues that matter so much to me, many of the same that matter to you, are not changing. What is immutable here is, I'm going to remain in the public arena."
A spokesman for NJ Senator Robert Menendez said "the senator's focus is on jobs, not Dobbs."
"Senator Menendez has his nose to the grindstone to help create an economic recovery for New Jersey families and will not be distracted by an election three years away," Afshin Mohamadi told the New York Times. "I'm sure that he would relish eventually having an opponent from so far out of the mainstream and who has never done a thing for the hard-working people of New Jersey, but the senator's focus is on jobs, not Dobbs. The senator has developed a record of delivering job-creating programs and tax relief, and as he builds upon it, 2012 will in large part take care of itself."
Dobbs agreed with O'Reilly's characterization that he was "demonized by the left" over his stance on illegal immigration, but said he did not believe CNN management "bought into" that position.
Instead, Dobbs hinted, it was the arrival of the Obama administration into power that changed the climate and made his brand of advocacy journalism no longer acceptable on the network.
"On CNN, you did quite well in the ratings when the immigration thing was in the forefront. And CNN actually moved you up from a -- what they call the early fringe to 7 o'clock, because your ratings were strong," O'Reilly said. "Then your ratings leveled, as well as all the ratings for
CNN, and began to go down. Just correct me if I'm wrong."
"I discern more of a difference between then, which was under the Bush administration whom I was criticizing, and now, when it is the Obama administration and an entirely different tone was taken," Dobbs responded.
"As soon as the new president came in, and you went after him, not only on illegal immigration, but economic issues...they don't like you anymore," O'Reilly said later.
"Well, I don't know whether that was the distinction that triggered any sort of response or difference in perspective on the part of CNN's management," Dobbs responded, "but it is the only difference between the way I was conducting myself under this administration and the previous administration."
The Huffington Post was on site for the interview.
Before he went on air, Dobbs seemed very much at ease in the green room, drinking Diet Coke, applying ChapStick, and laughing hysterically as O'Reilly pre-taped an interview with Cheech and Chong (set to air later this week on "The O'Reilly Factor"). Dobbs even laughed when Cheech and Chong came into the green room after their interview to wish him luck, and Chong joked that he looked forward to seeing him in his new show on Fox News.
After the interview, Dobbs was asked in the green room if it was weird to be on the other side of the interview.
"It's very weird," he said.
The interview airs tonight on "The O'Reilly Factor" at 8PM.
WATCH:
REAL LIFE. REAL NEWS. REAL VOICES.
Help us tell more of the stories that matter from voices that too often remain unheard.