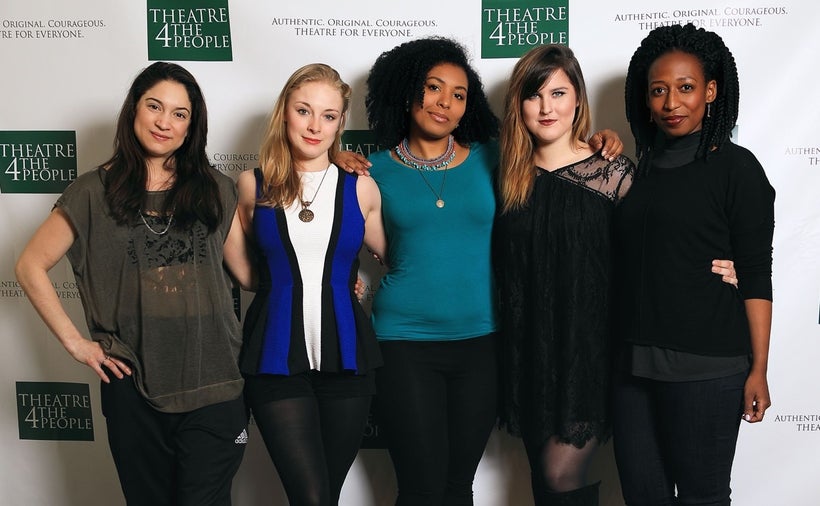 Theatre 4the People will present the World Premiere of Haley Rice's LOU, directed by Kate Moore Heaney, May 19-June 3 at The Paradise Factory (64 East 4th Street between 2nd Avenue and Bowery, Second Theater) with performances Tuesday through Saturday at 8pm and Sundays at 3pm. Tickets ($25) may be purchased in advance at http://lousalome.brownpapertickets.com or by calling 1-800-838-3006. A limited number of pay-what-you-can tickets will be reserved for every performance, in an attempt to keep theatre accessible to all.  In alignment with Theatre 4the People's mission to use art as social activism, they will be donating a portion of the box office to Preemptive Love Coalition, an organization that gives education to at-risk children, assists with peacemaking in conflict-zones as well as counsel to policymakers in Washington D.C., London, Baghdad and beyond.
LOU is the story of Lou Salome, one of the first female psychoanalysts and an accomplished writer, poet, novelist and early scholar of the psychology of female sexuality. Lou had deeply intimate relationships with Freud, Nietzsche, and Rilke, along with other great thinkers of the day. Her brilliance matched (if not surpassed) that of these great men, though her work is hardly known. Through Salome's search for identity and fight to claim her place in a world dominated by men, the question arises: how far have we truly come? An all female cast comes together to reclaim her story, portraying these men through the mind and memory of the great Lou Salome. 
The all female cast will feature Mieko Gavia (Summoned with Black Revolutionary Theater Workshop), Natasha Hakata (This Just In! with Crashbox Theatre Company), Erika Phoebus (Kiss It, Make It Better at The New Ohio), Jenny Leona* (The Beekeeper's Daughter at Theater for the New City), Olivia Jampol (member of The Bats at The Flea), and Valeria Avina (The Colors of Frida at Teatro SEA) with Costume Design by Katja Andreiev (Beardo with Pipeline Theatre Company), Sound Design by Almeda Beynon (Mytho? Lure of Wildness at Abrons Arts Center) Lighting Design by Becky Heisler (We Are Animals at The Brick), and Set Design by Marisa Kaugars (Scorched with The Araca Projects). *Appearing courtesy of the Actors' Equity Association. 
This will be Theatre 4the People's first production under the new leadership of Artistic Director Erika Phoebus.
Haley, as the playwright, tell me about Lou. When did you first start getting interested in her and why her story? 
HALEY RICE: Lou Salome (1861-1937) was one of the first female philosophers and psychoanalysts. She was born in Russia, attended university in Zurich, and lived most of her life in Germany writing. She met Friedrich Nietzsche, Rainer Maria Rilke, and Sigmund Freud all during her life and influenced their work, yet their names are known and hers is not. 
I first learned about Lou from a great friend of mine, Isaac Byrne, whom I bumped into at a Christmas party a few years ago. He had always encouraged my writing, but that night he literally pitched me the idea to write a play about her, this woman I had never heard of. So I went home and googled her and thought, "I could never do that." But within days I had ordered a biography online. The rest is history. 
I think her story is important because of how easily she got lost in history. She was a genius, a prolific writer, more famous than Freud when she first met him. I wanted to make sure her story was honored and remembered. 
Erika, what's it like being Theatre 4the People's Artistic Director and can you talk a bit about your mission for the company?
ERIKA PHOBEUS: I'm still very much in awe of the fact that I've taken over this really exciting emerging theatre company. I've always felt strongly about using art as activism which became the core of Theatre 4the People's mission. We focus on creating a community where the line between audience and artist is seamless and are currently in the process of developing a few outreach programs.
A percentage of every production's box office is donated to a charity of the playwright's choosing. This tradition started last year when T4tP produced a play I wrote about life and relationships after sexual assault and I convinced the (then) Artistic Director to allow a portion of the box to go to R.A.I.N.N. The company's history over the past few years has focused on young female playwrights, two of which had yet to receive productions of their work (including Haley Rice!) which is really exciting as well, offering a home base for creators who would otherwise be artistically homeless at very early stages of their careers.
What is the first memory you have of making art?
HR: One of my earliest memories of making art is when I was around seven or eight years old, I would create these elaborate musicals which I would write, direct, star in, and forcibly cast my little brother and younger cousins. They would involve my aunt's old taffeta bridesmaids dresses from the 80s, my brother always going off script and stealing the show, a camera that recorded some seriously embarrassing blackmail material, and were definitely my springboard into the theatre.
EP: The first thing that comes to mind is playing make believe as a kid. I know that's not art in the traditional sense but in my mind, at the time, it most definitely was. I started taking piano lessons when I was five and continued into college but I never for some reason saw that as making art. I always thought about it mathematically, I wasn't skilled enough to make those keys sing. But when I ran across the street to my best friend's house and shouted across the yard 'LET'S PRETEND!,' that was it. All hell broke loose and worlds of who knows what came pouring out of us. Kids know everything, they haven't been pulled from the earth yet and told what to be. They're so genuine and they tell the truth, not just what they see but what's really going on. That's what I hope to get back to someday. I mean, don't we all?  
KATE MOORE HEANEY: I had an active imagination as a child and loved to play "pretend."  My friends and I would make up extensive make-believe scenarios with complex characters.  That's probably my first memory of making art.  When I started dancing at a young age, I began transforming that love of "pretend" into a love for theatre. 
When did you know you were an artist?
HR: It was probably around that same time-- I was lucky enough to have parents that signed me up for art lessons, music lessons, and took me to see theatre and concerts, and at I knew from a very young age that it was part of me. I have a distinct memory of being six years old and sitting in a performance of Les Miz, watching wide-eyed and thinking, "That. I want to do that." 
EP: I knew from a young age there was something about me that a lot of my friends and family didn't identify with, this need to create something out of the life inside of me. I had a complicated home life, especially throughout my teenage years and well into college. I often times felt really isolated and confused, alone in a room full of people, so I wrote. It's the only way I could even try to make sense of things. I wanted to be a music therapist for a while, so I've always been drawn to avenues that use art to affect change. Then my life twisted and turned until I settled back into writing and creating work for the stage.
KMH: I can't remember a time when I didn't think of myself as an artist.  I have been in love with theatre and performance since I knew it existed. 
What types of stories are you drawn to telling?
HR: I love creating stories that open up doors to a new perspective, that challenge the restrictions or rules we've made for ourselves. One of my favorite moments during the development of LOU was after our first reading we had a talk-back with the audience, and a few people had visceral reactions to the piece which sparked a heated discussion. That kind of art is what excites me-- theatre that starts a conversation.  
EP: I get really excited about stories that speak the ugly truth in very beautiful ways. I love poetry and stories that don't take any shit from the world. I am so aware of how much I don't know, so any story that lets me crawl into the deepest little bits of someone, including myself, and learn how to love them better is gold. We're living in such a confusing time right now. It's so important for us all to keep listening to each other and to keep speaking up. I'm also learning when I need to listen and when I need to speak, and that's really showing up in the kind of art I'm creating and hungry to see. I'm a white woman so I'm very aware that I need to be doing much more listening than speaking right now. That was a big reason why the creative team of LOU had the impulse that Lou should be played be a woman of color. If we're loosely paralleling today's times, this isn't a white woman's story.  I'm drawn to those stories that humble me back to my humanity in really gritty, messy ways. I want to go see a show, walk out after and not be able to feel my face for a few days, you know? I want my body to be that shaken and I want to create work that does that to others.
KMH: I strive to tell stories that promote empathy.  My hope is to push audience members out of their comfort zones, challenge them to think in new and different ways, offer them insights into experiences different from their own, and leave people with more questions than answers. 
Who are people who are/ have been important influences on your work?
HR: Teachers and lovers. I've been fortunate enough to have had some powerful teachers in my life, some who have lead me astray and broken my heart, while others have helped me find myself and my path. All of which enhanced my art. And as for lovers... well, the same can be said. 
EP: At the risk of sounding beyond cliche, my family has had such a huge influence on my work. My brother in particular has always been such a fragile chord in me. We've been through a lot and he's really taught me what it means to genuinely take in someone else's story that I otherwise would have been so judgmental of. He's taught me not to run scared when relationships get tough and that's become the foundation of how I operate as a person and an artist - for better or for worse. And then I have a few artistic soulmates out there who see my work with a certain kind of intimacy that always seems to take me by surprise. You know, the people who understand your voice in that terrifying way and then love you enough to push you further. Thank god for those rare little beasts in our lives.
KMH: I have been fortunate to have had many wonderful teachers and mentors who have left an indelible mark on my work.  From the modern dance school I attended as a child to teachers in the theatre department of my magnet high school, to inspirational college professors.  In recent years, I have been honored to assist several wonderful directors in a variety of different rehearsal rooms and learn by observing their work.  Finally, since I primarily direct new work, my process has been shaped significantly by the actors and playwrights I have had the opportunity to collaborate with.
Would you say you are hybrid artists? How do you feel about wearing more than one hat/ does one inform the other?
HR: I would definitely say I'm a hybrid artist; this is my first time behind the table, and I've learned so much. My background as an actor lent itself to my writing, specifically to dialogue heavy scenes, and my background as a musician helped me find the arc of them. There are several moments in which lines are used in an almost musical way with lots of layering and overlapping. I feel that going that direction is very specific to my voice as an artist.
EP: Oh for sure. I'm producing and was graciously asked by Haley and Kate to play Rilke in LOU, but I also write and produce my own work and oversee Theatre 4the People as Artistic Director as well. Wearing more than one hat can be overwhelming at times, there are a lot of sleepless nights, but it's worth it. Writing or developing new work makes me work much harder producing the project because I'm artistically attached. There's no feeling like it, wringing yourself dry to make sure the art you're creating has a life beyond the page. It's so empowering, especially right now as funding is getting cut and threats are being made to those out there creating. Doing everything I can to play my part in artists not being silenced for speaking the truth, and creating as much of a platform as I can through Theatre 4the People for everyone's voices to be heard is incredible… and sometimes pretty terrifying.
KMH: As a director, producer, writer, and dramaturg, I definitely consider myself to be a hybrid artist.  While I am wearing only one hat in this particular production, the opportunity to wear multiple hats on other projects certainly informs my work in each respective discipline.  It has given me an appreciation for the many elements that come together to create any piece of art.
What has your process been like in creating this work? 
HR: I've been really lucky with this piece's development. I started out with a first draft class at Primary Stages that helped me create the skeleton of the piece in a very supportive environment. I read a lot of biographies on Lou Salome, and additionally read her works that were available in English, as well as some of Nietzsche, Rilke, and Freud's. Most of this process has been reading one of the many fascinating stories about this woman and just imagining being a fly on the wall. I was also able to escape to a cottage in England for about 10 days last summer to write large portion of it and really work how Lou would have worked. I was able to take that draft and do a workshop with Theatre 4the People last fall, and that opportunity to hear it aloud, delve through scene-by-scene, get it on its feet, was truly a gift. 
EP: I've gotten to work with some POWERHOUSE ladies on this project, I get giddy just thinking about it. Theatre 4the People did a reading of LOU in May 2016 at the New Ohio Theatre during the run of my play KISS IT, MAKE IT BETTER. Back then it was read with men playing the male characters and had a male director. Later that summer when I took over Theatre 4the People and decided to give the piece it's world premiere, we sat down and came to the conclusion that the play was best served with an all female ensemble and really needed to be directed by a woman. Lou Salome's legacy has been buried underneath the great men in her life (including Freud and Nietzsche) despite the fact that her brilliance matched, if not surpassed, these infamous men simply because she was a woman. So why not have women come in and reclaim her story. Women still represent a fraction of those working in theatre. Less than 1 in 3 playwrights being produced identify as female, the same can be said for directors, and female identifying artistic directors are less than 1 in 4. That's insane. Women's stories need to be told, and they need to be told by women. We then decided to bring on an all female design team as well, making a fully female creative team (with the exception of one male co-producer). Once all of this lined up and we began developing and workshopping the piece, everything started to bloom more vibrantly than I could have ever dreamed. It's been an amazing experience. 
KMH: LOU has been a delightful process.  It has been an honor to work on Haley's excellent script with a team of such strong, brilliant women.  I could not be more excited to share this piece with an audience.
Favorite moment in the show?
HR: One of my favorites is a scene in which Lou, Nietzsche, and their friend Paul Ree are having an argument about the possibility of a higher power. Things get heated, they're drinking, they're giving each other a hard time; it just brings some humanity to these historical figures that we put on pedestals.
EP: There's this moment between Lou and Henrik Gillot (Lou's earliest mentor and a Dutch preacher) when we get to hear Lou's thoughts as Gillot pushes her in that day's lesson. It's a peek into a part of Lou's sexual awakening and her immediate process of shutting it off. The musicality and the tension in the scene is so sexy and sharp, it's so honest. Lou quickly learns she must choose either pursuing her intellectual brilliance or developing a visceral sexual and emotional intelligence, but she cannot have both. The thought that she believed, and was taught, that these two internal worlds cannot coexist without creating overwhelming conflict is so startling and relevant. Writers often times throw around the phrase 'to kill your darlings' when having to take out parts you are absolutely in love with in the best interest of the piece as a whole. The same shouldn't be true when referring to our mere existence. Being woman shouldn't mean having to kill your darlings. We shouldn't be asked to erase the dearest parts of ourselves in order to thrive in other areas.
KMH: I don't want to give it away!  You'll have to wait and see.
REAL LIFE. REAL NEWS. REAL VOICES.
Help us tell more of the stories that matter from voices that too often remain unheard.
This post was published on the now-closed HuffPost Contributor platform. Contributors control their own work and posted freely to our site. If you need to flag this entry as abusive,
send us an email
.