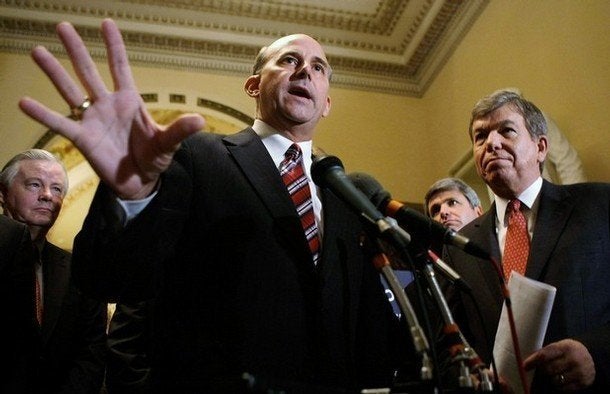 There has been a noticeable backlash in recent days against those conservatives who insist that Barack Obama was not born in the United States and is therefore an illegitimate president. But not every elected Republican official is downplaying the fringe movement.
On Tuesday, the "birther bill" got an additional co-sponsor in the House of Representatives: Louie Gohmert (R-Texas). The Texas Republican's office didn't issue a press release announcing his support. And a request from comment from his office was not immediately returned.
He is the tenth Republican in the House to sign on to Rep. Bill Posey's (R-Fla.) legislation. The bill would require a presidential candidate to provide a copy of his or her birth certificate in order to "meet the qualifications for eligibility to the Office of President under the Constitution."
While Gohmert embraces birtherism, some of his fellow Republicans are sprinting away from it. On Wednesday, RNC Chairman Michael Steele's office called the whole issue an "unnecessary distraction."
"Chairman Steele wants to move beyond this conversation and continue discussing the real and immediate concerns that face American families like the economy and health care," said Steele's press secretary, Gail Gitcho. "Americans are concerned with President Obama's health care plan, a failed stimulus package and a ballooning deficit. Chairman Steele has many other issues to take up with the president that have to do with policy, not a birth certificate."
Popular in the Community