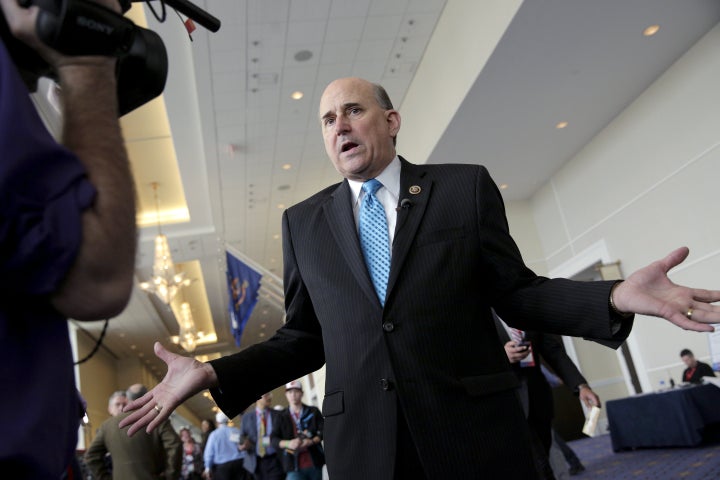 Rep. Louie Gohmert (R-Texas) has been excoriated on social media for suggesting that March 31, Cesar Chavez's birthday, be declared "National Border Control Day."
Gohmert announced on Twitter on Tuesday that he'd filed a resolution on the issue. He was promptly skewered by netizens for "twisting" the legacy of the civil rights icon for his own purposes.
In a sharp-worded rebuke, Rep. Mark Takano (D-Calif.) urged his colleague to apologize.
Gohmert, first elected to the House in 2004, has a reputation for inflammatory rhetoric and conspiracy theories. In 2010, he warned on the House floor about "terror babies" ― children he said were being born in the U.S. but then raised elsewhere by terrorist cells. These babies would then return one day to the U.S. as citizens, making it easier for then to commit terrorist acts, he said.
In a statement on his proposed Chavez resolution, Gohmert described the co-founder of the United Farm Workers union as a staunch advocate of keeping "illegal aliens out of the country."
"Therefore, it only seems appropriate to deem his birthday as 'National Border Control Day' ― seeing that Chavez spent his life addressing the harmful effects that illegal migration might have on this country and advocating for a legal immigration process," the congressman said.
In the 1960s and '70s, Chavez took a hard line against unauthorized immigration and even pushed a campaign urging UFW members to report undocumented immigrants to the government. He reportedly also used terms like "wetback" and "illegals" to describe undocumented workers.
Chavez, who died in 1993, was worried that undocumented workers would push down the wages of American workers, according to historians. He was also concerned about companies hiring undocumented immigrants as scabs in efforts to break union strikes.
His supporters say, however, that Chavez sought to promote and protect the rights of undocumented immigrants working on farms in those earlier years. And by the 1980s, Chavez's stance on the issue had shifted considerably.
"There are those out there who say he was against undocumented immigrants or immigrants in general and that's just absurd, and the union's history belies that misinterpretation," Mark Grossman, a spokesman for the Cesar Chavez Foundation, told the San Antonio Current in 2015.
Grossman, who served as Chavez's speechwriter for two decades, added that the labor leader went through a "linguistic transformation" too, nixing the slurs he once used from his vocabulary.
On Tuesday, Twitter offered a scorching criticism of Gohmert's Chavez suggestion, with some netizens accusing the congressman's choice of a Latino man's birthday to mark a day celebrating border control as "racist."
Scroll down for a sampling of the censure:
Popular in the Community