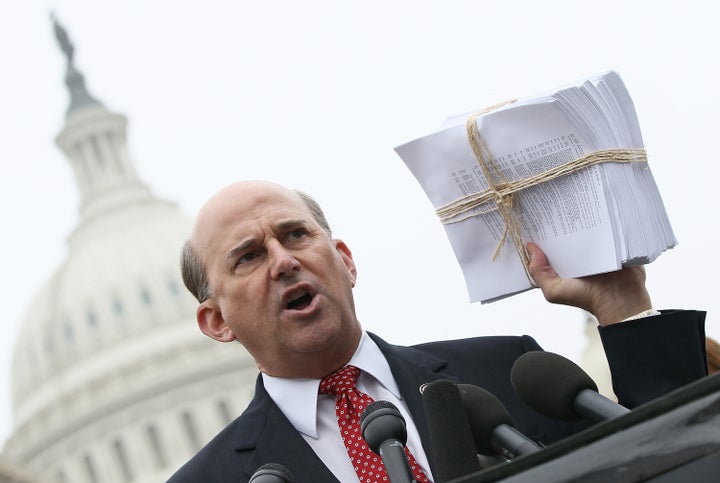 Rep. Louie Gohmert (R-Texas) has doubled down on his call for an investigation into Justice Elena Kagan's involvement in shaping the health care reform bill that the Supreme Court upheld last week.
The Tea Party Caucus member took to the House floor Friday to deem Kagan the "worst solicitor general in history" if she had not advised President Barack Obama on the inevitable legal challenges to the Affordable Care Act. Before being sworn in as a Supreme Court justice in August 2010, Kagan served as the federal government's top litigator.
After the Supreme Court ruled Thursday that the individual mandate -- which requires most people to buy health insurance or face a financial punishment -- is constitutional as a tax, Gohmert questioned Kagan's involvement.
"Could [Kagan] have foreseen that perhaps a weakness of the brilliant [Chief Justice] John Roberts could be if you call something a penalty in a bill and then later call it a tax after it's passed, then maybe the Supreme Court should buy it?" Gohmert asked Friday on the House floor.
A day earlier, Gohmert spoke to reporters about Kagan less than an hour after the high court handed down its ruling.
"If it turns out that she lied in order to get on the court, that she did express opinions about the bill, that she did participate in meetings about the bill, that would prove she lied to get on the court, and she should be impeached," Gohmert said.
Conservatives expressed outrage last year that Kagan didn't recuse herself from the health care reform case after conservative watchdog group Judicial Watch released emails showing that Kagan had closely followed it. In the emails, Kagan expressed excitement to judicial officials as votes trickled in for the legislation and said it's "simply amazing" that they had enough votes.
Roberts has defended the court's ethical standards, saying in a 2011 report on the state of the judiciary that he has "complete confidence" in the ability of his colleagues to determine when they must recuse themselves. Although Roberts did not name specific justices under fire, court observers speculated that he was responding to scrutiny surrounding Kagan and Justice Clarence Thomas, whose wife founded a conservative nonprofit that says it fights Obama's "hard-left agenda," including the president's health care reform efforts.
"The Supreme Court does not sit in judgment of one of its own members' decision whether to recuse in the course of deciding a case," Roberts wrote. "Indeed, if the Supreme Court reviewed those decisions, it would create an undesirable situation in which the court could affect the outcome of a cases by selecting who among its members may participate."
In January, the Supreme Court denied a conservative watchdog group's request to take part in oral arguments. Freedom Watch had published a friend-of-the-court brief arguing that Kagan had received "privileged internal strategy with regard to the constitutionality of the Act," citing the Judicial Watch emails as evidence of her "favoritism toward the law's passage."
A Gohmert spokeswoman deferred to the congressman's floor speeches and post-ruling remarks when asked Friday about his desire for a Kagan investigation. A spokesperson for the Supreme Court did not immediately return a request for comment.
PHOTO GALLERY
Political Reaction To Health Care Ruling
Calling all HuffPost superfans!
Sign up for membership to become a founding member and help shape HuffPost's next chapter