 Rep. Louie Gohmert (R-Texas) had harsh words for federal judges ruling in favor of same-sex marriage, claiming that those judges "need some basic plumbing lessons."
Speaking during a "Conversations With Conservatives" event hosted by the Heritage Foundation on Wednesday, the outspoken congressman said he disagreed with the legal justification behind recent rulings in favor of gay marriage.
"'Basically, we haven't seen any biological evidence to support marriage being between a man and a woman,'" Gohmert said to sum up the rulings, according to Roll Call.
On Tuesday, a federal judge declared Oklahoma's ban on same-sex marriage to be unconstitutional. A similar decision was handed down in Utah last month, but the Supreme Court has since put that ruling on hold.
"They need some basic plumbing lessons," Gohmert said of these judges, according to Raw Story. "For one omnipotent, omniscious, ubiquitous federal judge who is wise beyond his education to say -- to make such a declaration about the law, I think, requires revisiting by each state and compliance with the U.S. Supreme Court."
Gohmert, a vocal opponent of same-sex marriage, has previously made controversial statements on the topic.
Following the Supreme Court's decisions to strike down the Defense of Marriage Act as well as California's gay marriage ban, Gohmert implied the rulings were signs of society's downfall.
"For them — I don't know what kind of cloistered walls this court has been behind," Gohmert said of the justices. "They were not aware that the most wise man in history, Solomon, said there's nothing new under the sun. And this isn't new, and it's been tried over and over. And it's usually tried at the end of a great civilization."
Earlier in 2013, he claimed support for gay marriage is putting the United States "on the road to the dust bin of history." And in 2012, he defended Proposition 8 by saying nature favors "the idea of an egg and a sperm coming together because of pro-creation."
Before You Go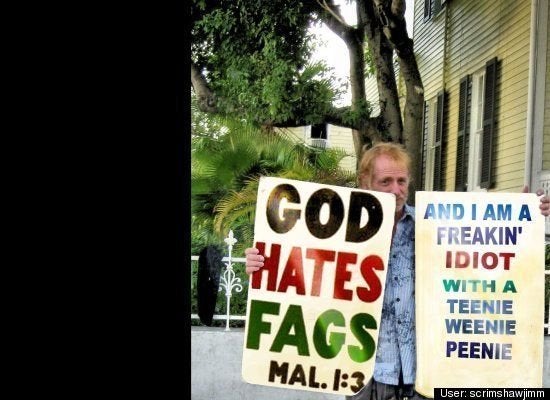 Anti-Gay Protesters Getting Owned
Popular in the Community