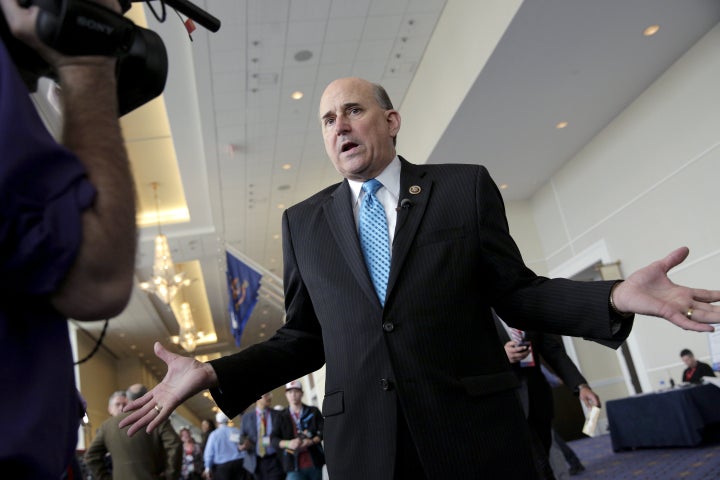 Rep. Louie Gohmert (R-Texas) invoked the shooting of former Rep. Gabby Giffords (D-Ariz.) on Thursday to explain why he doesn't want to meet his constituents in a town hall meeting.
"At this time, there are groups from the more violent strains of the leftist ideology, some even being paid, who are preying on public town halls to wreak havoc and threaten public safety," Gohmert said in a statement, perpetuating GOP politicians' unfounded claims that "paid protesters" are disrupting the meetings. 
Gohmert then mentioned Giffords, who was shot in the head in 2011 during a meeting with constituents. She survived, but six others died in the tragedy. 
"Threats are nothing new to me, and I have gotten my share as a felony judge," Gohmert said. "However, the House Sergeant at Arms advised us after former Congresswoman Gabby Giffords was shot at a public appearance, that civilian attendees at Congressional public events stand the most chance of being harmed or killed — just as happened there."
Trump has called the angry town hall attendees "Sad!" and said their participation is "planned out by liberal activists," as if that somehow reduces their legitimacy.
In a statement released Thursday, Giffords reminded Gohmert that she attended town halls despite the tragedy she faced.
"I was shot on a Saturday morning. By Monday morning, my offices were open to the public," Giffords said. "Ron Barber ― at my side that Saturday, who was shot multiple times, then elected to Congress in my stead ― held town halls. It's what the people deserve in a representative."
"To the politicians who have abandoned their civic obligations, I say this: Have some courage," Giffords said. "Face your constituents. Hold town halls."
REAL LIFE. REAL NEWS. REAL VOICES.
Help us tell more of the stories that matter from voices that too often remain unheard.