WASHINGTON -- In his State of the Union address Tuesday, President Barack Obama touched on the turmoil in many cities where African-Americans have been protesting unjust treatment by the police.
"We may have different takes on the events of Ferguson and New York," Obama said. "But surely we can understand a father who fears his son can't walk home without being harassed. Surely we can understand the wife who won't rest until the police officer she married walks through the front door at the end of his shift."
Some progressive advocates were disappointed that Obama didn't delve further into the controversy and push for specific criminal justice reforms. But for Rep. Louie Gohmert (R-Texas), even the president's brief mentions were too much, evidence that Obama is trying to divide the country racially.
"He's been so divisive on the issue of race," Gohmert told reporters Tuesday night after the speech. He said he'd thought that once Obama was elected president, "that issue" would be "behind us."
Gohmert expressed a wish that Obama were more like his black high school coach.
"But unlike my favorite coach in high school, who happened to be black, he has been more divisive -- when I had a coach that brought us together as a team like never before," Gohmert said. "I thought this president would do that. He has divided more than united, so that's been heartbreaking."
For the record, the congressman graduated from Mount Pleasant High School in Mount Pleasant, Texas, in 1971.
Hilary O. Shelton, Washington bureau director for the NAACP, disagreed with Gohmert's assessment. Obama has been "very measured on issues of race relations," Shelton said.
"When we talk about race relations, he's not hitting anybody over the head with anything. He's talking about good common sense interests and approaches. And that's what America needs," said Shelton.
In his State of the Union address, Obama also invoked past civil rights protests from the 1960s in arguing for greater protection of the right to vote.
"We may go at it in campaign season, but surely we can agree that the right to vote is sacred; that it's being denied to too many; and that, on this 50th anniversary of the great march from Selma to Montgomery and the passage of the Voting Rights Act, we can come together, Democrats and Republicans, to make voting easier for every single American," he said.
Two years ago, the Supreme Court struck down the portion of the Voting Rights Act of 1965 that determined which jurisdictions would require federal approval before changing their election laws. The sanction had applied to nine states -- Alabama, Alaska, Arizona, Georgia, Louisiana, Mississippi, South Carolina, Texas and Virginia -- as well as numerous individual counties and municipalities. Soon after the decision, several states passed voter identification laws that will impede many historically marginalized groups from casting ballots.
Cornell W. Brooks, president and CEO of the NAACP, said he was heartened by the president's remarks.
The fact that "the multitude of Americans are watching 'Selma' on the screen but seeing the conditions that led to Selma being played out at the ballot box in 2015 is a tragedy that needs to be addressed and reversed," Brooks said. "We're seeing all across the country legislatures who've engaged in a kind of Machiavellian frenzy of voter disenfranchisement. It was important that the president sent the right signal that we've got to amend the Voting Rights Act. It's non-optional."
Gohmert has repeatedly expressed his uneasiness with Obama's views on race. In 2013, for example, he claimed that Obama and his administration have "done more to stir up racial tension and violence than any administration since, you know, the '60s."
CORRECTION: This story originally stated that Louie Gohmert compared the president to his high school basketball coach. Gohmert did not specify a sport.
Before You Go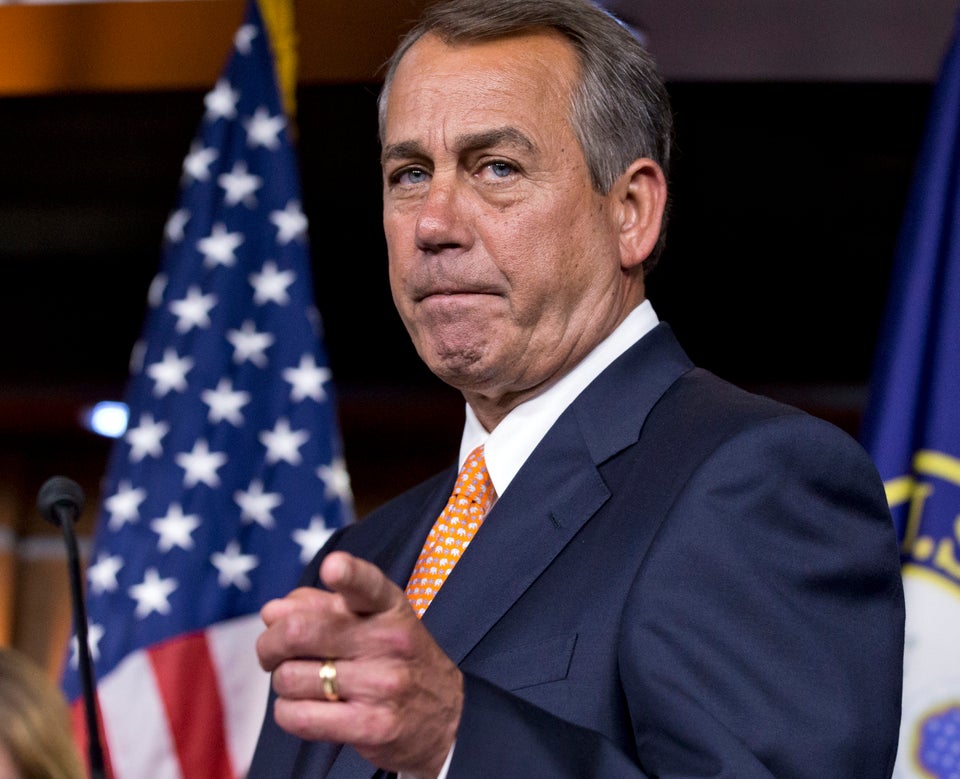 Conservatives Pointing Fingers
Popular in the Community