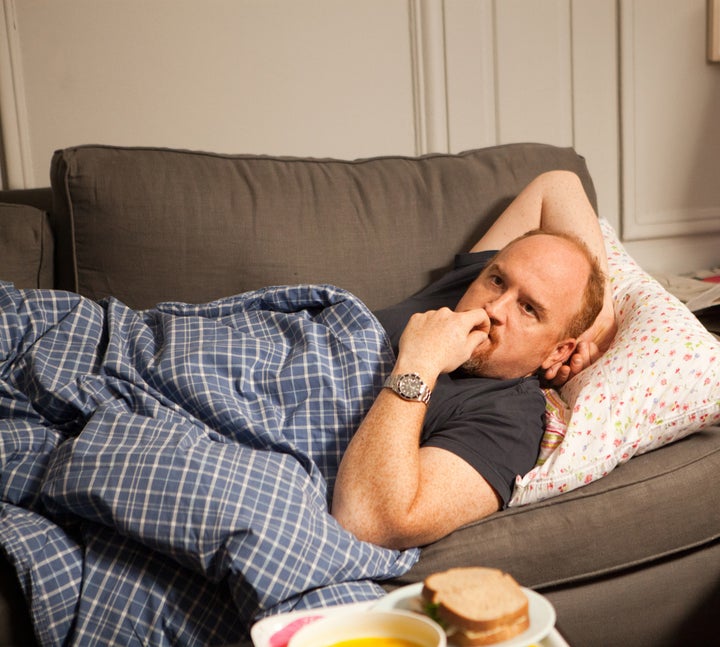 "Louie" will take a hiatus and won't return until the spring of 2014.
In a conference call with reporters on Tuesday, comedian and television creator Louis C.K. said he needs the longer hiatus to recharge his creative batteries, and the FX show probably won't return until May of that year.
With more time to prepare the show's fourth season, "we could turn in something really great, I hope," C.K. said.
One of the advantages of cable is that it offers creative people shorter seasons (13 episodes versus broadcast's traditional 22-episode season), and FX president John Landgraf said the conversation about giving C.K. more time to work on the next phase of the show led to a "simple yes."
"That was my goal from the very beginning -- not to force Louie to adapt his creative instincts to a specific business model or specific structure or story," Landgraf said.
C.K. writes, shoots and often edits his own show, and he also has a large role in creating the "Louie" soundtrack. He said that usually when the show premieres in June, he's still shooting and editing and doing promotion as well.
"Every season when I have such a short shooting period, I want to do better," said C.K., who won two Emmys in September. "I want the show to be better. It was just exciting to think of, what if I had what if I had that much time to deliver Season 4."
C.K. is on tour now, and the contents of that comedy tour probably will be turned into a standup special down the road, but in the early part of 2013 will be devoted to writing the new season, which should start shooting in September. He said he looks forward to the writing, editing and promotion of the show being spaced out a little, timewise.
"The last three seasons have been this surge of fun and work and stories, and it's been great to share all this stuff," C.K. said. "I don't want it to be 'making the doughnuts,' I want it to be something that comes from somewhere important and funny."
Landgraf said he viewed the first three seasons of "Louie" as the opening act of the play, and C.K. agreed with that idea, and added that he wants to go to somewhere new in upcoming seasons.
"I don't know where that is yet, it'll take a lot of pie and coffee to figure that out," he said.
Both men also said they'd be open to different ways of presenting "Louie," which has become more ambitious and has aired well-received two- and three-parters this season.
"We're talking about all kinds of ways to be more elastic with how shows are aired," said C.K., who said he envisioned Season 3 as a more cohesive storytelling unit than previous seasons. "I think we'll continue that [experimentation] and get even more bold with how long stuff is. Maybe there will be a six-episode story, maybe there won't be. We're still noodling it all out."
C.K. also said he thinks about expanding the offerings on his web site, where Tig Notaro's famous set about her cancer diagnosis has already been downloaded 55,000 times. He doesn't want to mess with how successful the site has been, but he joked that all the emails of past customers are like "potential Glengarry leads."
"We'll see, it might be fun" to expand and offer work by other comics, he said.
FX would also like to nurture another Louie C.K. within its ever-expanding comedy brand, but Landgraf explained that finding another creative person with a strong voice who's also a very good producer, writer and editor is hard. Oftentimes comedians who are TV newcomers have to be paired up with more experienced writer-producers, and that can be a "tricky" process.
"What Louie's doing is pretty rare," Langraf said. "Not many people in the entertainment industry can do all of it."
Landgraf also noted that C.K. and his executive producer Blair Breard are among the thriftiest producers around. They'd asked for extra money to go to China to film scenes for the finale of the third season, but they didn't use all if it -- so they sent FX a check for $200,000.
Nothing about a fifth season has been announced yet, but if that doesn't earn the show another season, what would?
Popular in the Community