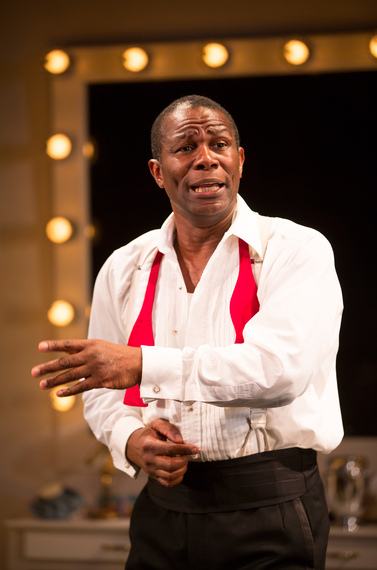 When a solo artist performs as another artist--from Hal Holbrook as Mark Twain and Julie Harris as Emily Dickinson to Robert Morse as Truman Capote to, much more recently, John Douglas Thompson as Louis Armstrong in Satchmo at the Waldorf--it's such a delight when we lose sight of the actor onstage. Directed by Gordon Edelstein, Thompson embodies the iconic trumpet player and singer in an engrossing, even thought-provoking performance in the intermission-free play, by theater critic and jazz writer Terry Teachout, at the Geary Theater.
Thompson's voice isn't as deep as we remember Armstrong's, but from the moment he walks onstage--that is to say, into Armstrong's dressing room, after a set at the Waldorf Astoria Hotel in the year before he died--we know who he's portraying. He's got the speech patterns, that wide smile, the old man's stooped walk.... Better yet, along the way in a flicker of light and movement, Thompson effortlessly becomes Armstrong's longtime white manager, Joe Glaser; jazz trumpeter Miles Davis, Armstrong's polar opposite in both temperament and playing style; and briefly, an enterprising young reporter. Adding these characters to the play deepens it by providing more than simply Armstrong's responses to what others said or did.
Thompson's Armstrong has that renowned warmth and grin, but he swears a hell of a lot more than we ever heard the real man do, with good reason. Davis famously called Armstrong a "clown" for "pandering" to white audiences, for trying too hard to entertain when he should have been challenging his listeners. "I hate the way Louis acts onstage," he tells us. "Man gets up there and jumps around like Jim Crow on a stick.... Anybody that don't dig Miles Davis, fuck 'em."
But Armstrong makes it clear that he made his own choices. In a racist industry, he hired a white manager to take care of everything from hiring and paying musicians to handling his money to selecting some material (e.g., "Hello, Dolly") so that Armstrong could concentrate on his music. It was Glaser who got Armstrong out of reach of the gangsters leaning on him when they met, who told him to focus on reaching a wide audience and that, if he did, they'd both get rich. While he was well aware of how far he'd brought the music--even Davis had to acknowledge, "You can't play nothing on trumpet that doesn't come from him, not even modern shit"--Armstrong chose to "make people happy." He really seemed to have a sunny disposition, which is the last thing you could say about Davis (who came from an upper-middle-class family in Illinois, while Armstrong was born, a generation earlier, to a prostitute in Storyville, New Orleans's renowned, racially segregated red-light district).
Audiences have laughed or tittered at Armstrong's every profanity, indicating perhaps how unexpected it is, coming from this famously upbeat man. Teachout's play demonstrates that the public image wasn't all there was to the man. In one excellent rant, the musician angrily tells the young reporter, after the U.S. Supreme Court has ordered school integration, that President Eisenhower has "no guts" for allowing the racist governor of Arkansas to stop black students from entering Central High. He adds choicer language, of course.
Late in his life, Armstrong was shocked and deeply hurt when Glaser died without leaving him control of the company built on their partnership, Associated Booking Corporation. In the play at least, he never understands why his share went to a man named Sidney Korshak. As Glaser, Thompson tells us how Korshak, a mob lawyer and "fixer," threatened and blackmailed Glaser, who'd been busted decades earlier for statutory rape, into signing over Armstrong's half. As Armstrong, Thompson shows us the rage and sorrow this caused, especially when he realizes that he never once visited Glaser's home.
Louis Armstrong--he always pronounced his name "Lewis," not "Louie," because, as he tells us, "I'm not French"--died at 70 in 1971. Young people may not know who he was. Baby boomers who weren't jazz buffs may recall him best from his movies, TV appearances, the untypical "Hello, Dolly" and his last single, the socially tone-deaf "What a Wonderful World." Released in 1968--as the Vietnam War and antiwar protests raged, as cities burned and draft-age males left the country--the song worked better as ironic counterpoint in the movie Good Morning, Vietnam (1987). With Thompson's note-perfect depiction of Louis Armstrong, rounded out with his Joe Glaser and Miles Davis, Teachout's first play adds shadows, depth, and dimension to someone we thought we knew.
Through Feb. 7, American Conservatory Theater's Geary Theater, 415 Geary St., S.F., 415.749.2228, act-sf.org.
Photograph courtesy American Conservatory Theater
Calling all HuffPost superfans!
Sign up for membership to become a founding member and help shape HuffPost's next chapter