Many songs could be said to fuse into our collective DNA, but a rare few feel truly timeless and universal. As we in the northern hemisphere slide into autumn, jazz legend Louis Armstrong's recording of "What a Wonderful World" celebrates its 50th anniversary. The song is elegant in lyrics, delivery, and production, inspiring and optimistic on every listen, and the commemoration of its release -- officially this Saturday, the 23rd of September -- couldn't feel more soothing for the world we currently inhabit.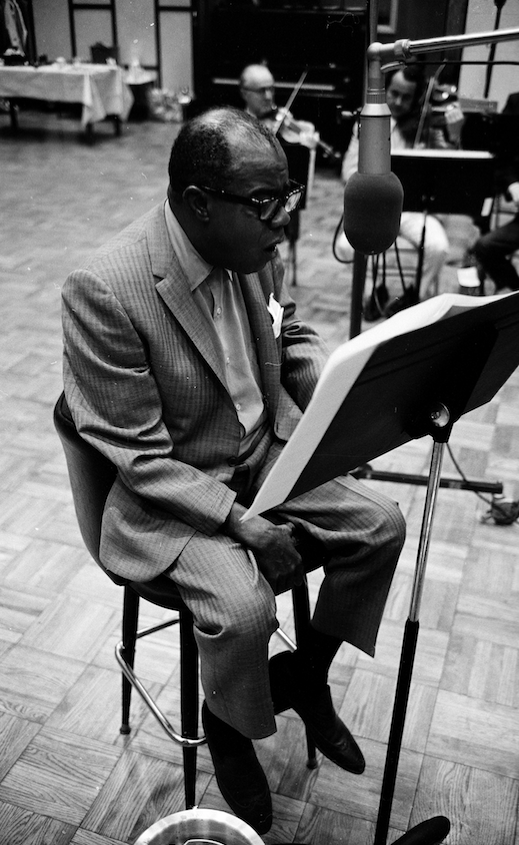 On this occasion, it's a pleasure to speak with Armstrong expert and author, Ricky Riccardi. As Director of Research Collections of the Louis Armstrong House Museum in Queens, New York, Mr. Riccardi has assembled the new exhibit, "50 Years of 'What a Wonderful World,'" featuring rare photos from the session, sheet music, and related artifacts. As the leading expert on the storied life of the man called Satchmo, Ricky appreciates the enormous value of that simple little tune, "What a Wonderful World."
"The song was written in 1967, when the nation was being torn apart -- wars, racism, civil rights stuggles, a lot of anger -- and the whole point of the song was: Everybody take a breath, this is still a wonderful world. We have to work together, but let's not lose sight of that.
"Here we are, 50 years later, and a lot of those same themes are still around. The song, in that regard, is timeless. That theme -- we need to embrace the beauty of the world, we need to embrace different people -- it's just as true in 2017 as it was in 1967."
I admit that I'd likely have lost a point on a trivia show in guessing when "What a Wonderful World" was released, as it seems like it's always been around.
"In 1964," reveals Ricky, "Louis Armstrong had the biggest hit of his career: he recorded 'Hello, Dolly!' before the Broadway show even opened, and when it was released in '64, it went to the top of the charts -- became #1 on May 9th, 1964, and knocked the Beatles off the top of the charts at the height of Beatlemania! The Beatles have 14 straight weeks of #1 hits, and here comes 62-year-old Louis Armstrong with his Broadway show tune, and he totally took over the charts."
Mr. Riccardi concedes that the next three years of Mr. Armstrong's recordings sound similar to "Hello, Dolly!" but then came a surprise -- albeit with a slow build. Producer Bob Thiele (known for Armstrong's 1961 albums with Duke Ellington), observing the turbulent times, sought a unifying song for Armstrong to sing. Thiele tasked songwriter George David Weiss to compose, and according to Ricky, upon first inspection of the melody (not the lyrics), Armstrong's reaction was, "What is this shit?"
"Then he read the lyrics," Ricky elaborates, "and once he read the lyrics, he zeroed right in on the neighborhood he had been living in since 1943, which is in Corona, Queens. He always said he saw three generations grow up in that neighborhood -- and all of a sudden, he had his inspiration!"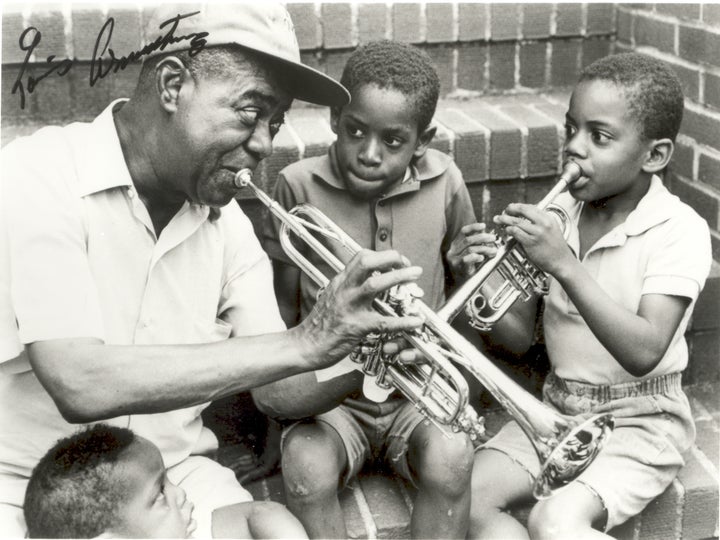 Alas -- as it terribly often does in entertainment -- arrogance interfered. ABC Records president Larry Newton simply didn't get the orchestral ballad of Thiele's vision, despite Armstrong working for scale, at a mere $250! Newton intentionally put no promotion behind the single, and consequently -- despite Armstrong making the talk-show rounds to perform "What a Wonderful World" -- it only peaked at the bottom of the Easy Listening charts.
"Well, Larry Newton forgot about the rest of the world," explains Ricky, "and in April, 1968, the record went to #1 in England -- once again knocking the Beatles, and the Rolling Stones, and everybody off the charts. Huge hit in England, huge hit in Ireland, South Africa, a worldwide hit -- but completely under the radar in America."
Twenty years later (and almost thirty years ago today), who but Robin Williams (under the auspices of Barry Levinson) should help boost the song onto the charts anew -- as its use in Good Morning, Vietnam (soundtrack on Armstrong-appreciator Herb Alpert's A&M Records, released as its single) put the song back into global consciousness -- amazingly, 17 years after Armstrong's death. It's been with us ever since.
We chat about fave cover versions (I lean Nick Cave & Shane MacGowan; Ricky leans toward Queens' own Joey Ramone), then I ask the expert about becoming the person who brings together the incredible wealth of material on the 20th-century legend, Louis Armstrong.
"When I was 15 years old, I saw Armstrong in a movie -- The Glenn Miller Story -- and I had never really seen anything quite like it: I just absolutely fell in love with the trumpet-playing, the singing, the whole persona. I was born nine years after he died, never met him, never saw him, but I just became fascinated by him. And at the time, every time I would read a biography on Armstrong, they all had kind of the same narrative: This man was a revolutionary when he was young, and he changed the whole sound of American pop music. He became a sell-out! He went commercial! He's doing 'What a Wonderful World and 'Hello, Dolly!' and what a giant waste of talent! There are a lot of books with that narrative.
"I always thought that was completely wrong-headed. I always found the music he made in his last 25 years to be astounding from every perspective: challenging and creative, he was a better singer in his later years, an amazing trumpet-player. I was on this one-man crusade just to shine the spotlight on Armstrong's later years. I went to Rutger's, I got a Master's degree in Jazz History and Research, I wrote a 350-page thesis on Armstrong's later years. Then I started doing research here at the Armstrong Archives. In 2009 I started working here as archivist, and in 2011 my book was published: What a Wonderful World: the Magic of Louis Armstrong's Later Years.
"That was a few years ago, but now I am all Armstrong, all the time: giving lectures, teaching a graduate-level course -- Musical Louis Armstrong, at Queens College -- producing CDs for Universal, writing liner notes. I go to New Orleans every year for the annual Armstrong festival -- the Satchmo SummerFest -- so I am totally dedicated to the man, to the music, to the legacy, and to keeping Armstrong relevant for the 21st century."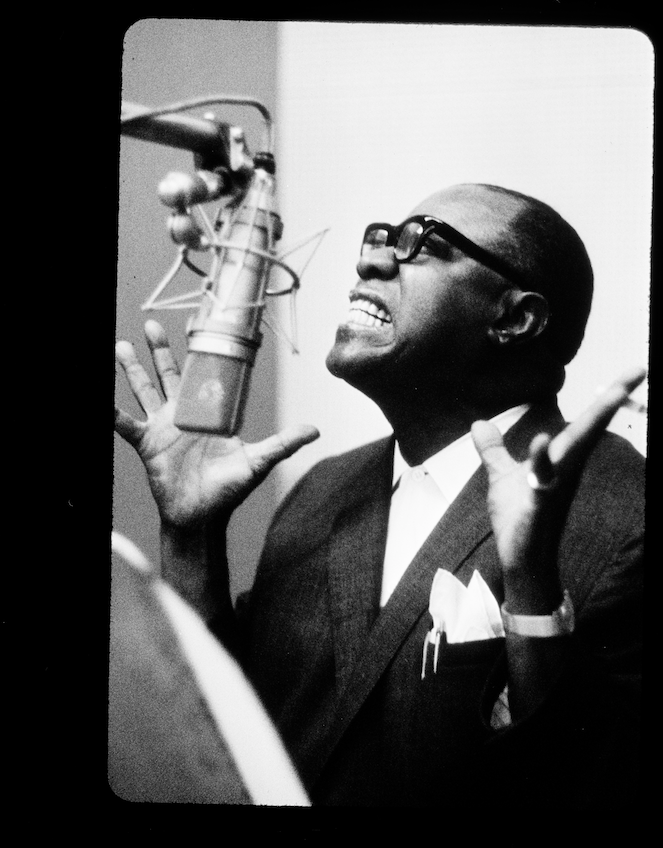 Happily, this relevance prevails, as the museum has raised $23 million to build the state-of-the-art Louis Armstrong Education Center -- ground broken this summer, opening in about two years -- with Corona, Queens becoming what Ricky calls, "the Louis Armstrong version of Graceland." Yet even amidst this development, Mr. Riccardi remains humble about his work.
"It's not a very hard job, because Armstrong still speaks to so many people; all I have to do is hit the 'play' button, and once he takes over and starts singing, playing, performing, people are captivated. There aren't too many artists born in 1901 who still have that level of fame. The 20th century is passing further and further into the rear-view mirror with each day, but Armstrong is still incredibly vital. We're still at the beginning of grasping how important he was. I think maybe 50-100 years from now, they're going to say: 'Who were the greats? Shakespeare, Mozart, Louis Armstrong.' I don't think anyone's going to question that."
Related
Popular in the Community