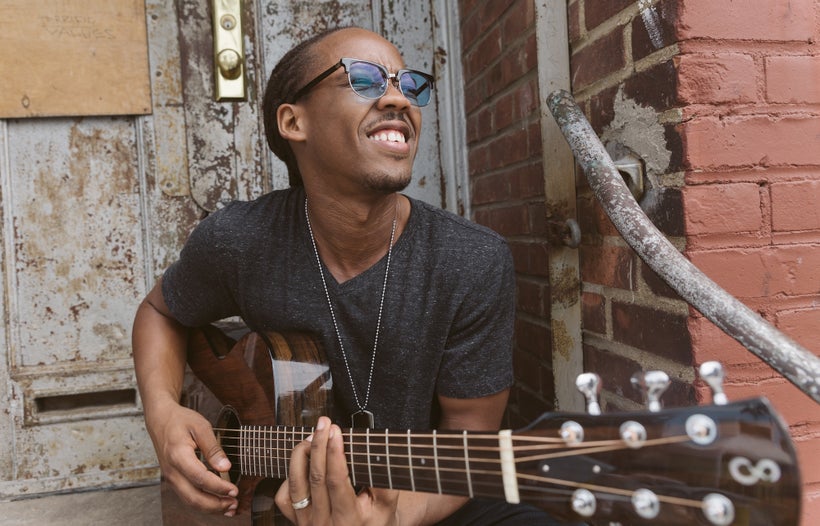 You've probably heard Louis Cato already. If you're one of the millions who views the Late Show with Stephen Colbert every week, you've seen Cato alternately on bass, guitar, percussion, drums, low brass and vocals with Jon Batiste's Stay Human. If you've heard A Tribe Called Quest, Bobby McFerrin, Mariah Carey, John Scofield, Marcus Miller, Snarky Puppy or Talib Kweli, you've heard Louis Cato.
A versatile virtuoso, Cato's ability to complement style, groove and a project's identity make him the ultimate sideman. But he's a songwriter, too, a man who doesn't "really listen to instrumental records, not at this point in [his] life. Right now," he says, "I geek out to good songs." His debut album Starting Now, out later this month on RSVP Records, showcases his ability to craft his own in an earnest and relatable way. I met with Louis at his studio in Brooklyn to talk about making the record, his day job, family and making time for himself.
The studio is a small room on a quiet block in the semi-industrial Gowanus neighborhood. It's October but feels like summer. He pours me some Jack Daniels as he sips silver tequila, and the claustral thought of fitting a full band in here is daunting. He's coming from a session around the corner at Atlantic Sound with some members of Snarky Puppy. He has another one later tonight with a friend in town from Los Angeles. He was up before 7:00 this morning to take his daughter to school. Monday through Thursday, he tapes Colbert's show. "I have a lot of things to balance," he tells me frankly. "I feel the weight of my potential. It drives me."
Starting Now was made almost entirely in this room, aside from the loping single "In My Reach," which also became a music video. "Initially," says Cato, "I wasn't even making a video, I was making a promotional thing for my website, and I used those basics on the album. Everything else was right here." Of the tracklist's scant collaboration, Louis says, "This is my first album as an artist and I felt it was really important for this to be a statement of what I do as a songwriter, producer, as a multi-instrumentalist – this is me. It was a big deal to add those interludes, which are not just me; they're from the live show. With the band it becomes a totally different thing, and it was too good to not include some of that energy."
Cato, who grew up in the small town of Albemarle, North Carolina, before spending two semesters at Boston's Berklee College of Music, retains an overarching humbleness. "There's no room for that ego shit," he says. "You have to weigh it – yes, it's important for this to be me, but there's another part of me that's developed since I've been making this record that's valid. To learn something along the way, even to start a record and think it'll be one thing and by the end it turns out to be sort of that thing. When I started this it was gonna be a three song EP, then it turned into a five song EP, which turned into ten songs."
Those songs, written in myriad countries, green rooms, buses and studios, showcase a personal side of an artist most known for his supporting roles. "It's taken on a life as it goes," he says of the record-making process. "Touring all these years, I was really willing my way through working and producing on the road. I had my laptop, my [Apogee] Duet, a [SM]58, a couple pairs of headphones for mix referencing. It's really hard to do." He put in the time, even if it didn't yield ideal results.
"Bobby [McFerrin] tours pretty humanely," he continues. "[John] Scofield, if he's out for 30 days, he's doing 29 shows, so it's really hard to try to be creative when you're driving through the night, go to soundcheck, have an hour and half before you have to be back at the venue. Am I gonna shower? Take a nap? Try to get into a vibe for 45 minutes? I would do it, but with little to no fulfilling returns. When I got the call to do the [Colbert] show, what made it worth it to me was to use the time to actually focus on creative endeavors."
That call came in 2015. After working on a classified theme song with Batiste, Cato was in Asia on a "Scofield-Marcus-Bobby conglomerate of runs" when the dots began to connect. "I didn't know what it was for, and a few weeks later Batiste called me – talked to me for three hours about something he couldn't tell me about," Cato recounts in a pitch perfect impression of the bandleader's Creole drawl. Returning from tour in August, Cato went directly into rehearsals with Stay Human and they were on the air by September.
I ask him if he ever expected to have a gig like that. "I didn't necessarily expect or imagine myself playing on network TV, on a number one late night show, much less having a show that's a significant contribution to society," he says. "Love it or hate it, it's a major voice since everything's so polarizing." With that, he refills our glasses and we bemoan the state of things, the nature of a reality that seems more skewed by the day. Soon though, we drink to perseverance, a principle instilled in him by a hardworking family.
Those early days in Albemarle were a "big fish in a little pond story" for Louis musically. "I had been sheltered in a lot of ways," and though his mother was a church organist, "When I moved to Boston I didn't know very much music and hadn't been around people that were better than me. My self-confidence was really low. It inspired a season of really digging in and working hard," and although he didn't graduate, he forged lasting friendships that would inform the next steps of his career.
"The biggest thing I took from it is Berklee as a unifier, as an epicenter that people came to that I connected with," he says of the college experience. "As far as the classroom setting, it wasn't so much my thing but I'm so grateful it was there to bring everyone together. The best real world training for me was when I left and started gigging. I stayed in Boston, and some of the teachers would hire me to play in ensembles and do sessions. I'd play Wally's and started touring a little bit."
Around the same time, his first child was born. "I had to learn how to demand what I was worth because I had to support my family," he says. When it came to weighing gig offers, "I had to actually look at the numbers and be like, man, I'm really honored but I can make this staying home with my wedding band." He has subsequently led clinics that tackle the notion of self-worth in an industry seemingly obsessed with paying dues, but the strength of his peers –Christian Scott, Esperanza Spalding, Igmar Thomas, Corey Bernhard, the Regiment Horns– proves that lesson was not lost on his classmates.
The geographical grounding afforded by the Late Show pushed Starting Now over the finish line, as did a nudge from Cato's friend and writing partner, Los Angeles guitarist Adam Tressler. "As we were writing "In My Reach," we were trying to figure out who it would be good for," recalls Louis, "And he was like, 'This kinda sounds like… you.' That was the seed. I had to decide for myself what was important for me. Being a chameleon of sorts, fans might not be into folky-dokey stuff," but "I came to terms with that some time ago, during the process. My priority was to make an honest record, and for me that meant putting energy into writing good songs. I'm fine with disappointing people that know me from different worlds. I'm a big believer in resonance, and if the music resonates here, from the center," he says, palming his chest, "It's where it's supposed to be. You can always feel if there's a disconnect between the creator and the creation."
When I ask what his favorite song on the album is, Louis ponders for a few moments, weighing each entry, the freshness of his work still lingering. "My soul goes to "Anymore," he says fondly. "It was one of the fastest songs I've ever written. As a creative you're pulling from what's in the air and what's in your soul in the moment, and I think I wrote it top to bottom in an hour." His most personal creation, however, is "Look Within," which he says, "Feels vulnerable and good, like a therapy session. It's like, man, this is really honest," he says with wonderment of the album as a whole. "I'm open and putting this out to the world. There's something about that that feels really good, as scary as it is. It's who I am and where I was at that point."
Previously describing his sound as "If John Mayer was black," it's evident that Cato's time with instrumental luminaries or rap gods has only fueled his penchant for songcraft. "I hear a good song, and it moves me, sticks with me in other dimensions," he says. "It's like, how did you get to this exquisite level of human expression in a universal setting?" Album opener "Introlude," a nod to Mr. McFerrin, gives way to a sound evocative of the mid-90's, when acts like the Gin Blossoms or Chris Cornell's Euphoria Morning blanketed the airwaves, or further back to bands like the Byrds and Big Star.
"Down For You," an earnest love song, is the most Mayer of the bunch, with shades of Mutemath's Paul Meany in the melody. Cato cites John Lennon and Bob Marley as touchstones, and the spirit of the latter is in the title track's naked melodicism. "Sometimes I'm running in place," Louis sings. "The world keeps on spinning around and I cannot change that, not with my head in the clouds. I won't let my time go to waste."
"Back And Forth," premiering here in both recorded and live band formats, sees two different interpretations. The album version is buoyed by acoustic guitar and hand percussion, though live, Cato and company (including RSVP label head Robert "Sput" Searight on drums) are in full Stevie Wonder mode – joyful, inspired and engaged.
While Starting Now may be a detour from his past work, its creator is proud to add a true solo album to his oeuvre. "I'm super excited; it's been a long time coming," he says as we make our way over to the evening's next session. "It's what I set out to do, and made a place for myself to do it." With a showcase at Rockwood Music Hall on November 16th, drum credits on Jack White's upcoming release and continued work with Stay Human, Louis has already wrangled the time to start work on his next album, which he describes as "a little more progressive." The drive to realize his potential continues to power Louis Cato, and Starting Now succeeds as an honest, resonant work.
REAL LIFE. REAL NEWS. REAL VOICES.
Help us tell more of the stories that matter from voices that too often remain unheard.
This post was published on the now-closed HuffPost Contributor platform. Contributors control their own work and posted freely to our site. If you need to flag this entry as abusive,
send us an email
.